Before 1663 to Before 1711
The following information was obtained from the efforts of Kirke Wilson, San Francisco, California in 1991, in his work: A Most Healthful and Pleasant Situation: The Simpson Family in Maryland, 1688 – 1760.
The Simpson Family in Maryland
Simpson was a common family name in 17th century England and Scotland and several Simpsons were among the early settlers of Maryland. Between 1646 and 1680, 31 people named Simpson arrived in Maryland. Of these, 26 were men and 5 were women.
The first Simpson recorded in Maryland was Anslowe who immigrated in 1646 and died in Maryland about 1649. The other thirty Simpsons, the largest number of whom arrived during the 1660s, included 21 who were transported and became indentured servants, four who were servants of other immigrants, four who immigrated, like Anslowe Simpson, paying their own transportation as well as one indentured servant brought from Virginia and one sailor. The five women named Simpson arrived in Maryland between 1664 and 1680. They all appear to have been unmarried at the time they were transported and presumably all had to work as indentured servants to repay the expenses of their transportation.50 It is possible that one of the 26 male Simpsons was an ancestor of the Simpson family that lived in Old Baltimore County in the 1690s but no connection between the later Simpsons and the earlier arrivals has been establish.
The first record of Richard Simpson is in Old Baltimore County, Maryland in the late 1680s. Fragmentary early records show a Thomas Simpson living on property called Jacob's Point on the south side of South River in November 1676. Simpson paid rent of 5 1/4 shillings for the 21 acre property owned by James Smith.52 The name Thomas was commonly used among the Maryland Simpsons and there was a long association between Simpson and Smith families in Maryland but there is no evidence linking the Jacob's Point Simpson of 1676 with the Richard Simpson family. Among the thirty-one Simpsons who arrived in Maryland between 1646 and 1680, three were named Thomas. These included one who arrived as a servant in 1649 or 1650. He may have been the Thomas Simpson who arrived in St. Marys County in July 1649. The other two were "transported" and arrived in Maryland in 1651 and 1673. Any of the three could have been the Thomas Simpson at Jacobs Point in 1676.53
In July 1688, Richard Simpson (c. 1663-1711) had 53 acres surveyed in Old Baltimore County. Called "Simson's Choice", the land was at the head of Swan Creek and was subject to a quitrent of 2 shillings 1 1/2 pence. Richard Simpson's Swan Creek property was occupied by "Emmanuel Smith's orphans" at the time of the 1688 survey.54
Swan Creek is located in what is now Harford County, Maryland approximately thirty miles northeast of Baltimore.55 The small creek drains a suburban area southwest of Havre de Grace and forms a sheltered cove in Chesapeake Bay at the northeastern corner of Aberdeen Proving Ground. While the upper part of Swan Creek flows through a steep and rocky area, the lower three miles of the creek flows through fertile and rolling countryside near the bay.56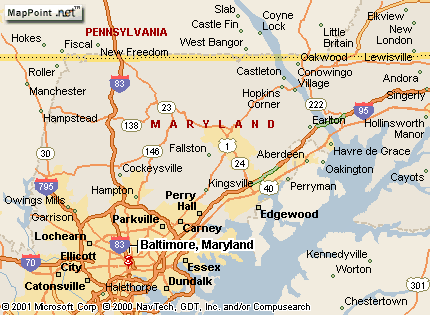 Baltimore County of 1692 had a population of approximately 500 families scattered along a forty mile shoreline and inland up to four miles. To govern this large but thinly-populated community of shoreline farms, the county was divided in 1692 into three parishes and five hundreds. St. George's Parish, was established about 1671 in the eastern part of Baltimore County. One of thirty original parishes of Maryland, St. George's comprised the area along Chesapeake Bay from Bush River on the southwest to the Susquehanna River on the Northeast and North to the boundary of the colony in what is now Pennsylvania.57 Spesutia Hundred was the area northeast of Gunpowder River to the Susquehanna River and "as farre as the County extends."58
The original parish church was called Spesutie and was built of wood in about 1671 near Red Lion Branch of Delph Creek at a place called "Gravelly" about a half mile southwest of Michaelsville. As settlement moved inland from the bay shore, Spesutia church was rebuilt in 1718 at a new location about four miles away on donated land along the Old Post Road near the town of Ferryman.59 In 1726, St. George's Parish acquired 200 acres on Swan Creek to serve as a parish glebe. The Rector of the parish described the land in 1851, …it was located on "Swan Creek" and is now the most productive land in Harford County.60
The glebe land was neglected and subsequently sold. Richard Simpson was a resident of St. George's Parish and Spesutia Hundred but there is no evidence that he or his family were active members of Spesutia Church.61
Richard Simpson married twice. With his first wife, whose name is not known, he had a son, Richard, Jr, born sometime before 1690.62 By 1690, Richard  Simpson had married Anne Gilbert (c.l670-c.l715), the daughter of Spesutia Hundred neighbors Thomas and Elizabeth Gilbert. In 1691, Richard and Anne Simpson had their first child, a son Thomas, born November 5, 1691 "near to Susquehanna River" in St. George's Parish, Old Baltimore County.63 The Susquehanna River flows into Chesapeake Bay at Havre de Grace and is today the boundary between Harford County and Cecil County.
The city of Havre de Grace, originally known as Harmer's Town, was first laid out at the time of the Revolutionary War on land that slopes gently into Chesapeake Bay. Godfrey Harmer owned land in the area in 1659, when he sold a parcel to Thomas Stockett. In 1688, Stockett sold his land to Jacob Looten. John Stokes bought the Looten land in 1713, and by 1734 had acquired 619 acres, including a property known as "Symson's Hazard.'164
William Simpson, one of the sons of Richard Simpson, had sold the 100-acre "Simpson's Hazard" in 1726.65 Robert Young Stokes, a great-grandson of John Stokes, laid out and named the city of Havre de Grace in 1781. The city was destroyed by British troops May 3, 1813, as part of the War of 1812.
Richard Simpson and his family were residents of Spesutia Hundred when the first tax lists were prepared in 1692. He appears as Richard "Sympson" in the 1692 list, one of 128 taxables.66 At the time, there were 51 households in Spesutia Hundred including nine households with a total of twenty-eight slaves and forty-two households without slaves.67 In 1695, Richard Simpson was living on 150 acres of land called "Gilbert Adventure" owned by his father-in-law Thomas Gilbert for which he paid an annual quitrent of 6 shillings.68 Although Richard Simpson and his family were farming in Old Baltimore County at the end of the seventeenth century when slaves were replacing other forms of labor, there is no record that they owned any slaves during the period between 1692 and 1706. Richard Simpson continued to live in Spesutia Hundred until at least 1706.69 Thomas Gilbert, Sr. and his son Thomas, Junior were taxpayers in Spesutia Hundred from before 1699 to 1706.70
Richard and Anne Simpson had at least ten children born between 1691 and 1707 in Old Baltimore, County. The first four children, those born between 1691 and 1697, were registered as having been born on or near the Susquehanna River. Since the births were registered in St. George's Parish, the Simpson family was likely to have been living near the mouth of the river in the general vicinity of present-day Havre de Grace. Since the Simpson births over a six year period are listed together in the parish records, it is likely that Richard Simpson and his family were not members of the church and may have lived several miles away.71
By 1698, Richard and Anne Simpson appear to have left the land near the Susquehanna River and returned to the Swan Creek property. In September 1698, their fifth child was born, "at the head of Swan Creek" and Richard Simpson was listed as "of Swan Creek."72
By 1699, the Richard Simpson family appears to have returned to "the Bay Side near to the mouth of the Susquehanna River" for the birth of their sixth child.73 The same "bay side" designation is used to describe the location of the Emanuell Smith family.74
In 1708, the Richard Simpson family listed seven living children in the St. George parish register including four sons and three daughters. From the 1708 register, it appears likely that Richard and Anne Simpson had a total of ten children between 1691 and 1707 of whom three had died in infancy.75
At about the same time that the Simpson family was registering seven children in the parish register, Richard Simpson was testifying in the probate of a Swan Creek estate. Thomas Browne, a planter who died January 24, 1707/8, left his Oakington Plantation to his son John Browne. Richard Simpson was one of three neighbors testifying.76
Richard Simpson died in 1711 leaving his widow Anne Gilbert Simpson and seven children between the ages of two and twenty as well as, Richard, Jr., an older son by a previous marriage. In his will, dated March 9, 1710/11, he left "…my boy Richard Simpson the sum of twelve pence sterling" and specified:
"…my whole Estate both Real and personall be equally divided amongst my seven Children which I had by my last wife called Anne and that every one of them have equall share alike in both my land and moveable Estate…"77
Richard Simpson appointed his son Thomas, then twenty years old, executor of the estate and guardian of the younger children. The will directed Thomas to:
"…keep the small Children til they come to Age and to be ruled by hime and to pay them their equall portion as they shall come of Age."78
By 1715, the widow Simpson was having difficulty supporting herself and her family. With the consent of her son Thomas, the two youngest Simpson children, Anne, ten years old, and Elizabeth, eight, were "bound" to John and Elizabeth Clarke who raised and cared for the girls in exchange for housework.79
Thomas Simpson (1691- n.d.) married twice. With his first wife, Eleanor, he had a son Richard born December 26, 1714 in St. George's Parish. On February 13, 1717/18, in St. George's Parish, Thomas Simpson married Mary Smith, the daughter of Emmanuel Smith. Thomas and Mary Simpson had seven children between 1718 and 1737 of whom one died in infancy.80 In 1722, Thomas Simpson and his wife sold 120 acres of land at Sister's Discovery to Joshua Wood.81
Richard Simpson, the only child of Thomas and Eleanor Simpson, married Elizabeth Reese and had three sons and three daughters. The oldest of the six children, Thomas, was born September 23, 1739 in Baltimore County, Maryland and may have signed the Watauga petition 37 years later on the frontier.82 Sometime in the 1750s,
Richard Simpson and his family left Maryland, where they had lived for three generations, and moved to the frontier of North Carolina.83
______________________________________
From: http://www.uftree.com/UFT/WebPages/JohnSimpson/SIMPSON/#i5311b
3. Richard (Sr)3 Simpson (William2, Richard1) was born in St. Geo. Parish, Baltimore, Maryland 1663. Richard died 1711 in St. George's, Baltimore Co. Maryland, at 48 years of age.
He married Anne Gilbert in Baltimore Co., Maryland, Abt 1683. Anne was born in Baltimore Co., MD 1670. Anne was the daughter of Thomas Gilbert and Elizabeth. Anne died 1711 in Baltimore Co., MD, at 41 years of age.
Richard (Sr) Simpson and Anne Gilbert had the following children:
4 i. Richard (Jr)4 Simpson was born Abt 1683. Richard died May 1721 in Baltimore Co., MD. He married Elizabeth Bef 1720. Elizabeth was born 1714.
+ 5 ii. Susanna Simpson was born April 5, 1692.
+ 6 iii. William Simpson was born February 14, 1694.
7 iv. Elizabeth Simpson was born in St. George's, Baltimore Co., MD April 5, 1697. Elizabeth died September 30, 1698 in St. George's, Baltimore Co., MD, at 1 year of age.
8 v. Jonathan Simpson was born in Baltimore Co., MD November 12, 1699. Jonathan died before May 1742 in Baltimore Co., MD.
9 vi. Martha Simpson was born in Baltimore Co., MD August 27, 1702. She married William Hamby in St. George's, Baltimore Co., MD, December 25, 1722. William was born August 24, 1703.
+ 10 vii. Ann Simpson was born January 25, 1705.