From the notes of Lynn Beedle ("Old Times, Vol.1, No. 1, Page 2.)
Tristram Coffin was born in 1609 in Plymouth, Devonshire, England, and resided in Haverhill, England, until 1642. He came to New England in 1642, and resided in Newbury, Salisbury, Massachusetts. Tristran Coffin died in 1681, on Nantucket Island, Massachusetts. Tristran married Dionis Stevens in November 1630. Dionis was born in 1613 and died in 1676.
Prior ancestry is traced to Portledge Manor (1254), Carminowe Castle (1173), Domesday Book (1086), and "Cerdic" (450 A.D.). See "The Coffin Family".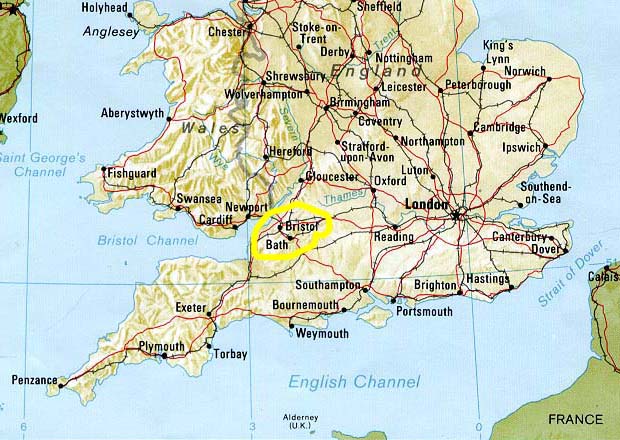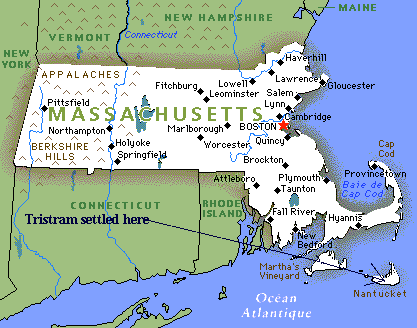 _____________________________________________
From:  www.freepages.genealogy.rootsweb.com/~colby/colbyfam
Tristram COFFIN was born about 1605 in England. He died about 1681.
He was married to Dionis STEVENS date unknown. Children were: Tristran COFFIN.
_____________________________________________
     My Father's Shoes – Our Coffin Story, 
                     Pages 1 to 25.
        From:  www.islandregister.com/rcoffin/pg1_25.html
                              TRISTRAM COFFYN

                                     1609-1681

                                  The Immigrant

Tristram Coffyn was born in 1609 in Brixton Parish, town of Plymouth, Devonshire, England and baptized March 11, 1610. He was the eldest child of Peter and Johanna Coffin.

Coffyn's early years in England were during a very eventful time. Intellectual freedom was being claimed as a right for each individual. This period was during the reign of James I. Among the names of the day were William Shakespeare, Francis Bacon and Oliver Cromwell. It was a period when the Puritans were making large gains in the Parliament.

Tristram had one younger brother, John and four sisters, Johanna, Deborah, Eunice and Mary. When Tristram was 19 his father Peter, died. His will was dated December 21, 1627 and was proved by his widow Johanna on March 13, 1628. In the will it was declared that Tristram was to be provided for according to his degree and calling. Tristram was a farmer and therefore most likely took control of his fathers estate near Plymouth. Two years later Tristram courted and wed Dionis Stevens, daughter of Robert Stevens of Brixton. Dionis Stevens was born in 1609 although other accounts say 1613. Shortly after their marriage, their first child, Peter, was born in 1631 followed by their son Tristram Jr., born in 1632. During the early 1630's England entered into a storm of conflict with the death of James I and the succession of Charles I. In 1638 the Scots took up arms against the King. The Presbyterians took control of the Commons and this was followed by an all out civil war in 1642. During this period of time Tristram and Dionis had two more children Elizabeth (d.o.b. unknown) and James born August 12, 1639. Dionis was also pregnant with their fifth child.

In 1640 Coffyn was selected as a Warden of Brixton Parish. Shortly after in November 1640, he leased his farm that was located at Butlass. With the civil war closing in on his family and the wounding and eventual death eight days later of his brother John at Plymouth Fort, Tristram decided to take his family, including his mother and two unwed sisters to safety in Colonial America. Tristram's friend Robert Clement was leaving for America shortly, aboard a small fleet of ships, some of which were owned by Clement. Tristram quickly put his affairs in order and embarked on his journey with his family aboard Clement's ship named "Hector Clement" in the spring of 1642. This proved to be

– Page 1 –

the last time Coffyn was to see his home in England.

The crossing of the Atlantic took between 60 and 90 days before they arrived in Newburyport Massachusetts, during the summer of 1642. It was a mere twenty years since the pilgrims, aboard the Mayflower had landed at Plymouth, and only thirty-five years past the first permanent settlement by the English. Shortly after their arrival, Tristram secured living quarters for his family and started exploring up the Merrimack River with Robert Clement in search of a good location for a more permanent home. He arrived in a soon to be called settlement named Pentucket, now known as Haverhill Massachusetts. The book "The History of Haverhill" by George Chase states that Clements son, Job Clements, had already settled in the area a year earlier, if so, this could be the reason that Coffyn and Clements chose this area. They found the area to have fertile soil with the necessary resources to build a farm, however, it was recorded that the large population of wolves were a problem with the flocks of sheep and a guard had to be posted at all times. In 1641 there were only six homes built in Pentucket. Tristram's group of settlers negotiated with the Indians for the property rights and secured a twenty square mile area for the sum of three pounds ten shillings. A copy of this deed is still on record and bares witness to the signatures of Robert Clement and Tristram Coffyn, dated November 15, 1642. Not only is this the first record of the first Coffin immigrant in America, but it also indicates how Tristram spelled his surname, Coffyn, with a "y" instead of an "i". It was also during this period that John, their youngest child fell ill and died. Dionis was also pregnant with their sixth child who was later named Deborah. She was born the first Coffin child in America, and the third child born in the tiny settlement but was destined for the same fate as the other newborns and died three weeks later. These deaths give evidence to the harsh conditions that the first immigrants must have encountered upon their arrival in the new world. The living conditions were primitive and unforgiving and many families suffered greatly. It was noted that Coffyn was the first white settler to plough land in the area, having made his own plough from materials at hand. A few years after his arrival in Pentucket, his daughter Mary was born, becoming the first Coffin child to be born and survive to adulthood in America. Shortly after Coffyn's arrival, the settlement was threatened when Indian war parties decided to target the settlers homes. They wanted to halt the white invasion but they feared the firepower of the settlers muskets. The Indian plan was to send a small group to each of the settlers homes at the same time and gain entrance to the houses by way of pretending to want to trade with each of the settlers. Upon a predetermined signal, the Indians would then jump the white men, cut their throats and

– Page 2 –

ransack the house looking for weapons. What the Indians didn't know was that one of their members was a Colonial informant who revealed the plan to British intelligence, the British soldiers along with about forty settlers disarmed the Indians before they could set the plan in motion.

After only a few years of farming in Pentucket, Tristram embarked on a new direction. It would seem that not only was he a farmer, but he was also a businessman. When the opportunity arose to operate a ferry back in Newbury, he decided to move his family once again, however he held onto his property in Haverhill which was in an area known as "The Rocks". The History of Newbury states that in 1644 Tristram Coffin Sr. is allowed to keep an Ordinary (Tavern) which consisted of selling wine and keeping a ferry and Inn on the Newbury side of the Merrimack River. George Carr kept a ferry on the Salisbury side across from Carr Island. Tristram's ferry crossed from Newbury on the south side, between Carr Island and Ram Island, over to the north side of Salisbury. The ferry was operated by Tristram and most likely his older sons Peter and Tristram Jr. in the early years, and as the older boys developed other interests, James took over. In the 1650's Peter left Newbury to go to Dover, New Hampshire, where he became involved in the lumber business. Tristram's daughter Elizabeth wed Stephen Greenleaf in 1651 and resided in Newbury. Tristram Jr. married Judith Somerby in 1653 and became a weaver/tailor and Deacon of the First Parish of Newbury. Tristram Jr. is also the person who brought the Coffin name to the old Coffin house in 1654, which still stands in Newbury, housing over eight generations of Coffin descendants up to the 1850's. In 1997 I visited Newbury and the Coffin house which is now a historical site. The Coffin house is one of the earliest homes made of wood still standing in New England. It is believed that the father, Tristram Sr., lived here shortly before moving to his new home in Nantucket. In 1735 the first centennial of Newbury was celebrated by the town in the front yard of the Coffin house, under two gigantic elm trees. The Tavern and Inn in Newbury was operated mainly by Dionis, Tristram's wife, and was called "Coffyn's Ordinary". Not only did she serve the patrons but she was also responsible for making the beverages of the day, this eventually got the Coffyns into confrontation with the law. The laws of 1645 stated clearly that "every person licenced to keep an Ordinary (Tavern) shall always be provided with good wholesome beer of four bushels of malt to the hogshead, which he shall not sell above two pence the ale quart, on penalty of forty shillings the first offence and for the second offence shall lose his licence". Dionis' ale was made with six bushels, giving it a kick that kept them coming back for more. For her troubles she increased the price by one pence and in turn had to stand before the court to defend her actions. Eventually the charge was

– Page 3 –

View Map of Newbury
– Page 3a –

dismissed, but word spread quickly through Newbury as to where to go for a quality ale. According to the book "Ould Newbury" by John Currier, the Coffyns owned forty acres across from Carr Island. In later years the road to the Inn was known as Coffin Lane and was on the west side of present day Jefferson St. down by the shore of the Merrimack River.

Toward the mid 1650's the ferry crossings were replaced by a floating bridge leaving Tristram little choice but to sell his holdings. He moved across the river to Salisbury where records show his name on some documents as Commissioner of Salisbury. It was during these years in the late 1650's that the first plans to relocate his family to a more desirable location were first laid out. Depending on which source one would believe, there are many arguments that have been brought forward as to why Tristram decided to leave Massachusetts. All would have been valid arguments. It was true that the Puritan rule was harsh and prejudice against freedom of choice both religiously and politically. It was also true that the desire to move to an area where fences were not needed for the livestock (that an Island would provide) would be of some benefit, mainly monetary. In the end, Tristram's desire to keep his family together around him and in their own community outside of the smothering rules of the Puritans could have been the driving factor behind his decision to locate to a new home. In talking to his friends and neighbours he found he was not alone in his thinking. Others were also anxious to leave, many for the same reasons as Coffyn. After a short time their ideas took shape and later, after meeting, it was decided to form a group of associates to pursue matters further. The idea of common pastures and buildings were appealing to many, especially the farmers who were advancing in age. The back breaking life of maintaining a farm could now be shared among the group with common mills and labour supplied by the Indians. How the Island of Nantucket, thirty miles off the south shore of Cape Cod ever came forth as a choice, is once again debatable. Some point out that the connection lies with Thomas Mayhew, the owner of Nantucket and Martha's Vineyard, was a cousin of one of the associates in Tristram's group, a man named Thomas Macy. Others think that Nantucket simply came up in a passing conversation and caught the groups imagination. At one meeting the decision was made to send Tristram Coffyn, possibly his son James, Edward Starbuck and cabin boy Isaac Coleman on a fact finding mission to meet with Mayhew and view Nantucket to assess its suitability as a home. Early in 1659 the men set out for Edgartown in Martha's Vineyard, the home of Thomas Mayhew.

– Page 4 –

Thomas Mayhew came to New England before 1632 from Wiltshire England. By 1637 Mayhew was in the town of Watertown, Massachusetts, where he was operating a grist mill. His business enterprises were flourishing by the time the family of John Folger arrived in Watertown. Mayhew had a son named Thomas Jr. who was very religious. Folger's son Peter was close to the same age as Thomas Jr. and the two became friends. They both shared an appetite for adventure, so when the opportunity came forth for the Mayhew's to purchase an Island named Nantucket, from the Earl of Stirling in 1641 for forty pounds, the adventure began. After seeing the Island it was concluded that Nantucket Island was too far off shore and that Martha's Vineyard would be a more suitable island to inhabit, so shortly after Mayhew also bought Martha's Vineyard.

Thomas Mayhew Jr. moved quickly to establish his home on Martha's Vineyard bringing Peter Folger along with him. His mission was to teach the Indians that inhabited the Islands' Christianity. Folger was to be a school master and surveyor. The work was quite successful and the elder Mayhew came to join them in Edgartown. In 1657 Thomas Jr. found it necessary to go to England to stimulate more financial support, however, his ship was lost in a gale on the crossing and he was never heard from again. Mayhew was devastated by the loss of his son, however he decided to continue with his son's mission. Folger on the other hand was looking for a change. His chance came in the form of a shallop sailing into the harbour at Edgartown with Tristram Coffyn on board. It's interesting to note that this simple twist of fate with Coffyn arriving in Edgartown while Folger was searching for a new adventure, brought about the circumstance to which American statesman, scientist and writer, Benjamin Franklin would later be born into. Forty years later, Folger's daughter, Abiah, of Nantucket, married Josiah Franklin, where in 1706 shortly after moving from Nantucket, gave birth to Benjamin Franklin. In turn this made Peter Folger, Ben Franklin's grandfather.

Tristram's preliminary discussions with Mayhew were favourable. However, Mayhew insisted that if Coffyn's group wanted to purchase Nantucket, the Indians on the Island would have to be included in the negotiations. It was estimated that Nantucket had about 700 Narragansett Indians living in six villages, mostly on the east shore. Today, unfortunately, there is not a single Indian descendant living on the Island. The last Indian descendant died in the 1850's. Nantucket in Algonquin is interpreted as "far away Island". Coffyn realized that without an interpreter he would have problems communicating with the Indians. To address this problem he enlisted the services of Peter Folger

– Page 5 –

who was also a skilled Surveyor. Shortly thereafter, the group left for the Island. The Indians greeted them favourably and although their interpretation of purchasing land proved to be different than the white interpretation, they agreed on the idea. In later years the Indians were surprised to learn the meaning of " trespassing", for in their culture no one ever owns property but instead they only had rights to live upon it, yet anyone could travel through it. After achieving their goal, Coffyn and the rest headed back to Edgartown for further negotiations with Mayhew.

Committed to carrying on with his lost son's work, Mayhew had no real interest in Nantucket and therefore agreed to very reasonable terms for the purchase of the Island. The sale price of 30 pounds along with two beaver hats, one for him and one for his wife, was a bargain especially if one considers that after owning the Island for close to twenty years Mayhew was selling it for ten pounds less than he bought it for. The beaver hats incidently were made by Tristram Jr. Today one can only speculate on the mood of the negotiations, but judging by the eventual results, Coffyn and Mayhew must have respected each other a great deal in order for things to have gone so smoothly. Mayhew did however retain a one twentieth share of the venture so he could have a voice in how the Island affairs were being handled.

Coffin returned home to Salisbury to organize the purchase of Nantucket. Once there, his eight partners ratified the agreement with Mayhew and ten new partners and ten tenant inhabitants were admitted into the company.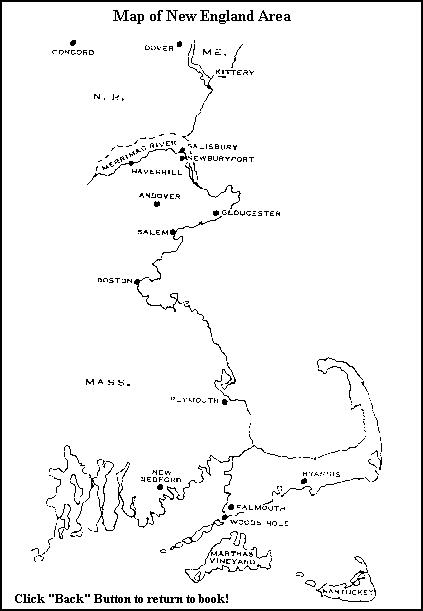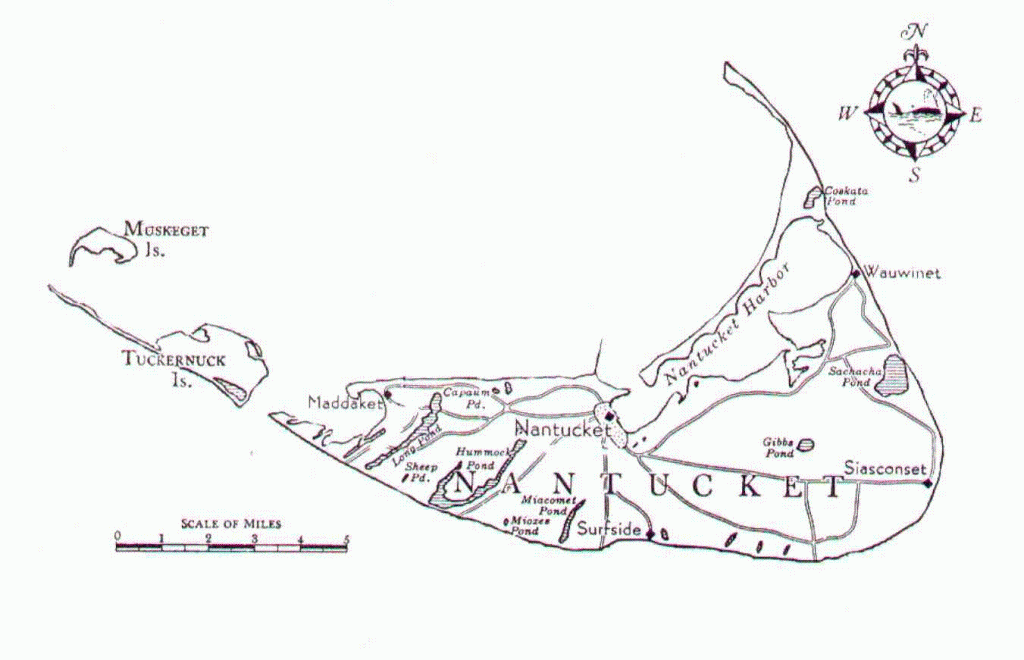 | | | |
| --- | --- | --- |
| Original      Owner | Partner Selected | Half Share Owners    |
| | | |
| --- | --- | --- |
| Tristram Coffyn |   | John Bishop |
| Thomas Macy | Edward Starbuck | Peter Folger |
| Richard Swain | Thomas Coleman | Eleager Folger |
| Thomas Mayhew |   | Richard Swain |
| Thomas Barnard | Robert Barnard | Thomas Macy |
| Peter Coffin | James Coffin | Joseph Coleman |
| Christopher Hussey | Robert Pike | Joseph Gardner |
| Stephen Greenleaf | Tristram Coffin Jr. | John Gardner |
| John Swain | John Smith | Sam Streton |
| William Pile | Thomas Look | Nathaniel Holland |
The half share partners were tradesmen who were needed to help develop the settlement. Folger was the interpreter/surveyor who later became the miller. Joseph Gardner was a shoemaker and Nathaniel Holland was a tailor etc. Some of the other half-share holders listed didn't join the group until the later years.

In the fall of 1659 before any formal deed was drawn up with the Indian leaders Wanackmamack and Nickanoose, James Coffin, Thomas Macy and family, Edward Starbuck and Isaac Coleman left Salisbury for Nantucket to take up residence. Macy was in trouble with the Puritan judges for harbouring Quakers during a short rain storm. Nantucket was out of the Judge's legal realm, so rather than stay and face the charges he decided that the sooner he could leave Salisbury the better it would be. Edward Starbuck was Macy's partner in the company and also his best friend. He felt compelled to go with Macy and the rest to see them through what was going to be a tough first winter. James Coffin age 19 went to watch over his father's interests and Isaac Coleman age 13 was probably just looking for adventure.

The first winter on Nantucket proved to be one full of hardships. The crossing was reported to have been a rough one in which the tiny craft was almost lost. During the first winter the Indians were said to have been most helpful in seeing to the needs of the first white settlers on the Island. In the spring of 1660 Edward Starbuck returned to Salisbury to update the rest on the progress of Nantucket. The reports were favourable and others made preparations to relocate quickly.

The freedom enjoyed in Nantucket, by being independent from the Massachusetts Bay Colony, was the lure that attracted many from Salisbury. But along with their freedom certain laws and regulations had to be drawn-up to keep the new settlement from

– Page 7 –

deteriorating. For instance one guideline was that Indian land could not be purchased by any individual except for use by all its original purchasers. This would ensure a balanced ownership. The Colony of New York claimed jurisdiction over Martha's Vineyard and Nantucket and so it was with the Governor of New York, Francis Lovelace, that the Colony had to deal within terms of being recognized. By the summer of 1661, records show that the meetings were now being held on Nantucket indicating that many of the settlers had made the move to the Island. The first concerns of many were where their house lots would be located. At a town meeting held July 15, 1661 it was agreed upon that each owner would have the freedom to choose his lot within limits not previously occupied. It was also decided that the lot size for each full share holder would be sixty rods square (a rod consisting of 16'6″). It was also agreed that Tristram Coffyn would select first, in which he selected a lot on the north western coastline of the Island at a place known as Cappammet Harbour (today known as Capaum Pond). The original Nantucket record states "Tristram Coffyn, Sr., had his house lot laid out at Cappammet, by the aforesaid lot layers, at Cappamet Harbour head, sixty rods square, or thereabouts, the east side line part of it bounded by the highway; the south side by a rock southward of the pond; the north by the harbour head; the west side bounded by the lot of Tristram Coffin Jr." In the aftermath, once all was said and done, Tristram had succeeded with his wish to live out his days in a free society surrounded by his friends and family. To his east side, across Cappamet Harbour was his son Peter, who didn't reside on the Island but was a frequent visitor seeing as he had secured the rights to supply the settlers with lumber for their homes. To the west was the lot of his son Tristram Jr., again not a full time resident but a frequent visitor. To the south laid the lots of his daughter Mary and her husband Nathaniel Starbuck. Mary and Nathaniel were very much a part of the Island's development. Mary owned the first store on the Island as well as being regarded in later life as a spiritual leader, having embraced Quakerism. Mary and Nathaniel also had the honour of having the first white baby on the Island during the early 1660's. Also to the south lay the lot of James Coffin. After Tristram, James was the head of the Coffin interests on Nantucket.

The first years of settlement consisted of building houses along with shelters for their livestock, mainly sheep and oxen, as well as developing pastures and common buildings. The Indians helped to develop the farms and taught the settlers a great deal about living on the Island. In turn they were given employment and some formal education. The first years were often regarded as the best years upon Nantucket, in terms of creating a society that

– Page 8 –

View lot placements in Nantucket
– Page 8a –

flowed in harmony, where one could rely on their neighbours as though they were family. The great grandson of Thomas Macy would later write, "The little community was kind and courteous to each other and hospitable to strangers. The prevalence of good feeling was remarked and felt by all who came among them".

From the beginning Tristram Coffyn and Thomas Macy were the spokesmen for the settlement. In 1671 they were selected by the group to go to New York and meet with Governor Lovelace and secure their claim to the Island. Upon their return the Islanders nominated Coffyn to be Chief Magistrate of Nantucket. The town also selected all other officers except the Chief Military Officer who was to be selected by Governor Lovelace from nominees chosen by the settlement. After a few more years of harmony, or about the early 1670's the first signs of trouble on the Island began to appear. The problems came through the evolution of the two classes of settlers. On one hand they had the full share owners and their partners, who by Nantucket law had two votes each. On the other hand the half share owners only had one vote resulting in less of a say on Island affairs. They viewed themselves just as important as the full share settlers. The only thing missing for a revolt by the half share members was a leader. That changed in 1673 when it was decided that the community needed to expand their fishing interests by enlisting the services of a skilled tradesman by the name of John Gardner of Salem, Massachusetts. Gardner was the brother of full share owner Joseph Gardner. Right from the start John Gardner challenged the original owners on most issues and from this began the feud between the Gardner's group and the Coffin group.

Another problem arising on the Island involved the Indians and liquor. Some of the white settlers were taking advantage of the Indians' ignorance regarding liquor consumption. Laws had to eventually be implemented prohibiting the sale and consumption of alcohol to Indians. John Gardner often ignored these laws which escalated the tension on the Island. Gardner also attempted to buy land from the Indians, however the final blow most probably resulted from a meeting Gardner set up with Gov. Lovelace's replacement, Governor Francis Andros. One of the requirements of the Islanders was to pay taxes to New York. This payment was met by giving the government four barrels of fish. John Gardner convinced the settlers to let him deliver the payment. While there, he met with Governor Andros and in turn convinced the Governor to name the main town in Nantucket, Sherborne, after his hometown back in England. He then managed to get himself appointed as Chief Military Officer. This all came about shortly before the Dutch takeover of New York. With the change in

– Page 9 –

governments in New York, Gardners's group declared that past arrangements with the original settlers were no longer valid. The tension ran high for a short period until the Dutch were run out of New York and the old government was reinstated. Upon this action, Tristram and Mathew Mayhew, grandson of Thomas, once again sailed for New York and had their agreements with the government reinstated.

In 1676 Thomas Mayhew became Chief Magistrate on Nantucket with Peter Coffin, a new resident on the Island becoming Assistant Magistrate. Peter and James Coffin had returned to the Island as a result of the conflict on the mainland between the Indians and the white settlers known as King Philip's War. This appointment of Macy and the election of Peter Coffin infuriated the Gardner group. Not only was Peter a "Coffin" he also held government positions back in Dover and was not considered a full time resident of Nantucket. A few years later the tension eased with the elections of James Coffin, John Gardner and Nathaniel Starbuck who would all be elected as Assistant Magistrates. The feud continued toward the late 1670's in a period that would result in Tristram Coffyn being selected as Chief Magistrate by Governor Andros in the hopes of trying to pull the community back together. Coffyn was regarded by most of the settlers as the one person who could rectify Nantucket's struggle with growth. Unfortunately, for everyone, a shipwreck on the Nantucket shoals diverted any plans that Tristram had for the Islanders. In September 1678 a French ship ran aground during a storm, forcing the crew to abandon ship. Shortly thereafter the cargo was salvaged by certain parties and sold for profit. This action put Tristram, who was chief magistrate, in violation with maritime law which stated that the cargo should have been secured until claimed by the owner. In failing to do so, Tristram subjected himself to be responsible for the lost cargo. The courts came down hard on him with a stiff penalty which would ruin him financially. The action cast a dark cloud over Coffyn, who was now in his early 70's. His family rallied to his side but the strain of the penalty along with the feuding years had worn him down. Later his son James made financial arrangements to pay the fine. In the end, surprisingly, it was John Gardner, who had become the new Chief Magistrate of Nantucket, who stood up to the courts with a touching appeal on Coffyn's behalf. He convinced the courts to reduce the penalty substantially.

When all was said and done what remained was Coffyn's ill health. The year was 1681, and autumn was closing in. Coffyn had made the arrangements that were to follow his death back in 1678. He made no will but instead disposed of his rather large estate

– Page 10 –

through deeds to his family, mainly his youngest sons John and Stephen. To his numerous grandchildren, 60 in all, he granted 10 acres of land to each one upon the Coffyn's Island of Tuckernuck, off the west coast of Nantucket. In 1681 Tristram owned two houses on his property, the first dwelling house he deeded to Stephen and the new house upon the hill was to go to John. His son Stephen was asked to care for their mother, Dionis up until her death.

On October 3, 1681 Tristram Coffyn died, he was 72 years old at the time of his death. His funeral brought out all the Islanders including the Gardners to mourn his passing. It has been recorded that his old friend Edward Starbuck read from the bible and then Tristram's body was taken to a favourite location on his property and buried. Through the years the exact site of his grave has wandered from memory, however, the man himself lives on in each one of his descendants. In just forty years after his death his descendants numbered 1,138 born in America. In 1728 the number had increased to 1,582. All of them descendants from one couple, Tristram and Dionis Coffyn.

Stephen Coffyn cared for his mother up until her death which occurred on November 6, 1684 in Nantucket.
_________________________________________________________________________
From:  http://home.talkcity.com/SeekingSt/fegrimes/html/d0003/g0000081.html#I0575
Tristram COFFIN , Sr.
1605 – 2 Oct 1681
| | |
| --- | --- |
| | BIRTH: 1605, Brixton, England |
| | DEATH: 2 Oct 1681, Nantucket, Nantucket Co, MA |
| | BURIAL: Oct 1681, Nantucket, Nantucket Co, MA |
Father: Peter COFFIN
Mother: Johanna KEMBER

Family 1 : Dionis STEVENS
| | |
| --- | --- |
| | MARRIAGE: Nov 1630, Devonshire, England |
_________________________________________________________________________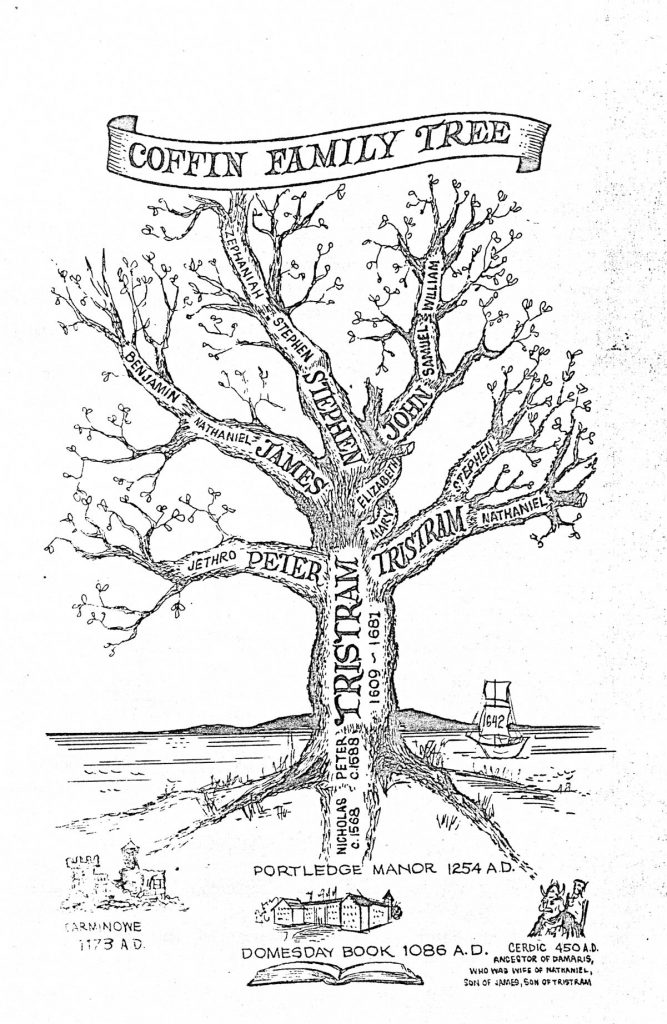 Tristam Coffin –
Tristram was the eldest son of Peter Coffin and his wife Joan Kember, and was born at Brixton, a parish near Plymouth in Devon; he was baptised on 11 March 1610. He became a churchwarden of the parish church (where his customary pew in the front of the chancel was marked on a plan made in 1638) and also a parish constable – holder of one of the offices created under the Elizabethan reforms of parochial administration. In 1630 or thereabouts he married Dionis, daughter of Robert Stevens of the same parish.
Tristram may have inherited some property from his father, as he was the executor both of Peter and of his uncle John, whose will was proved in 1628. Records of Devon Quarter Sessions show that he had a legal dispute with a Thomas Maynard, also of Brixton, which in midsummer 1641 was referred for arbitration to Robert Savery and Henry Pollexfen. The subject of the dispute and the outcome of the arbitration are not known. But they may have had a bearing on Tristram's decision in 1642, shortly after the outbreak of the Civil War in England, to embark for America – taking with him his wife and 5 small children, his mother and two unmarried sisters. None of them ever returned. It is thought that they sailed in one of four ships owned by Robert Clement (the Hector, Griffin, Job Clement and Margaret Clement).
Tristram is said to have gone first to Salisbury, in what is now Massachusetts, but to have moved soon afterwards to the new settlement of Pentucket (later renamed Haverhill). Later still he moved to Newbury, and then back to Salisbury (1654-5), from where he set out first to Martha's Vineyard and then to Nantucket, intending (it is said) to report on the disposition of the Indians and the possibility of emigrating thither. His report was satisfactory on all counts.
On his return to Salisbury in 1659, a company was organised for the purchase of Nantucket, and the first settlers arrived later that year – Thomas Macy and his family, Edward Starbuck, Isaac Coleman and James Coffin (Tristram's fourth child, and only 19 years of age at the time).Tristram himself seems to have moved to the island in 1660, and to have been given some priority in choosing his house lot at a meeting in July 1661, when it was agreed among the first purchasers that each should be free to choose a lot of 60 rods square. According to Louis Coffin, author of The Coffin Family, his first home was near the Capaum pond, where he lived until his death.
Of the other members of Tristram's family, his mother Joan died in Boston in May 1661, and never went to Nantucket. His eldest son Peter was among the original purchasers, and like his father was allotted land near Capaum; but if he lived there, it seems to have been only for a short time. Two of Tristram's other children, Tristram Jr. and Elizabeth, were (like Peter) married by this time; but although among the original purchasers, Tristram Jr. and Elizabeth and her husband (Stephen Greenleaf), are not thought to have ever lived on Nantucket. However, James Coffin, the third son, was allotted land bounded on the west by the common, and on the south by the lot of Nathaniel Starbuck. Tristram Sr. and his three eldest sons also bought the neighbouring island of Tuckernuck in their own right.
According to the early accounts, Tristram Coffin Sr. was the leading man on the island, and notably so in his dealings with the American Indians who were its aboriginal inhabitants.He is said to have treated them considerately in all ways, and to have employed numbers of them in farming the land he acquired. However, some white settlers foolishly sold rum to the Indians, who soon became drunk and troublesome as a result. As the first chief magistrate of the island, appointed in 1671, Tristram (with his opposite number from Martha's Vineyard, Thomas Mayhew) had to promulgate a law prohibiting the sale to Indians of intoxicating drink – perhaps the first liquor law on record.
On the marriage of his daughter Mary to Nathaniel Starbuck in 1664, Tristram endowed the couple with one-half of his land. Much of the rest he seems to have left to go to his youngest sons, John (the second of that name – the first, born in England, having died at Haverhill) and Stephen, after the decease of himself and his wife. He also gave 10 acres of land each on Tuckernuck to such of his grandchildren as would cultivate it. He left no will, but died on 3 October 1681. His wife Dionis may have survived him – according to one account she died on 16 Oct 1676, according to another on 6 November 1684. James, John and Stephen Coffin adminstered his estate jointly, and were discharged from their duty by 9 February 1682.
Additional Notes:
Brixton England, Salsbury, Newbury, Nantucket Mass Jan 4 1628, Will of his Uncle John ( proved Apr. 3 1628 ) He makes Tristam an executor and gives legacies to Tristams sisters.
1642 – He and his wife, five children, two sisters and his mother, sailed from England this year and at first made settlement at Salisbury Mass. His brother John had before this died at Plymouth Fort England.
Nov. 15 1642 – He, with others, received a deed from Passaquo and Saggahew, of their lands at Petucket ( Haverhill ) several miles square for the sum 3 pounds 10 s. The Indians made their mark by representations of bows and arrows,
1644 – He " is allowed to keep an Ordinary, sell wine and keep a ferry on the Newbury side", ect ( Merrimack River )
Dec 26 1647 – same order passed. He had the Newbury side and George Carr the Salisbury side.
Sept 1653 – His wife, Dionis was presented for selling beer at his ordinary for 3 pence a quart. She proved upon testimony that she put 6 bushels of malt into the hogshead, and she was accordingly discharged. The law provided that inkeepers should, " always be provided with good wholesome beer of 4 bushels of malt to the hogshead" to be sold not above 2 pence per quart, under penalty of 40 shillings for the first offense and loss of license for the next. As Dionis kept the proportion good she was not liable for the fine. Haverhill, Newbury, and Salisbury were successively habitations of Tristam until he went to Nantucket. July 2 1659 – He and eight others received the deed to Nantucket from Thomas Mayhew for 30 pounds, " and also 2 beaver hatts, one for myself, and one for my wife." as Mayhew declares in his deed. The latter retained a share in the island.
Oct 10 1659 – He and sons Peter, Tristam Jr and James bought Tiuckemut Island for 6 pounds from Thomas Mayhew.
July 15 1661 – He had his house lot laid out un a meeting of proprietors of 60 rods square, at Cappamet Harbor.
June 29 1671 – Appointed Chief Magistrate of Nantucket by Gov Lovelace of New York. The same date, he and others received a deed from Wanackmamack head Sachem of Nantucket of lands and privileges for 40 pounds.
Sept 9 1677 – Appointed Chief Magistrate of Nantucket by Edmund Andros Governor Andros. The same year he conveyed to son Stephen, a house and a large amount of real estate; his son on his part to " be helpful to me and his mother in our old age and sickn
ess what he can " To his daughter Mary and her husband Nathaniel Starbuck, he had deeded half of his estate some years previously; but acknowledged this year. . The following year he gave his son John a new dwelling house, and to each grandchild 10 acres
to plant upon the island of Tuckernuck.
Nov 29 1681 – Administrration granted on his estate to sons John, James, Stephen; they giving a bond of 100 pounds.
Aug 8 1682 – Inventory presented, the Court ordered use of the estate to his widow, for her life.
This family was Tristram and Dionis Coffyn from Devon, England. The civil war in England at the time forced Tristram to come to America in 1642. He was a royalist. A planter, Tristram and his family arrived in Newburyport in late summer 1642 having sailed on the "Hector" owned by Robert Clement out of Plymouth. They lived briefly at Haverhill, and moved back to Newbury where he operated a ferry across the Merrimack River. Later he moved across the river to Sailsbury N.H., where he and some friends, purchased Nantucket Island, for thirty pounds and two beaver skin hats and moved there in 1660. He was Governor at one point. He was a blacksmith in Haverhill with his son John for a while until his death. He always spelled his name Coffyn married Dionis Stevens, daughter of Robert Stevens, at England. He was born in 1609 at Plymouth, Devonshire, England. He died in 1681 at Nantucket.
It is believed by some that the Coffin (or Coffyn) family originated in Palestine or Greece. At the time of the Norman Conquest, when the name first appears in British history, the family showed signs of Norse or ancient British characteristics. The Coffin family from which the Gaspe Coffins descended lived in the northern coast of Devonshire, England, within the parish of Brixton. Tristram Coffin left his homeland in 1642 with his wife, his mother, and two unmarried sisters, and moved to America. Finally in 1660 he settled permanently on Nantucket Island, of which he was one of the original proprietors.
It is from Tristram and his wife, Dionis Stevens, that most of America's vast number of Coffins have descended. A great-great-grandson of his, Abraham, served as an officer on a British Navy Vessel during the American Revolution. This ship made frequent excursions into the St. Lawrence and often came to port in Gaspe. On one of these visits, in 1779, Abraham married Hannah Ascah. He received 600 acres of land in L'Anse aux Cousins, on which several members of the Coffin family still reside.
Abraham built his house near the Mill Brook in L'Anse aux Cousins. Here he raised a family of 8 children. His fifth child, also called Abraham, married Annabella Boyle and moved to Wakeham. Their fourth child, again Abraham, settled in York. This Abraham's son, Edward McGregor, settled on lot #19 in Sunny Bank, on what is now vacant property owned by Ralph Patterson. Only two families of Coffins were raised in Sunny Bank, and today not even a trace of their homestead remains.
___________________________________________________________________
Annals of the Sinnott, Rogers, Coffin, Corlies, Reeves, Bodine And Allied Families
By
Mary Elisabeth Sinnott
Edited By
Josiah Granville Leach, L.L.B.
Printed for Private Circulation
By J. B. Lippincott Company, Philadelphia
MDCCCCV
THE COFFIN FAMILY
The Coffins of New England trace their lineage from the ancient and honorable family of their name in Devonshire, England. The name is found in that shire as aarly as the twelfth century, since which time it has had a habitat there. During the thirteenth century one Richard Coffyn was granted free warren in the manor of Alwington by King Henry III., and early in the next century the manor was settled upon another Richard Coffyn, from whose day, until the present time, the lordship of the manor has remained in the Coffin family. It is one of the rare instances of an English estate being retained for a period of nearly eight hundred years in one family and continuing the original name. The grounds belonging to the manor comprise most of the parish of Alwington, about three thousand seven hundred acres, near the borough of Bideford, in North Devon, which Charles Kingsley so graphically describes in his "Westward Ho." The compiler has visited the manor-house, Portledge, where are preserved the muniments of title of this ancient estate, dating back to the year 1254.
The approach from Bideford to Portledge extends for nearly four miles through a shaded road, banked on either side by luxuriant hedges, upon which opens a great gateway of stone. Passing through this, there is a driveway of about a mile through a forest, at the end of which is the manor-house, surrounded by lawns which extend on the one side down to the sea, and which in depth and beauty of verdure bespeak their centuries of cultivation. The mansion house, which is of stone, with coigns, buttresses, and battlements, many windowed and almost hidden by ivy, is entered through a capacious square hall galleried on the level of the second floor. This, as well as the spacious, heavily wainscoted dining-room, is lined with portraits of Coffins of other centuries, men and women in antiquated dress, but with the fine faces, blue eyes, and characteristic features of the race of to-day. The ancient arrangement of the interior of the house has been modified to meet modern requirements, but the stately carved doors and ceilings still display the emblazonments and quarterings of the family arms. On the ceiling of the dining-room the Coffin arms is quartered with those of the Pine family, another of the "Worthies of Devon," with whom the Coffins have intermarried. Portledge was once famous for its extensive library, which contained a priceless accumulation of documents, dating from the fourteenth century. About 1800 many of the manuscripts and books were dispersed. The present owner of Portledge is Major Pine Coffin, of the English army. His younger brother, Tristram Pine Coffin, Esqr, bears his Christrain name in honor of his remote kinsman, Tristram Coffin, the founder of the American family.
Mrs. Matilda Pine Coffin, of Portledge, in answer to a letter from the compiler inquiring as to the age of the manor-house, writes, under date of 10 September, 1902:
"In regard to the age of the old home "Portledge," I do not think we can suggest any date except that upon good authority I know of an old arch and old doorway on the north side is as old as the twelfth century, or about the date of Henry II, King of England. The house from time to time has been much changed, but a house existed there for many centuries."
Nicholas Coffin, the grandfather of Tristram Coffin, Esqr, the founder of the New England family of Coffin, resided at Bulter's, Brixton Parish, in southern Devonshire, and was buried there 8 October, 1613. His will, dated 21 December, and proved 3 November, that year, names wife Joan; sons Peter, Tristram, Nicholas, and John; daughter Anne, and granddaughter Joan Coffin. His widow, Joan, was buried at Briston, 5 February, 1614.
Peter Coffin, the eldest son of Nicholas, and the father of Tristram Coffin, Esqr, resided at Butler's, and was a church-warden of Brixton Parish. He died at Butler's, in 1628. His will, dated 21 December, 1627, was proved the 13th of March following, and named wife Joan; sons Tristram and John; daughters Joan, Deborah, Eunice, and Mary; and brother Nicholas. He bequeathed the principal part of his estate to his wife, with remainder to his son Tristram, and mentioned as estate at Bulter's, called "Silverhay." The will of his brother John, of the same place, is dated 4 January, 1624, and named as executor thereof his nephew Tristram Coffin, and gave legacies to his nephew and nieces John, Joan, Deborah, Enuice and Mary.
Peter Coffin married, circa 1609, Joan, daughter of Robert and Anna Kember, of Brixton Parish. She survived her husband and about 1642 emigrated to Massachusetts, accompanied by her son Tristram and daughters Eunice and Mary. She died at Boston, in May, 1661, aged seventy-seven years. Judge Sewall, in his famous Diary, notes that the Reverend John Wilson preached her sermon funeral and "embalmed her memory."
Tristram Coffin, Esqr, was the eldest child of Peter Coffin by his wife Joan Kember, and was baptized in Brixton Parish, 11 March1610. That he was a man of estate and of excellent repute prior to quitting his Devonshire home and coming to America, is plainly indicated in his selection, in 1639, as a warden of Brixton Parish. About two years later he emigrated to Massachusetts, accompanied by his mother, sisters Eunice and Mary, and his five children. Upon his arrival in the colony, he made his home, temporarily, at Salisbury, but shortly removed to Haverhill, where he remained until about 1647, when he removed to Newbury. The earliest record of his presence in the colony is under date of 15 March, 1642, on which date he was a witness to the Indian deed for the territory which became Haverhill. In 1647 he was "allowed to keep an ordinary at Newbury," and to "retayle wine," and was granted, at the same time, the franchise of a ferry across the Merrimac, on "the Newbury side." At a later date he removed to Salisbury, where, in 1654, he became magistrate, and signed his name and title, "Tristram Coffyn Commissioner of Salisbury."
In 1659 he became a leader in the movement to establish an English colony on the island of Nantucket, which point he visited with this end in view, and, being favorably impressed with the locality, he negotiated for the purchase of the island from Thomas Mayhew, who then held the patent for the same. Mr. Coffin induced a number of his friends to join him in the project, and on 2 July, 1659, the purchase was made. The deed for the island names nine grantees, with Mr. Coffin's name at the head of the list.
Shortly after the purchase was made, Mr. Coffin removed to the island, taking with him a portion of his family. He was foremost in the work of establishing the new colony, and in promoting its welfare, and so prominent and effective were his services in these directions, that he came to be recognized as its founder, and his descendants have ever since been conspicuously identified with its affairs.
Political affairs amoung the islanders drifted along, under the direction of the inhabitants themselves, until 1671, at which date the colony had attained such proportions that a more definite establishment of government was found to be necessary. The inhabitants presented their needs to the governor of the colony of New York, of which Nantucket was a part until 1692, and this action was soon followed by the appointment of Mr. Coffin to the governorship of the island, and the adoption of rules for its government. Mr. Coffin's commission to the chief-magistracy reads:
"Commission Granted to Mr. Tristram Coffin, Senr., to be Chiefe Magistrate in and over the Islands of Nantuckett and Tuckanuckett." –(Deeds III., 62, Secretary's Office, Albany, New York.)
"Francis Lovelace, Esq., &c.: Whereas upon Address made unto mee by Mr. Tristram Coffin and Mr. Thomas Macy on ye behalfe of themselves and ye rest of ye inhabitants on Nantucket Island concerning ye Mannor and Method of Government to be used amoung themselves, and having ye Advice of my Counceil pitcht upon a way for them; That is to say That they be Governed by a Person as Chiefe Magistrate, and two Assistants, ye former to be nominated by myselfe, ye other to bee chosen and confirmed by ye inhabitants as in ye Instructions sent unto them is more particularly Sett forth. And having conceived a good Opinion of ye ffitness and capacity of Mr. Tristram Coffin to be ye present Chiefe Magistrate to manage Affayres wth ye Ayd the good Advice of ye Assistants in ye Islands of Nantuckett and Tuckanuckett, I have thought fitt to Nominate, Constitute, and Appoint and by these Prsents doe hereby Nominate Constitute and Appoint Mr. Tristram Coffin to be Chiefe Magistrate of ye said Islands of Nantuckett and Tuckanuckett. In ye Management of wch said Employment, hee is to use his best Skill and Endeavor to preserve his Maties Peace, and to keep ye inhabitants in good Ordr. And all Persons are hereby required to give ye said Mr. Tristram Coffin such Respect and Obedience as belongs to a Person invested by commission from Authority of his Royall Highness in ye Place and Employmt of a Chief Magistrate in ye Islands aforesaid. And hee is duely to observe the Orders and Instructions wch are already given forth you ye well governing of ye Place, or such others as from Time to Time shall hereafter bee given by mee: And for whatfoever ye said Mr. Tristram Coffin shall lawfully Act or Doe in Protection of ye Premises. This is my commission wch is to be of fforce until ye 13th day of October, which shall bee in ye Yeare of our Lord 1672, when a new magistrate is to enter into the Employmt shall bee his sufficient Warrant and Discharge.
"Given under my Hand and Seal at fforte James in New Yorke, this 29th day of June in ye 22nd Yeare of his Maties Reign, Annoq. Dni. 1671.
"Fran: Lovelace."
It will be observed that the foregoing commission made Mr. Coffin chief magistrate over the island of Tuckanuckett, as well as of Nantucket. The former island is near the latter , and was the property of the Coffin family, it having been purchased by Mr. Coffin and his sons Peter, Tristram and James, by deed from Thomas Mayhew, 10 October, 1659.
Mr. Coffin again became governor of Nantucket, and this time by virtue of a commission from Sir Edmund Andros, dated 16 September, 1677. In his public life, as well as in that of a private citizen, he proved himself a worthy ancestor of his numerous posterity, many of whom reached distinction. He lived at Northam, near Capaum Pond, Nantucket, and died 2 December, 1681, aged seventy-six years. He married, circa 1629, Dionis, daughter of Robert Steven, or Stevens, of Brixton Parish, baptized at Brixton, 4 March, 1610.
http://www.ecoffin.freeserve.co.uk/portledg.htm
From: http://www.jacksonsweb.org/coffinnotes.htm
This family was Tristram and Dionis Coffyn from Devon, England. The civil war in England at the time forced Tristram to come to America in 1642. He was a royalist. A planter, Tristram and his family arrived in Newburyport in late summer 1642 having sailed on the "Hector" owned by Robert Clement out of Plymouth. They lived briefly at Haverhill, and moved back to Newbury where he operated a ferry across the Merrimack River. Later he moved across the river to Sailsbury N.H., where he and some friends, purchased Nantucket Island, for thirty pounds and two beaver skin hats and moved there in 1660. He was Governor at one point. He was a blacksmith in Haverhill with his son John for a while until his death. He always spelled his name Coffyn married Dionis Stevens, daughter of Robert Stevens, at England. He was born in 1609 at Plymouth, Devonshire, England. He died in 1681 at Nantucket.