From : http://freepages.genealogy.rootsweb.com/~parisho/s/stevens.html



 

THE STEVENS LINE

STEVENS LINE – FIRST GENERATION
JOHN STEVENS

Born: abt 1540 probably in England
Died: 1611 Brixton, Devonshire, England, will proved 15 Dec 1611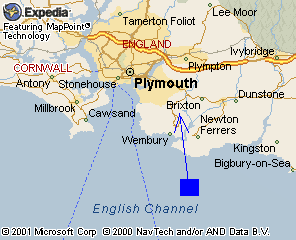 Parents:

Marriage:

Children:


1. ROBERT b. 1563 (see below)



2. (girl) b. abt 1565 m. Robert Algar

3. Elizabeth b. abt 1657 m. James Thorne
STEVENS LINE – SECOND GENERATION

ROBERT STEVENS ESQ

Born: 1563 in Brixton, Devonshire, England
Died: 1627/28 Brixton, will proved 4 Feb 1628

Parents: John Stevens –



Marriage: Dionis _____ in 1598. She d. Boston MA in May 1661.



Children:

1. Thoms b. abt 1600 Brixton

2. William b. abt 1603 Brixton

3. John b. abt 1605 Brixton

4. Tristram b. abt 1607, m. Frances Martin, d. 1644 Brixton

5. DIONIS STEVENS b. 1609/10 (see below)

6. Elizabeth b. abt 1611 Brixton

7. Lydia b. bapt. 5 Apr 1613 m. Henry Kember
STEVENS LINE – THIRD GENERATION

DIONIS STEVENS

Born: 4 Mar 1609/10 Brixton, England
Died: 5 Dec 1705 probably at Nantucket, MA

Parents: Robert Stevens Esq. – Dionis ______.

Married: Tristram Coffin in 1630 at Brixton. They came to MA in 1642 from England, he being 37yrs old at the time. He was b. 1605 in Brixton, Devonshire, England, died Oct 1681 at Nantucket. They were the parents of nine children, four of which we are directly related to. See the Coffin line for list of children and descendants.

Line of Descent (will show one line only)

JOHN STEVENS, ROBERT STEVENS, DIONIS STEVENS, JAMES COFFIN, NATHANIEL COFFIN, BENJAMIN COFFIN, ABIGAIL COFFIN, MATTHEW MACY, EUNICE MACY, THOMAS MACY, JOHN MACY, LORETTA MACY, JAMES PARISHO, WAYNE PARISHO, SUSANNE PARISHO

___________________________________________________________________________
From the LDS Website: www.familysearch.org/ .
| | |
| --- | --- |
| Pedigree Chart | FamilySearch™ Ancestral File v4.19 |
 
Download GEDCOM

8 

(Unknown) STEVENS

B: 

Abt 1520
(unknown), Devon, ?, England

D: 


(unknown), Devon, ?, England

 

 


4 

John(Robert) STEVENS

B: 

1540
Brixton, Bristol, Devonshire, England

D: 

15 Dec 1611
Brixton, Devonshire, England

M: 

Abt 1579
, , Devon, England


9 
Family

 


2 

Robert STEVENS

B: 

1563
Plymouth, Brixton, Devon, England

D: 

4 Feb 1627
Datewill Probate, Brixton, Devon., England

M: 

Bef 1613
Brixton, , England

 
Family

10 

 

(Unknown) STEVENS

B: 

Abt 1525
(unknown), Devon, ?, England

D: 


(unknown), Devon, ?, England

 

 


5 

Joan COREY

B: 

Abt 1544
Of Brixton, Devonshire, England

D: 

Aft 9 1608/1609 Mar
Brixton, Devon, England

 

 

1 

Dionis STEVENS (STEPHENS)

B: 

4 Mar 1609
Plymouth, Brixton, Devon, England

D: 

16 Sep 1676
Nantucket, Nantucket, Ma

M: 

1629/1630
Brixton, Devonshire, England


11 
Family
 
 
Family

Tristram COFFIN

B: 

11 Mar 1609
Plymouth, Brixton Parish, Devonshire, England

D: 

20 Oct 1681
, Nantucket, Nantucket, Massachusetts

 

 


12 

 


6 
 

13 
Family

3 
Family
 
Family

14 

 


7 
 

15 
Family
 
 
 

© 1999-2001 by Intellectual Reserve, Inc.  All rights reserved.  English approval: 3/1999
Use of this site constitutes your acceptance of these 
Privacy Policy (last updated: 10/12/2001).   27    http://www.familysearch.org   v.2.3.0