From VAN EATON & Allied Families, by Steven Earl Coulter, 1974:
WESTBROOK (courtesy of William E. Westbrooke, 265 Buckingham Way, Apt 101, San
Francisco, Calif. 94132)
Jan Teunisen. On July 27, 1641, Jan Theunissen, carpenter of Leijden, Holland, age 36, engaged as a free man for the term of four years to serve as a carpenter in the New Netherland colony of Kiliaen van Rensselaer. This was a blanket contract, and the date July 27th is the date of sailing to confirm the agreement. Jan Teunisz, from Leyden, carpenter, sailed by Den Conick David from Amsterdam, July 23, 1641; arrived at New Amsterdam, Nov 29, 1641.
On Nov 22, 1646, Jan Teunissen, schout (similar to bailiff) of Breuklen, contracted to cut and convey to the Ferry, timber for a house for sergeant Doman and to erect the same. Jan was appointed sheriff of Breucklen on Dec 1, 1646.
In keeping with the Dutch custom of family names, Jan Teunisen may properly have named a son Anthony Jansen (Jan's son).
_____________________________________________
From the Notes of Jim Tillotson:
Jim Tillotson's files on Westbroek, Tunisen and Decker.
1800-Jan TUENISEN [We71, VEAL]/THEUNISZOON[PCHS]  Son of 3600-Theunis REYERSZOON and 3601-Jannichje                          JANSDOCHTER
b. est. 1593 in Westbroek, Utrecht, Netherlands [LDSC]
m. 1801-Eychgan BOSCH [WE64]
d. in New York [LDSC]
ch.   m *Anthony Jansen
          1 other [WE64]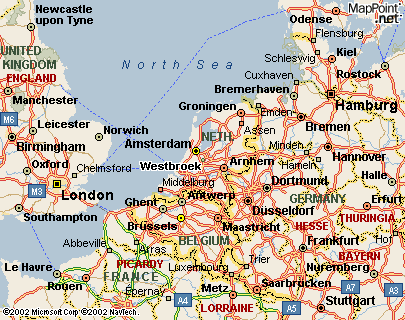 NOTE 1800-Jan Tuenisen
[FOMC] Court of Fort Orange
p 91-93, 95-96 accused in in 1658 of selling brandy to the savages on 30 December 1657, found guilty on 15 January 1658
p 121 sued in Court 19 June 1658 for debt
p 123 sued in court 2 July 1658 for rent owed
p 130 sued in court 9 July 1658 for rent owed
p 142 acussed on 23 July 1658 of selling brandy to the Indians
p 177 sued in court 18 March 1659 for debt
p 236 condemed to pay fine of fl. 500 on 9 December 1659
[ACER] I: 288 Jan Teunissen, alius de Paep (the priest)
I: 247 21 June Jacob Teunise De Looper, schout, see below
III: 83 Jan Theunise 18 February 1659
IV: 57 inventory of property of Jan Teunissen 25 July 1658:
one blue and one red jug of large size
nine earthern mugs and small jugs
a pewter pint
a copper kettle and an iron pan
eleven wine galsses, a 1/2 mutsjen [a small gin measute,
containing about 1/16 of a pint] and a pewter plate
two earthern dishes, three chairs
the remainder of a box of sugar, about 50 pounds
two round boxes, a gun a horn, a rapier
five blue earthern saucers and a white one
in the cellar were found a remnant of mead, a remnant of
alsemwijn [either absinth or vermuth], four half aams of Spanish
wine and a small keg of pipes
IV: 60-61 Conditions of public sale of house and lot of Jan Teunissen, alias de paep (the papist, not the priest)
IV: 94-95 Conditions of public sale of garden in Beverwyck of Jan Teunissen
IV: 95-96 acknowledgement of payment 4 January 1659
IV p 95-96 Deed to Willem Fredericksen Bout for garden at Beverwyck
[AlHx] III: 91 Key to names of Persons in Early Albany Records:
Jan Teunise De Paep 1660
Cornelis Teunise Van Westbroeck or Bos 1663-1666
III: 247 Albany County Records 21 June:
Jacob Teunise [De Looper] ,schout, saw an Indian by night go in and out at Thomas Paulus (Powell's); he said he had in the house of said Thomas wine, beer or brandy in presence of Wynter, Jan Teunise and Bastiaen Pieterse
III: 288 Cornelis Teunissen Bosch conveyed a lot being taken for public use for a street adjoining to the south of the house of Jan Teunissen, alias de Paep (the priest) on 10 December 1660, recorded by clerk at Fort Orange
[UCHx] I: 192 Conveyances 1688-1700 Kingston
6 February 1688-trustees to children of Hendrick Aertse, a lot in Kingston west of Jurian Teunisse
[EASC] first found Albany, Colony of New York 1659
NOTE 1800-Jan Theuniszoon
[WE64] and 1801-Eychgan Bosch probable parents of 900-Anthony Jansen resided at Westbroek, Holland, parents of 2 children