April 3, 1914  TO  February 4, 1968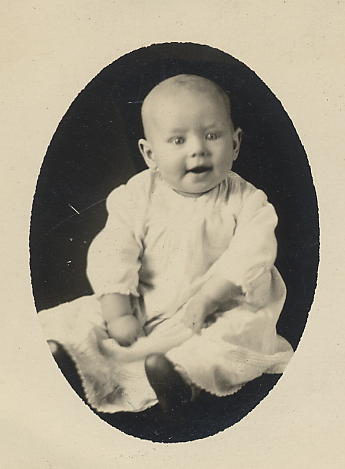 Elizabeth F. Sipprell was born April 3, 1914 in Wilton, North Dakota.   
Her parents were Ida Daisy Swanson and Albert Lewis Swanson.  Here is Elizabeth in baby pictures with: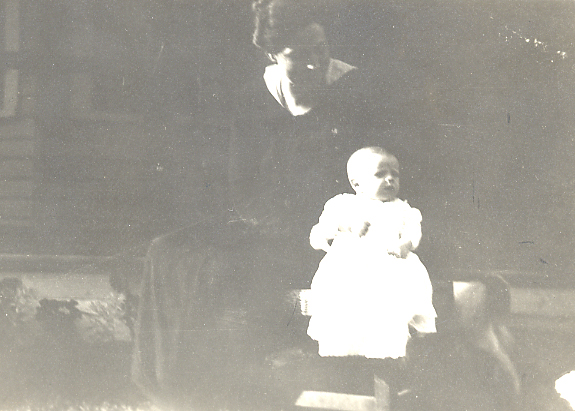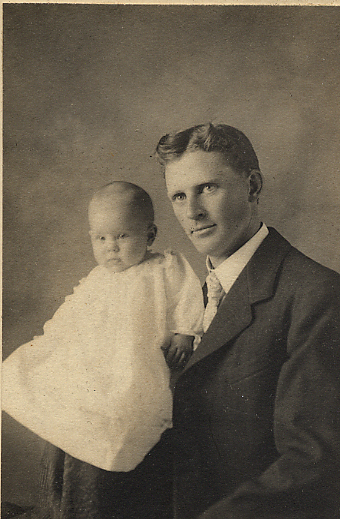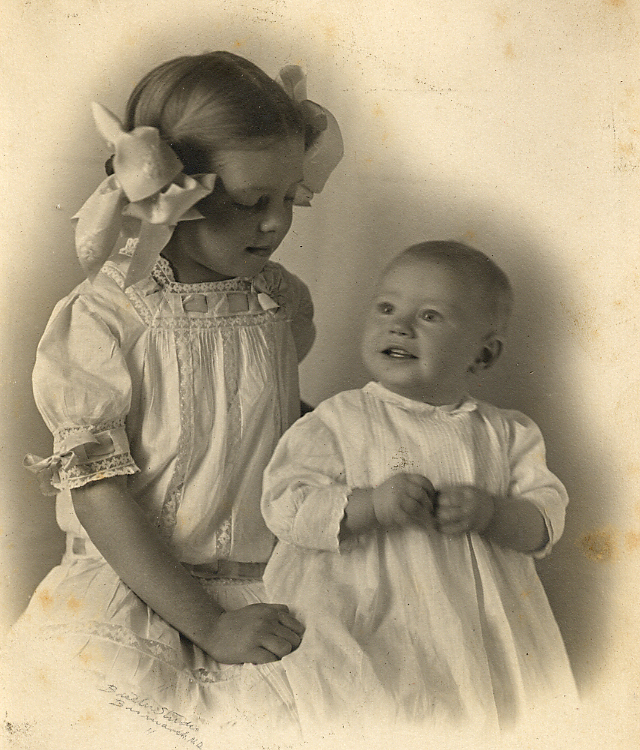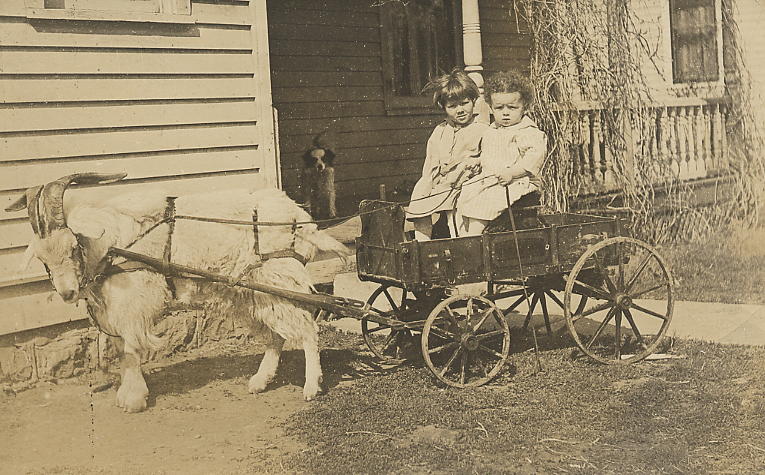 Elizabeth's older sister was Josephine (Larsen) and her younger brother was Norman Falconer Swanson.  The Swanson family lived in Wilton, North Dakota until 1921 when they moved to Lake Forest Park in Seattle, Washington.  Here is Elizabeth in Wilton, North Dakota.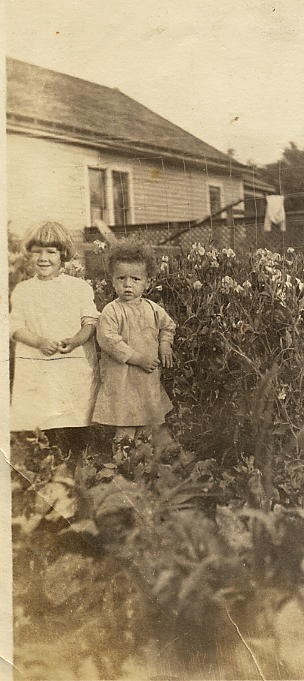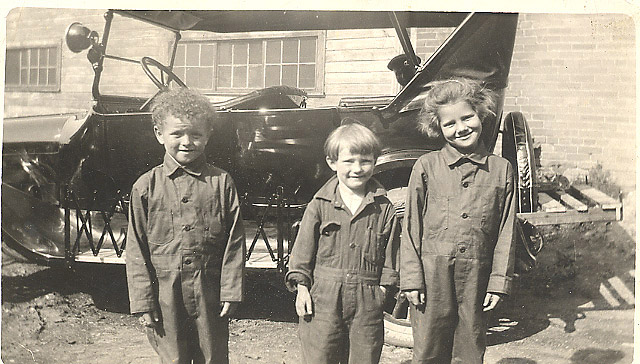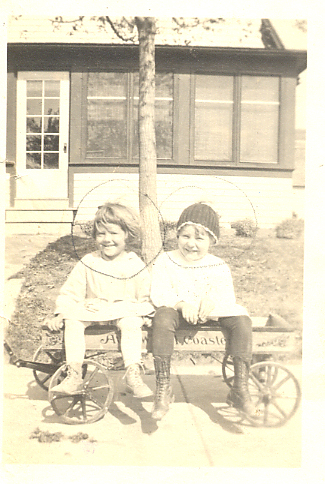 When Elizabeth was about 7 or 8 the Swanson Family moved to Lake Forest Park near Lake Washington in Seattle.  She commented that North Dakota was a great place to be from, because of the harsh winters and hot summers. 
Pictures show her enjoying swimming, running, bicycling, playing with friends.  She was a Lake Forest Park School Graduate and Roosevelt High School Graduate.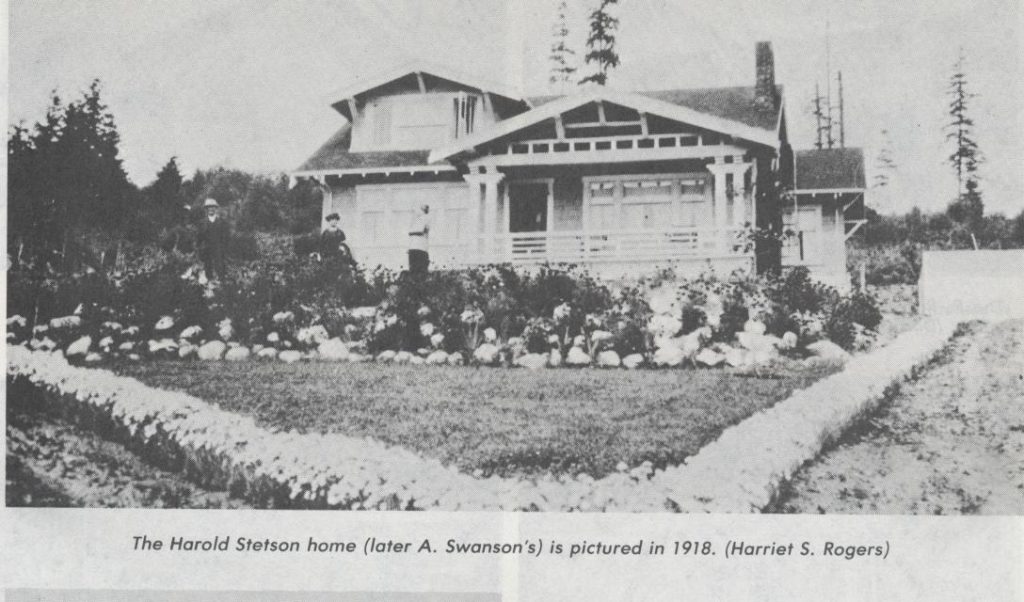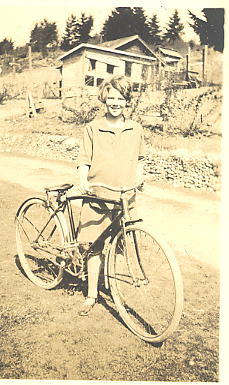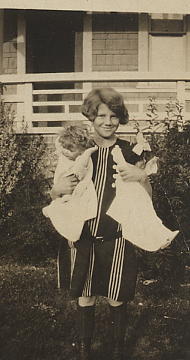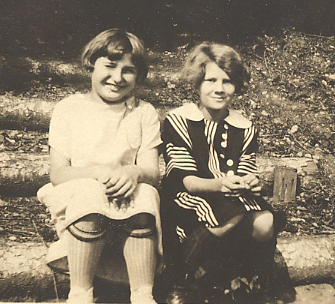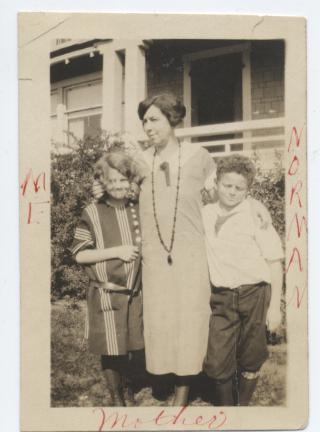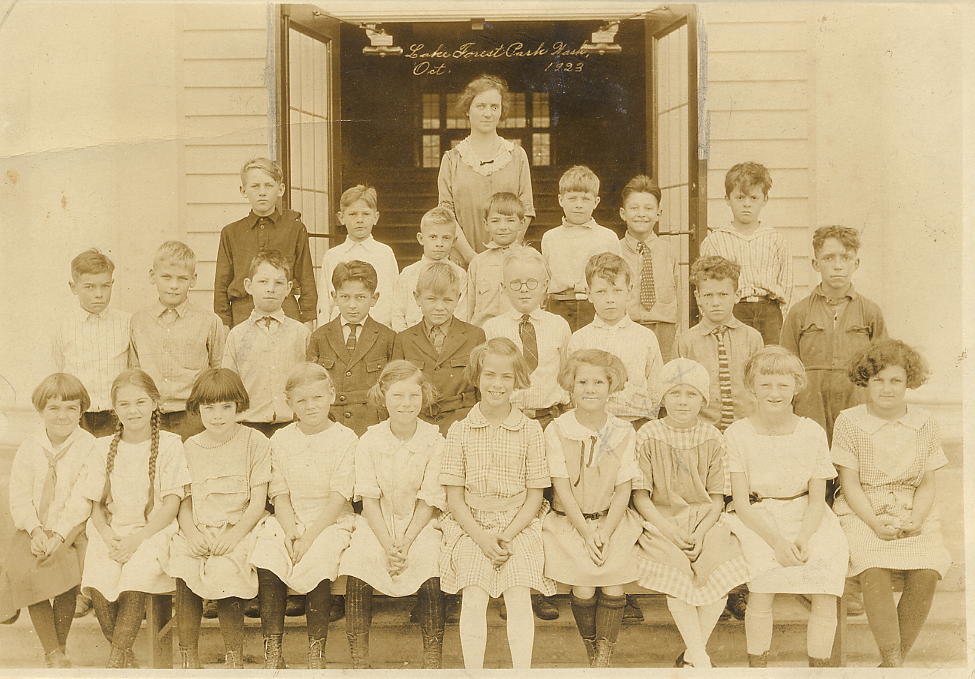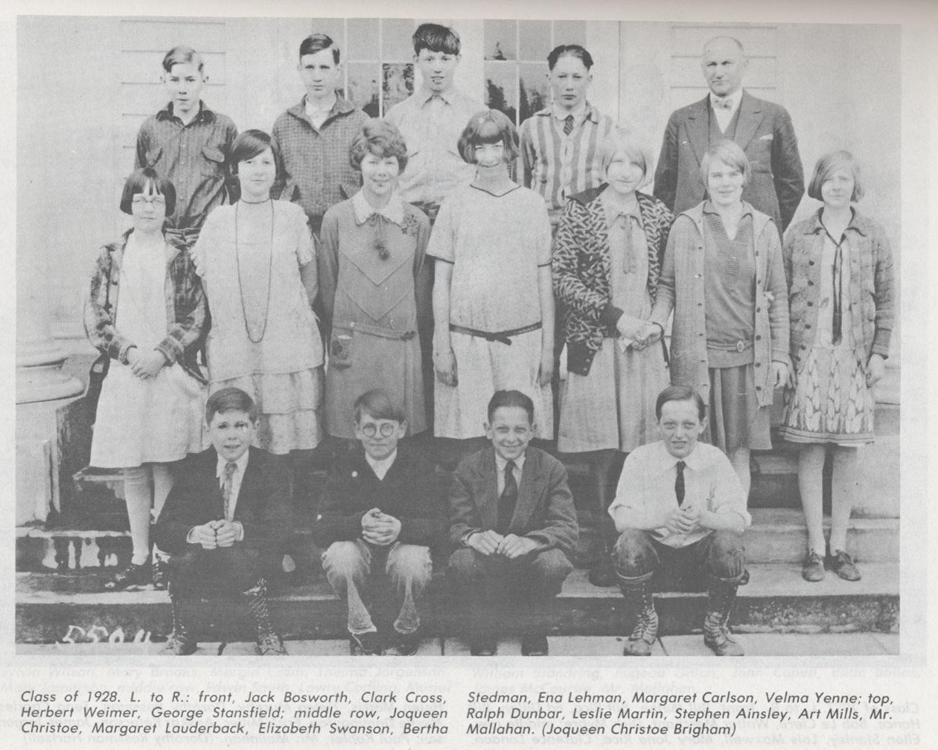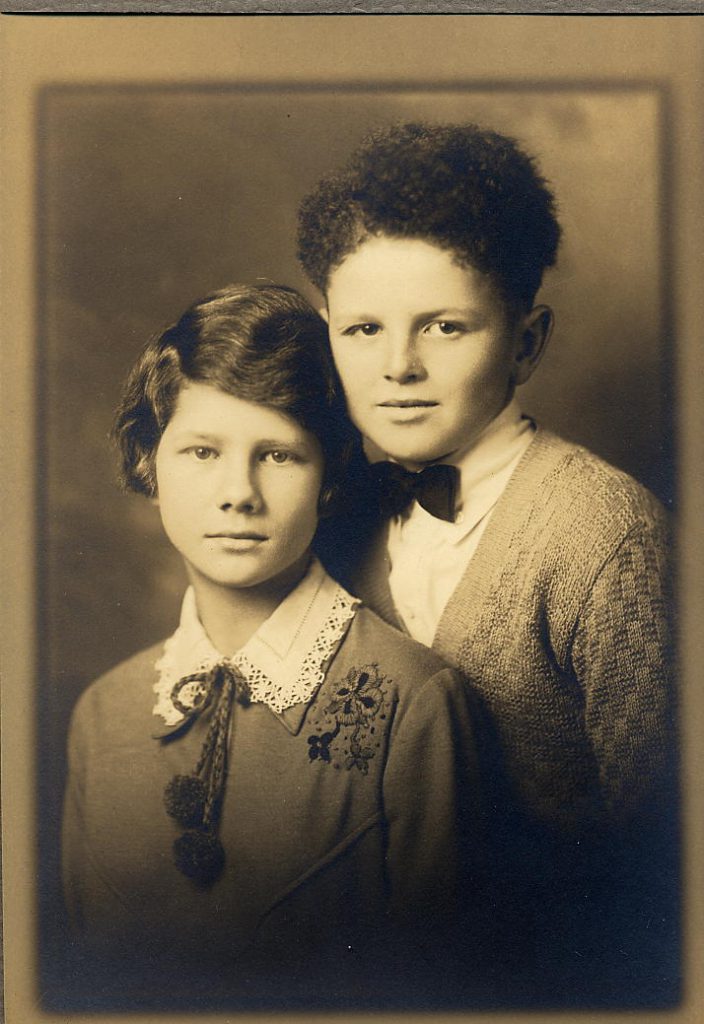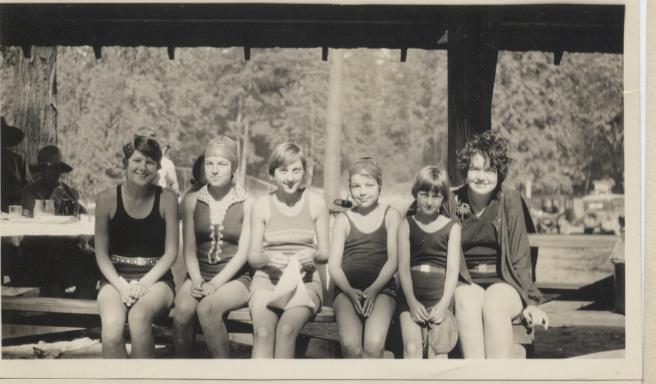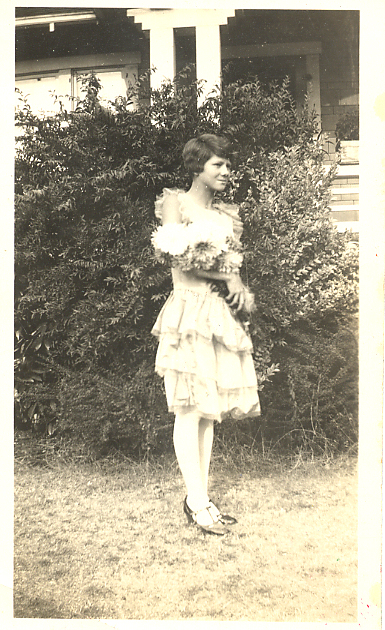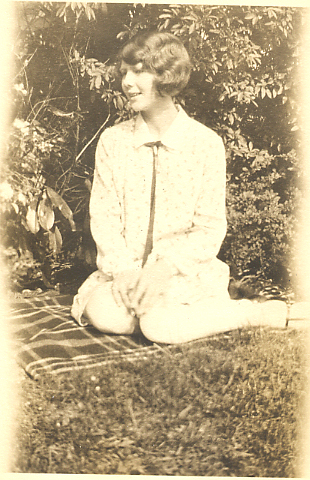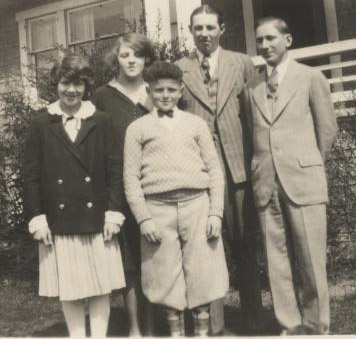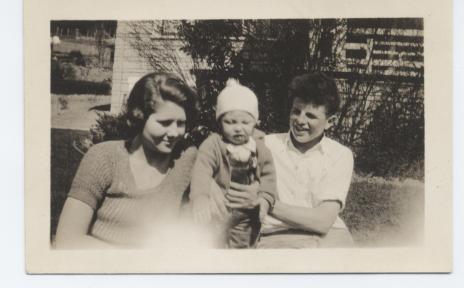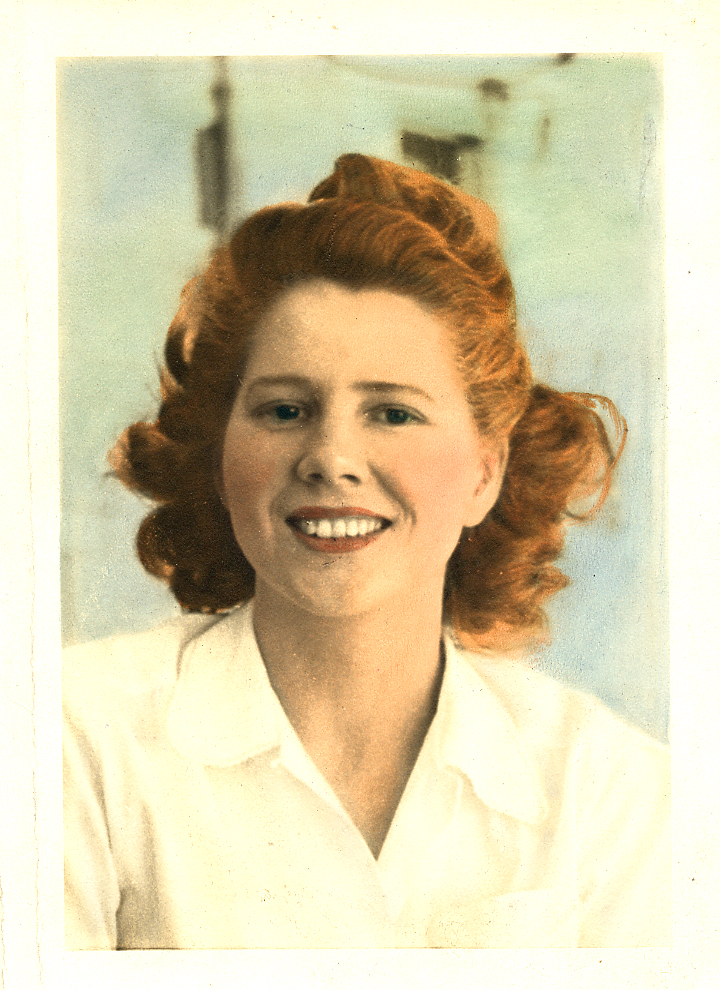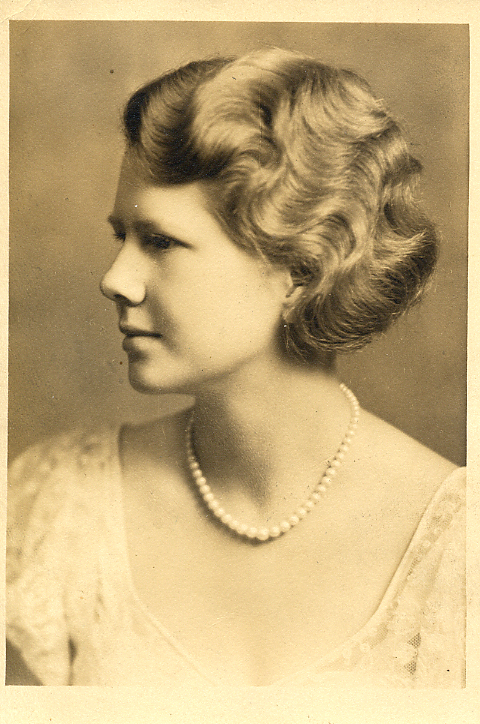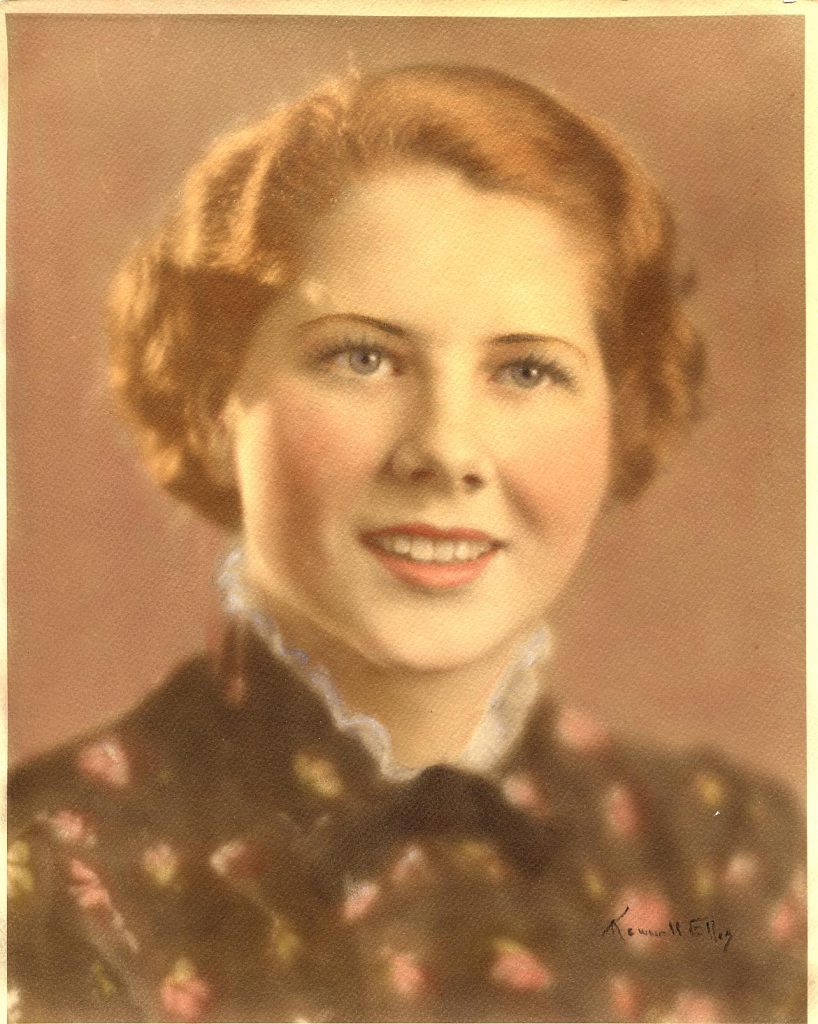 Elizabeth had many hobbies.  She loved reading books, painting with water color, painting ceramics/ china.  She was artistic and creative.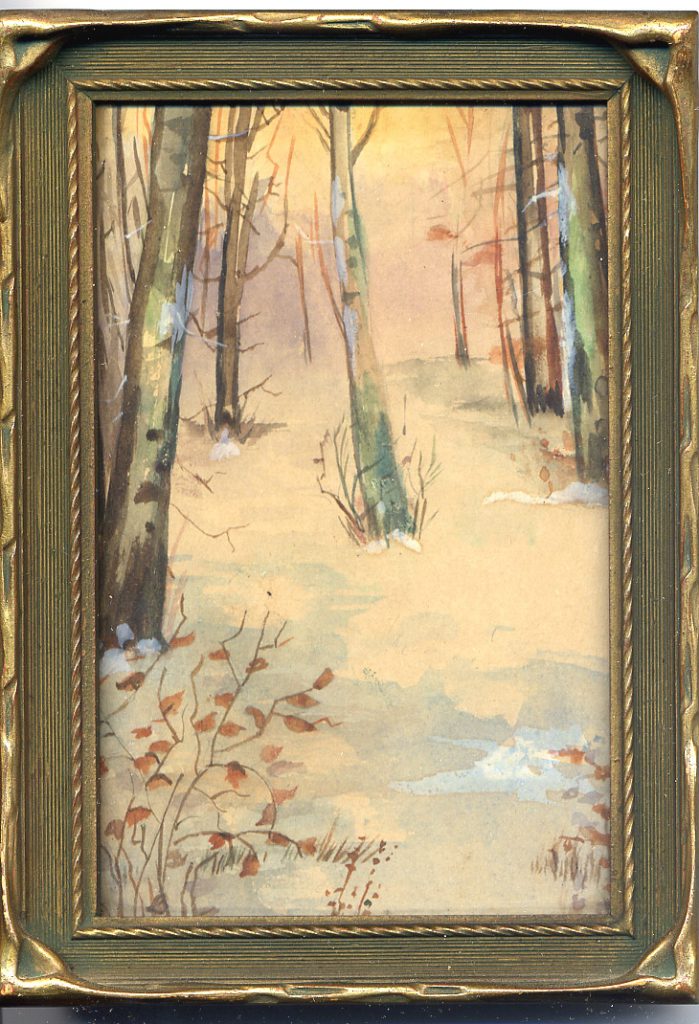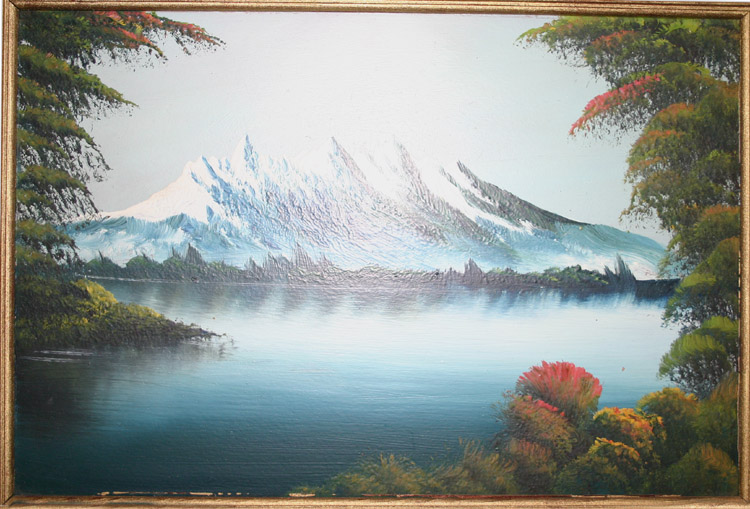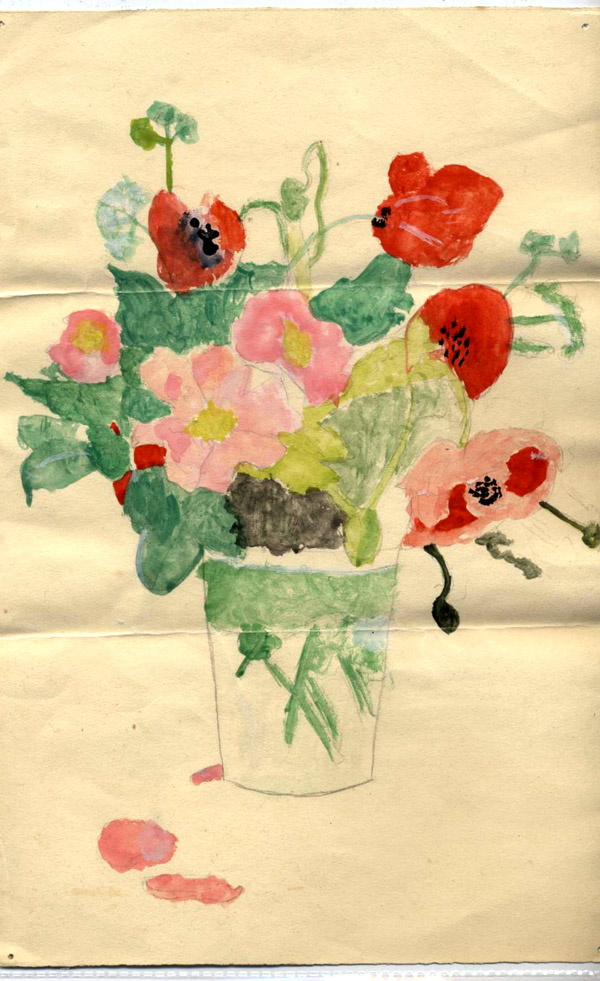 On July 10, 1938 Elizabeth married Art Sipprell who also lived in Lake Forest Park.  They lived in Bozeman, Montana for the first few years of their marriage.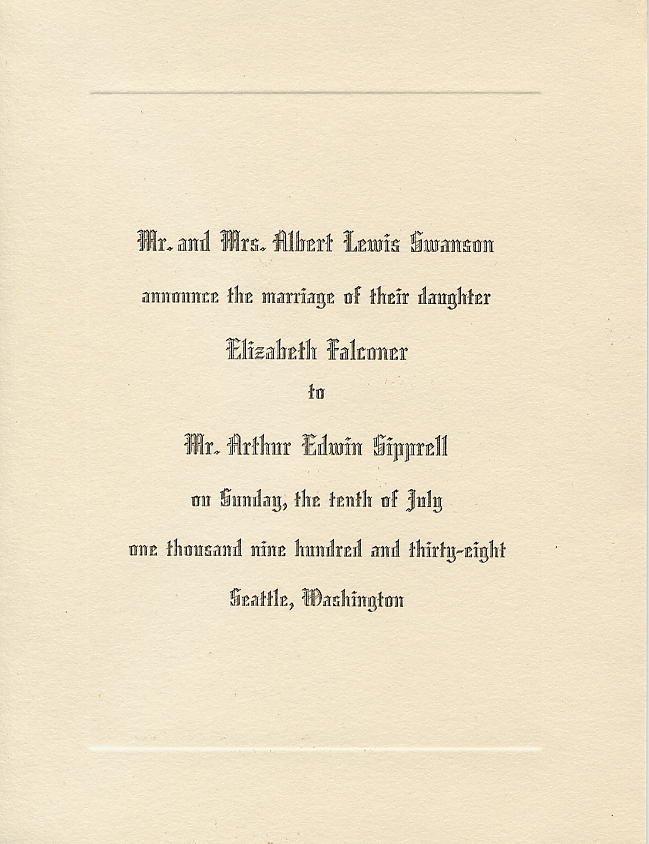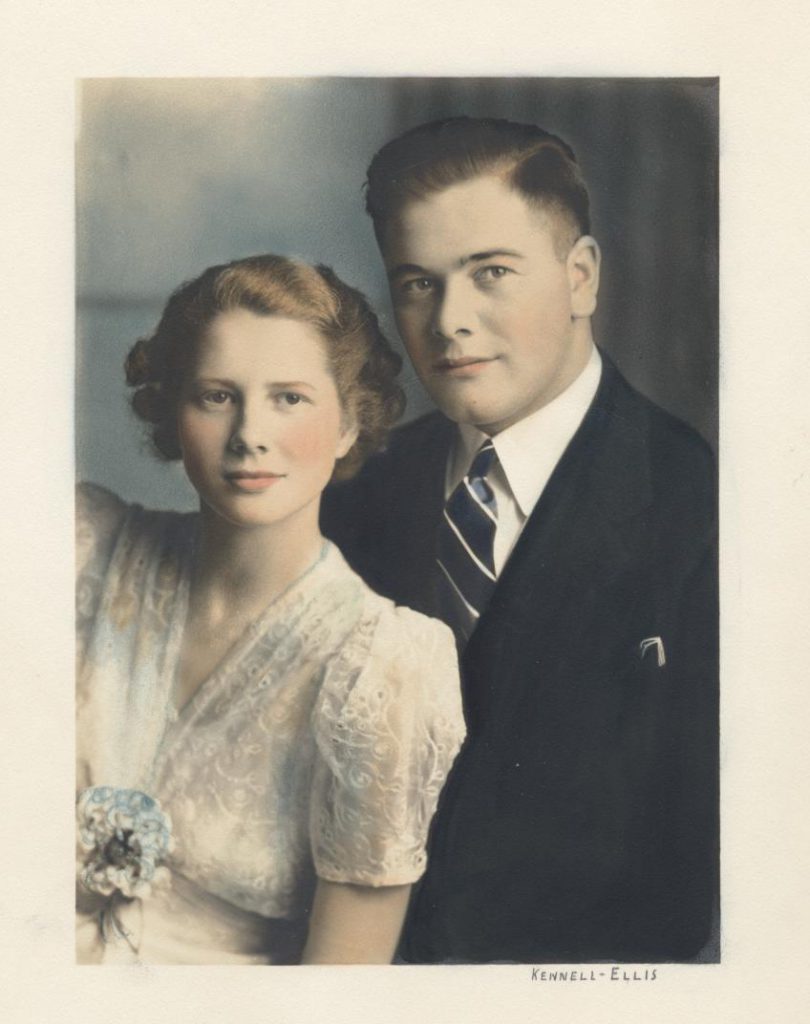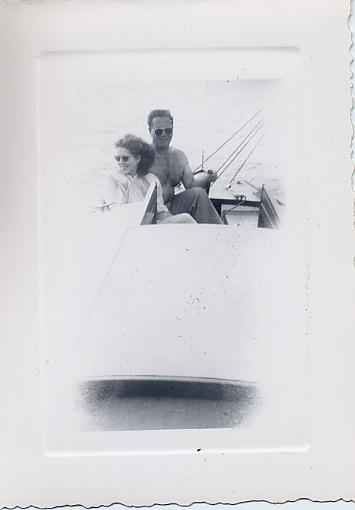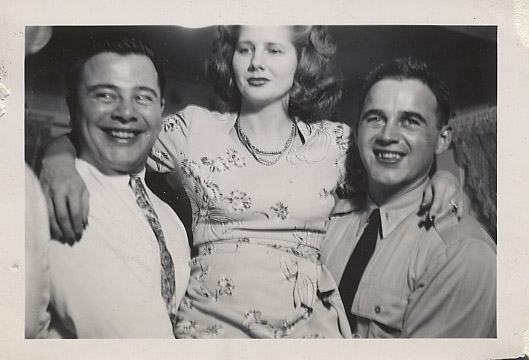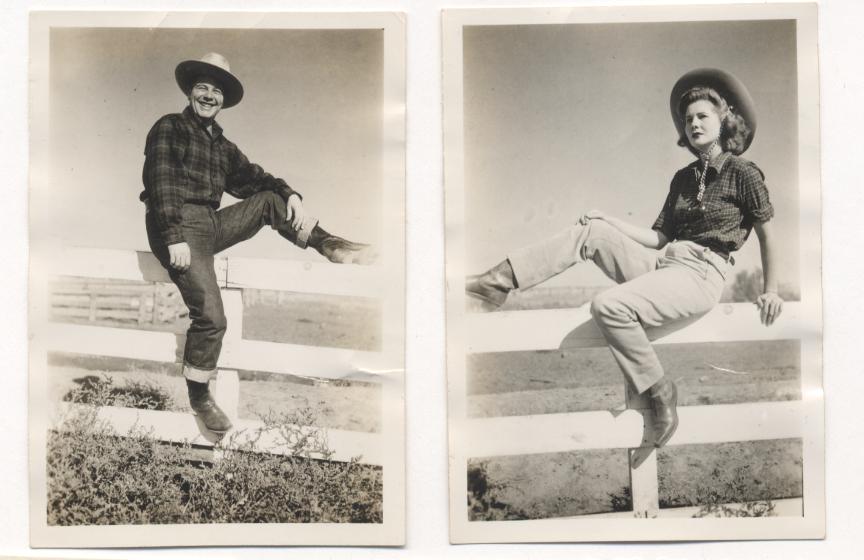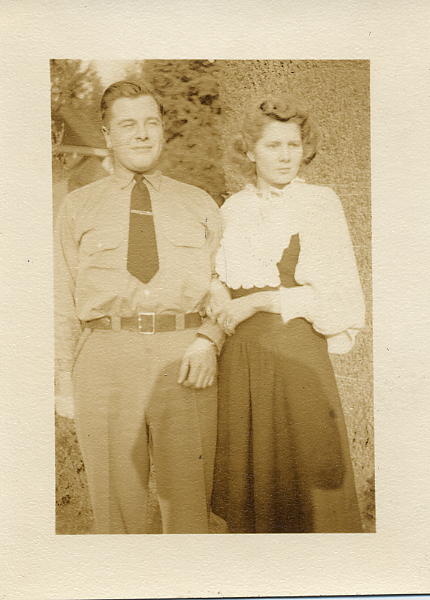 On March 27, 1947 Art and Liz adopted Elizabeth Ann, nicknamed "Libby".  Art and Liz moved to Warm Beach in Stanwood until Libby was two, then they moved to Arlington, Washington.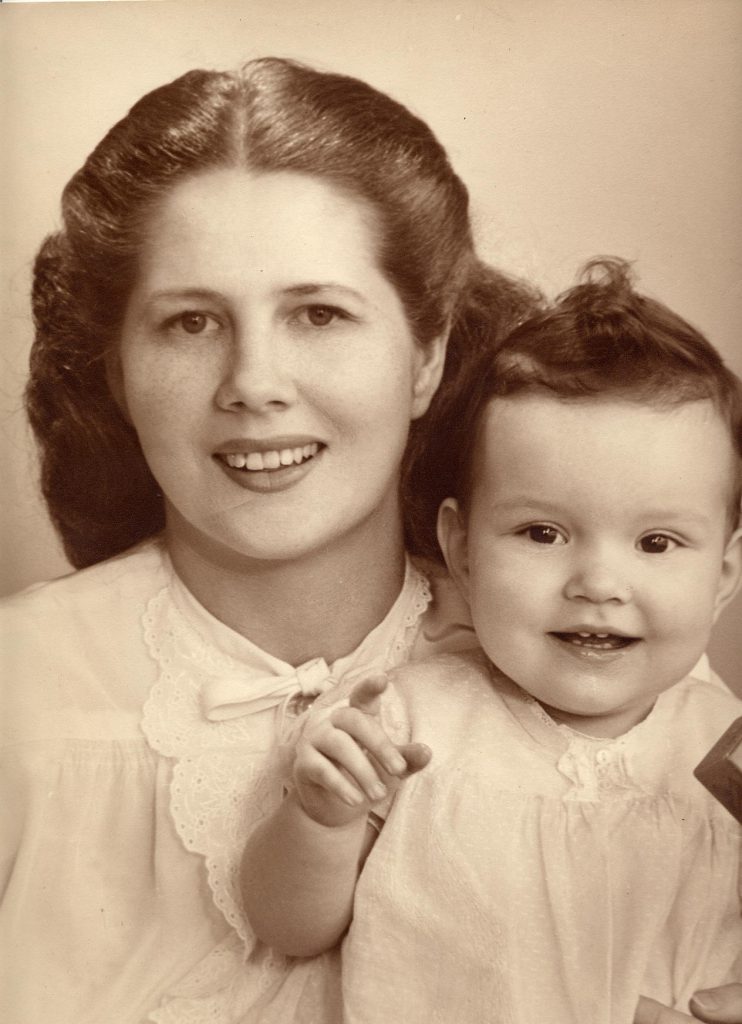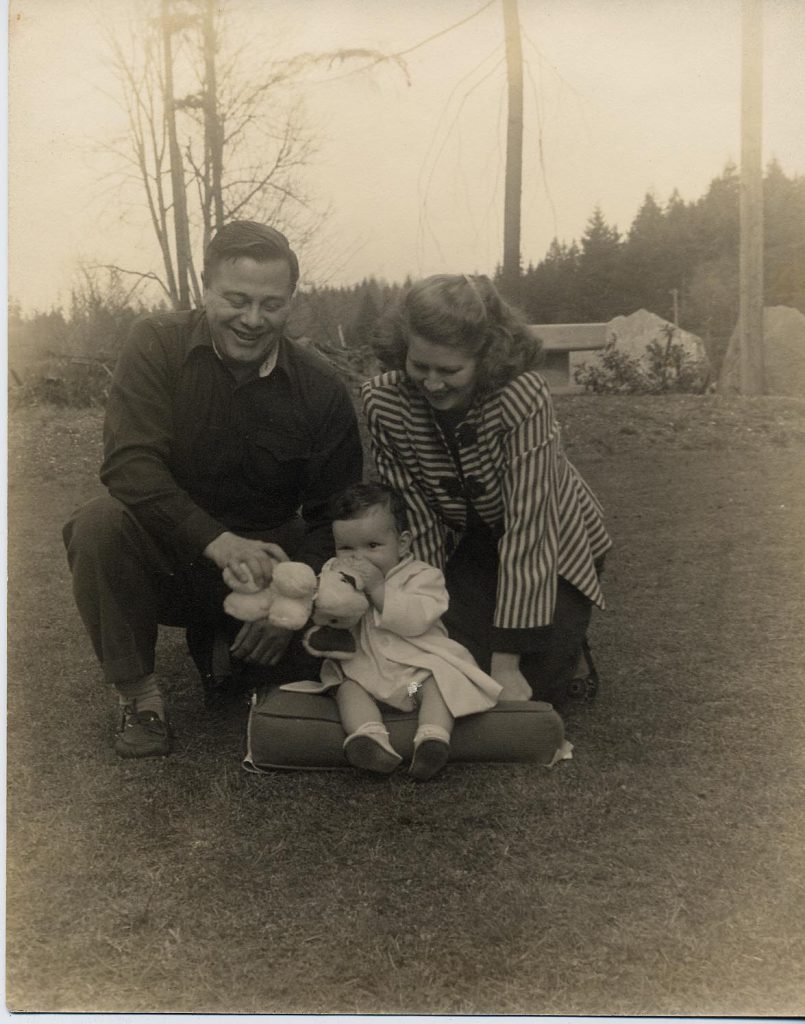 On October 3, 1953 Art and Liz had Barbara Lee Sipprell.  In 1954, the Sipprell Family moved to a new home in Everett, Washington.  Liz worked as a Legal Secretary for Williams and Novack, Attorneys in Everett.  Art Sipprell opened Sipprell's Kimball Piano Store on Broadway in Everett.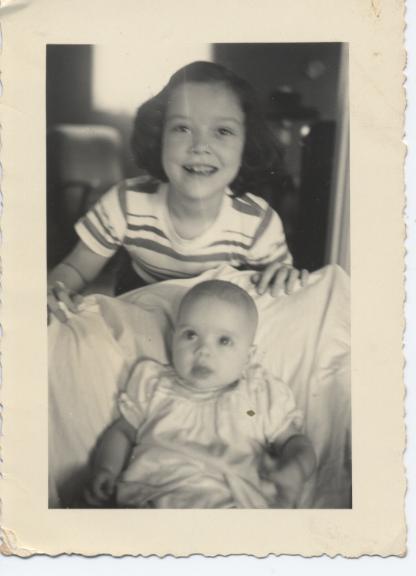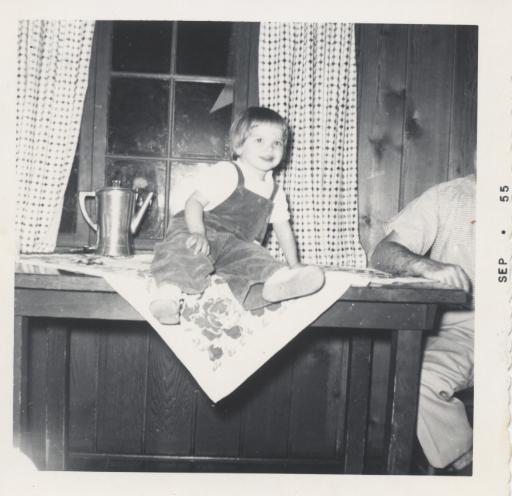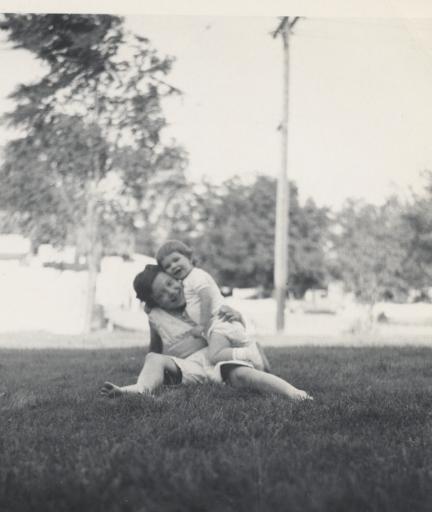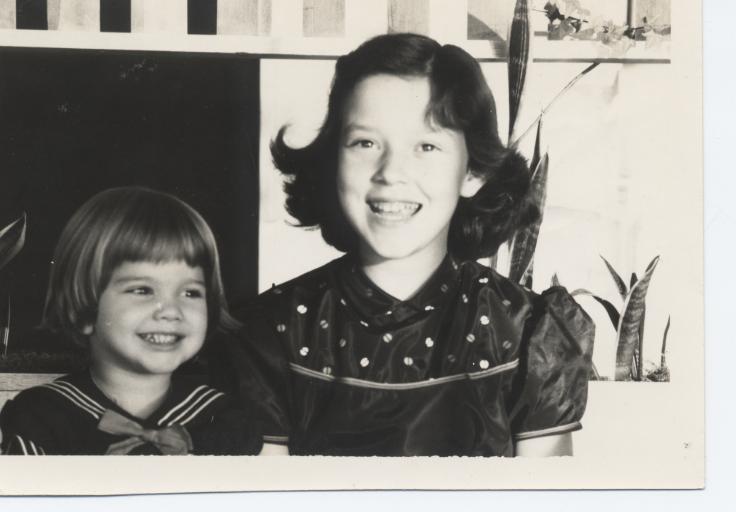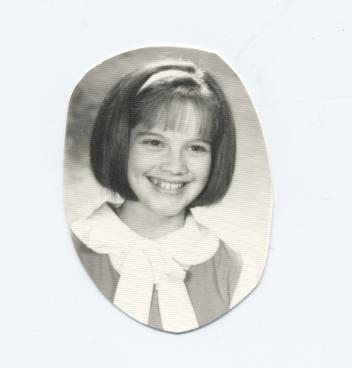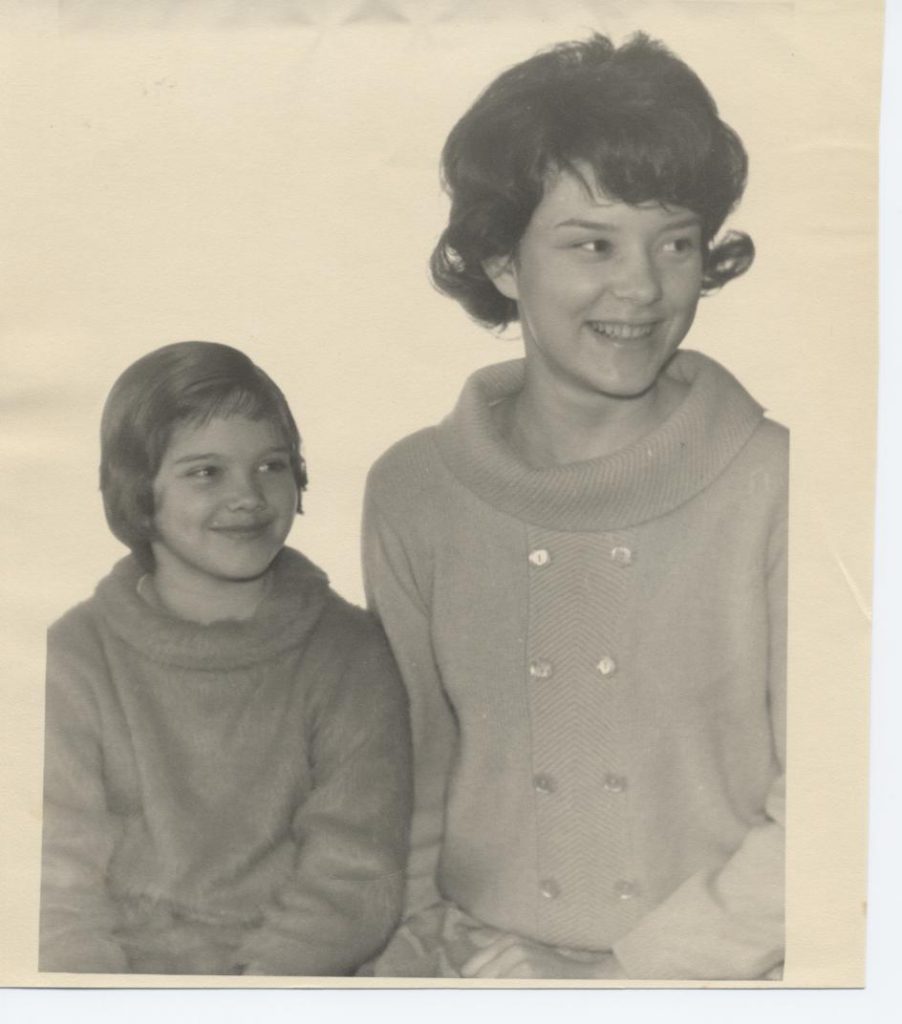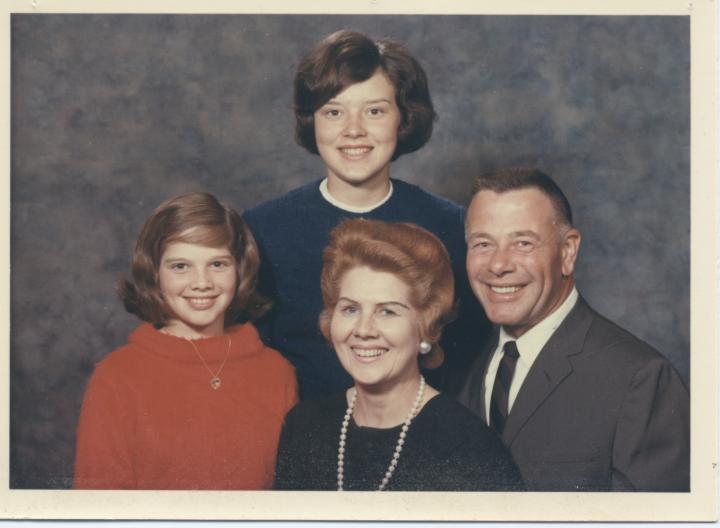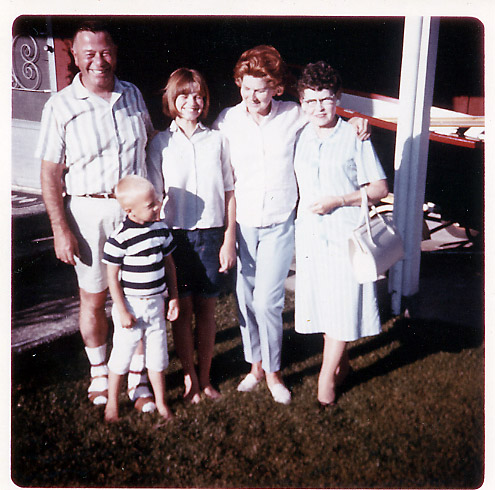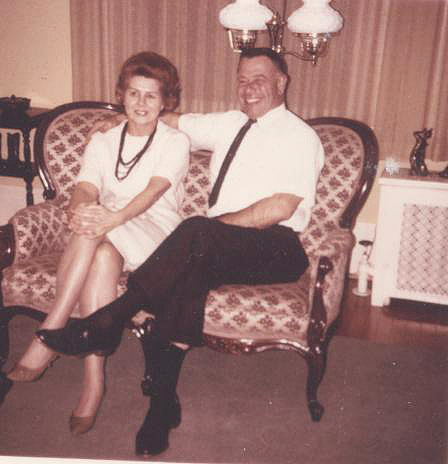 Occasionally Liz worked for Frederick & Nelson's during the Christmas holiday season in downtown Seattle. This picture below shows three generations from the Swanson family working at Frederick's.  Liz, Albert, Ed Larsen (nephew).  The best part of working at F&N's was the Paul Bunyan Room that served Frango Mint Milkshakes!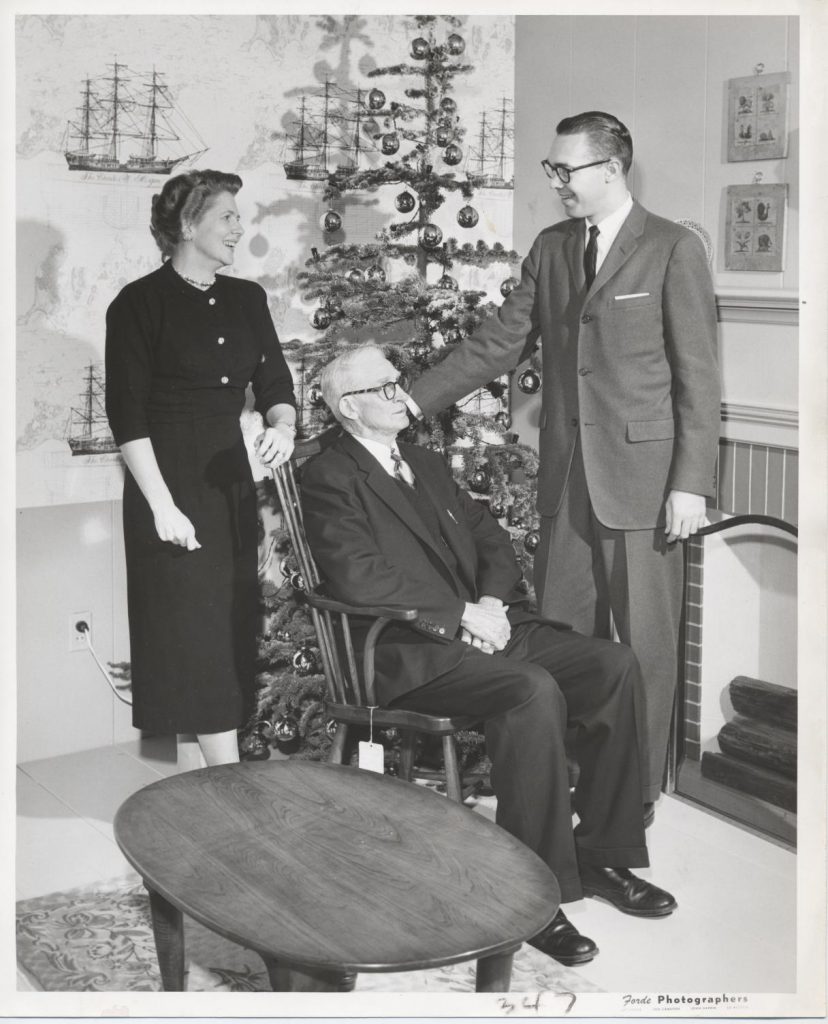 From 1950-58 Albert and Daisy retired in Arlington, Washington.  Here are pictures of some family gatherings at the Swanson residence.  Daisy Swanson was well known for her fabulous cooking and gardening.  Christmas was always celebrated at Grandma and Grandpa Swanson's on Christmas Day with a huge marvelous meal, family and cousins!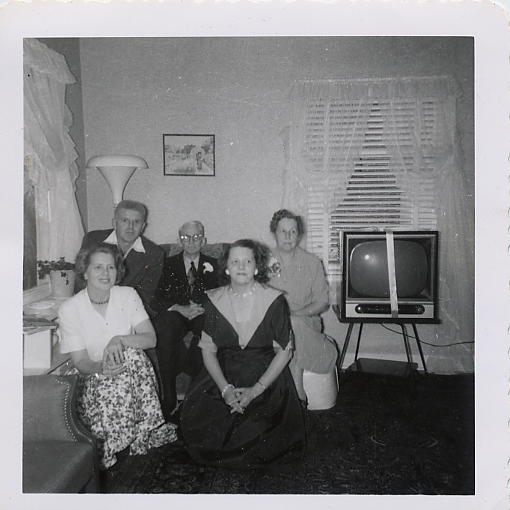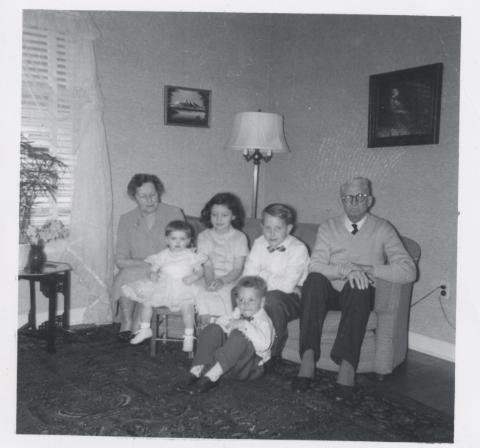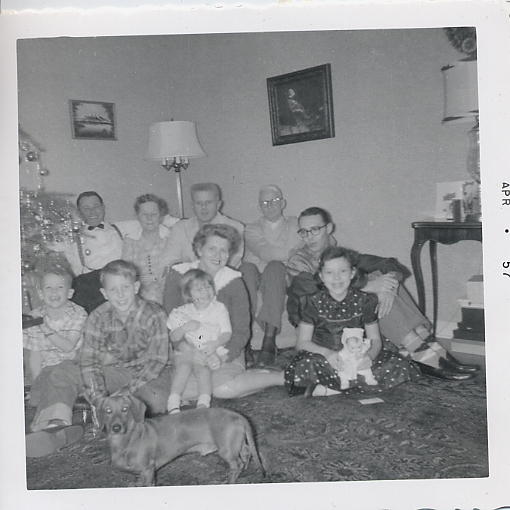 Life was busy for Liz working full time as a legal secretary, but she always joined and read Monthly Book Club selections. She created home interior decorations at Christmas , ceramics, and cake decorations.  She was an Assistant Camp Fire Girls Leader, played  piano, attended Memorial Baptist Community Church as a Deaconess.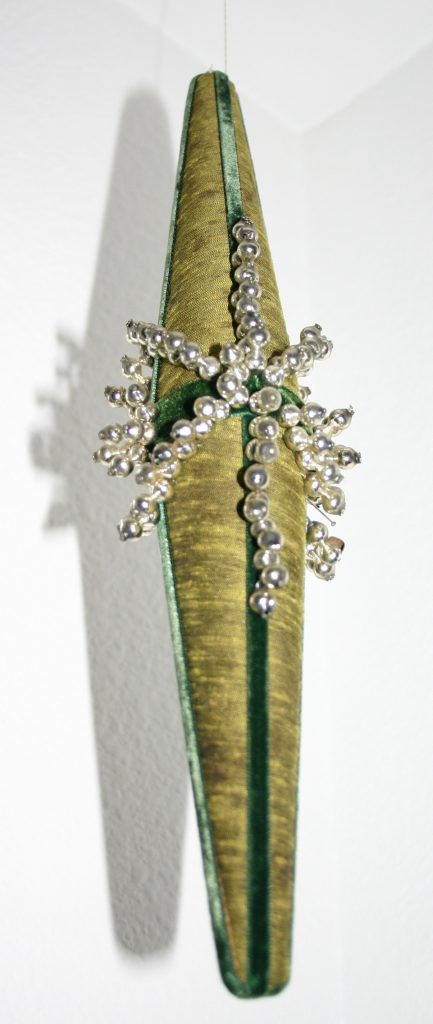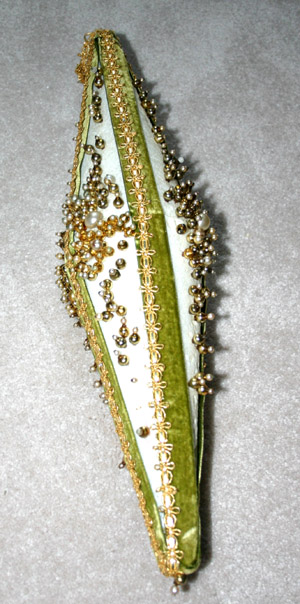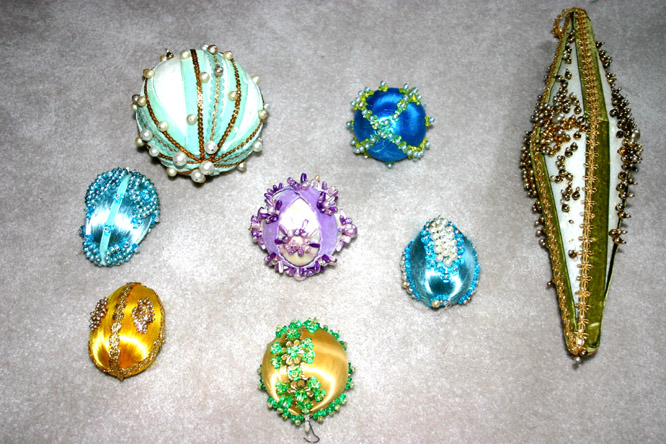 Academically Liz was smart.  She grew up during the Depression, so attended a business school rather than university and learned on the job as a Professional Legal Secretary.  Many of her peers would ask advice.  In the late 1960's Liz started a group for Legal Secretaries locally.  She took classes at the University of Washington and taught legal secretarial classes at Everett Community College.  She seemed energized by working towards her goal and passing her exams as a Professional Legal Secretary.  After passing her rigorous 2-day exam at the UW, she was very willing to help others attain their PLS Certification.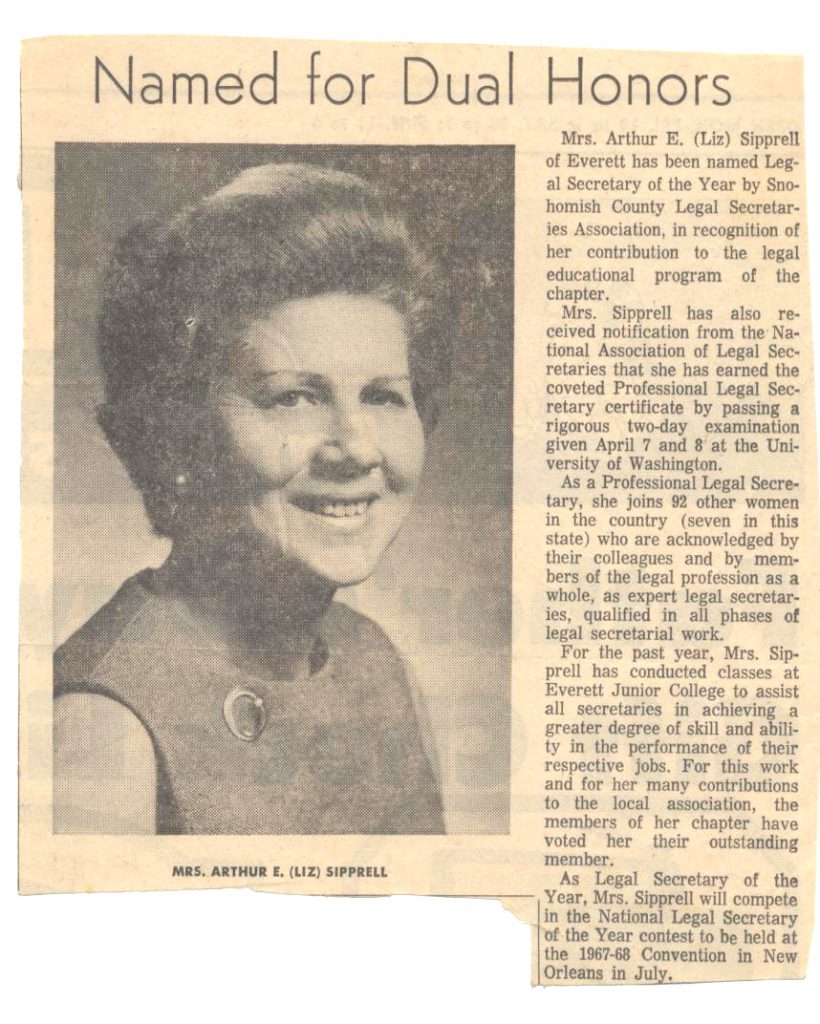 Liz always seemed to look like a million.  A local hair stylist gave her free hair styling if she modeled in local hair styling shows.  The carrot colored hair that kind of embarrassed her as a little kid  became a little lighter as she aged, but it was her crowning  asset.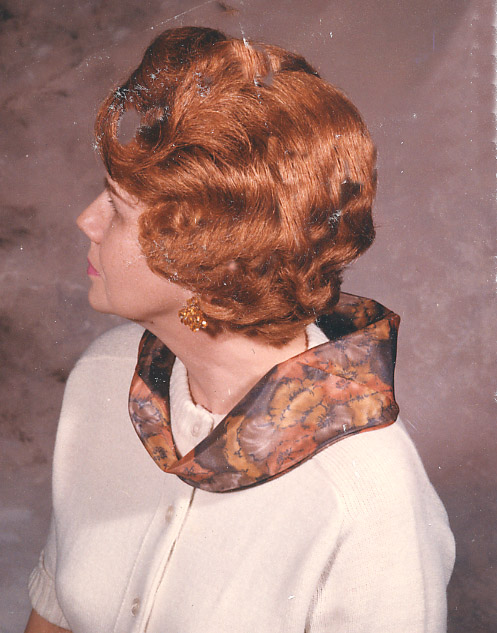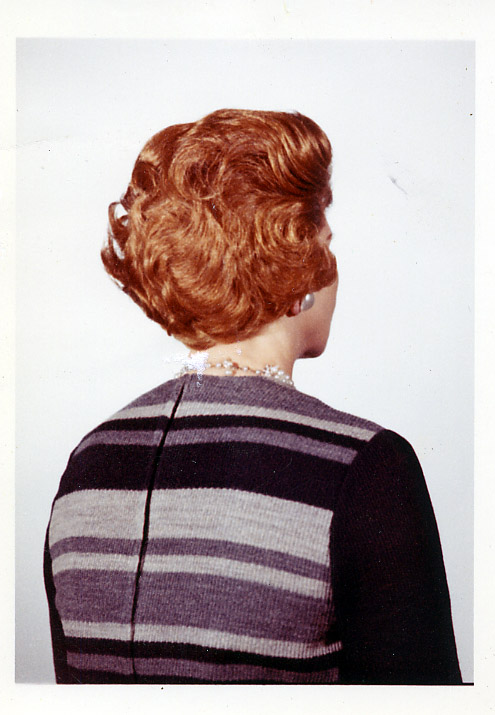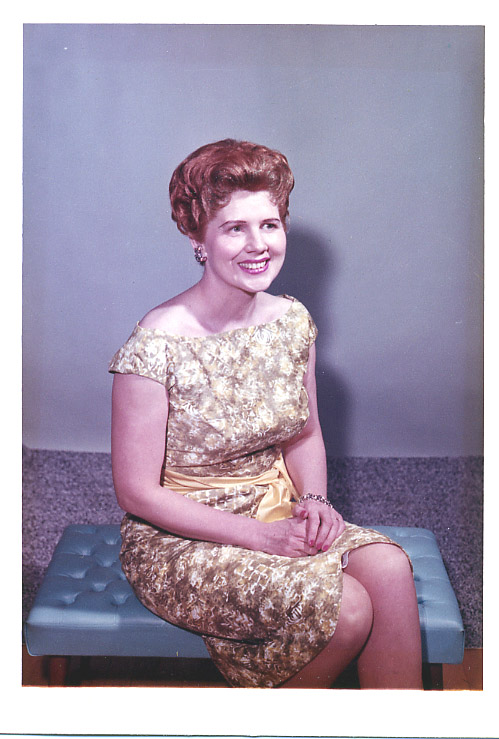 Barb and Libby remember when our mother became ill right at the prime of her life.  She was diagnosed with polimyacitis in November of 1967 and died the following year in February, 1968.  At that time doctors had no cure.  She took cortisone, but it didn't arrest the disease that gradually weakened her body.  My father and grandmother helped take care of her.  Our mother's death was a devastating loss for our whole family.  
The Liz Sipprell Scholarship was established in her memory by the Ttereve Chapter of Legal Secretaries.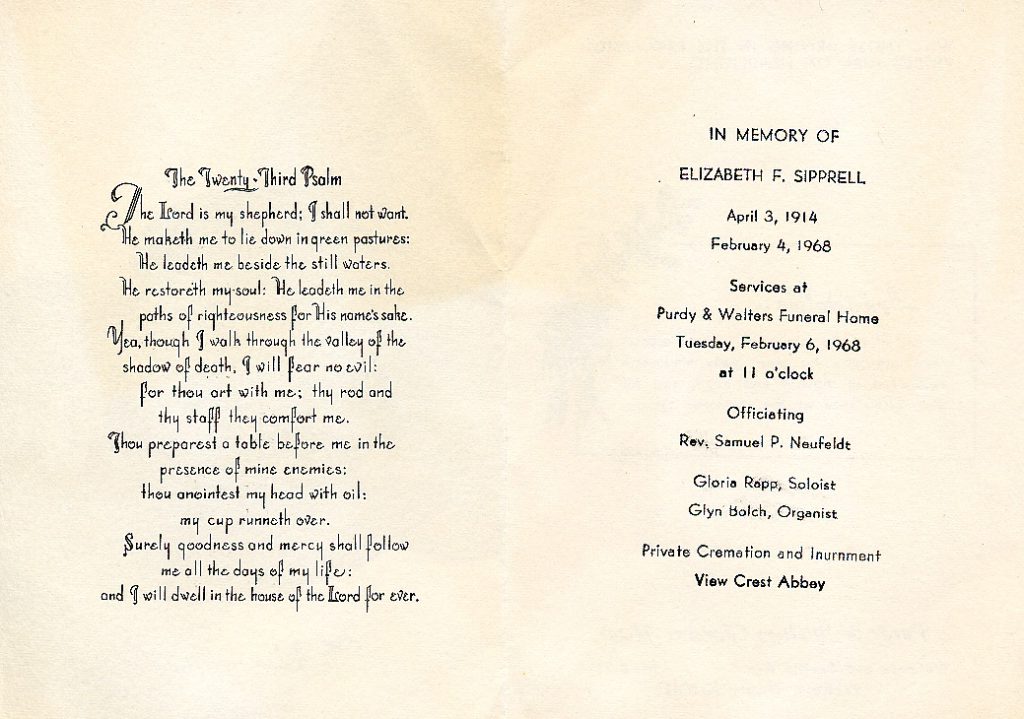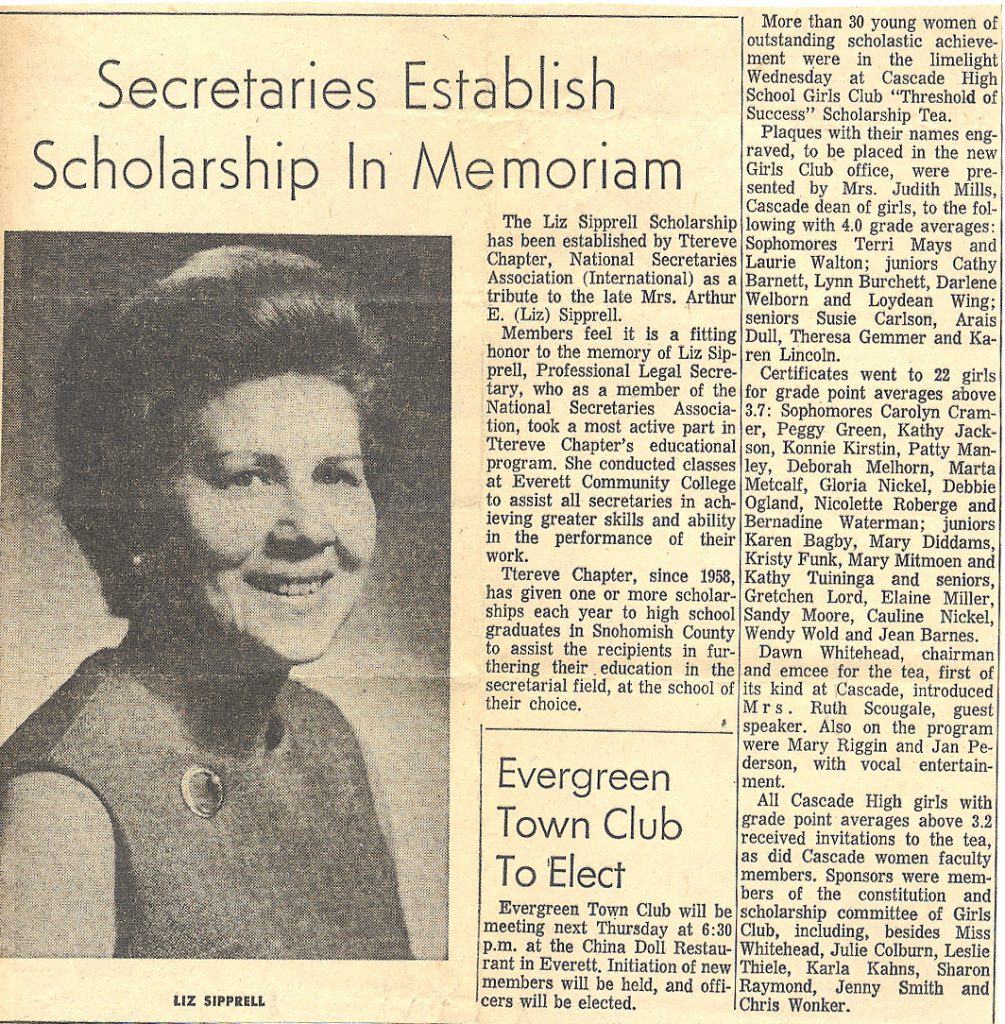 Memories of Elizabeth F. Sipprell
As a kid Elizabeth was a fast runner.  She was kind of a tom-boy and played with her younger brother Norm and Clint Lundy in Lake Forest Park.  She loved bicycling, painting, and piano.  She graduated from high school during the Depression which meant she couldn't attend the university.  She did take post graduate classes and went on to business school training.  
Her friends remember her as a beautiful, kind and creative person inside and out.  June browning loved getrting together with Liz and Art.  The four of them, Bill & June, Liz & Art went on a double date.  June remembers that they ran out of gas.  June and Bill Browning and Art & Liz stayed out all night.  The unbelievable had actually happeded!  No one would believe them when they returned the next day.  Innocent, but wiser.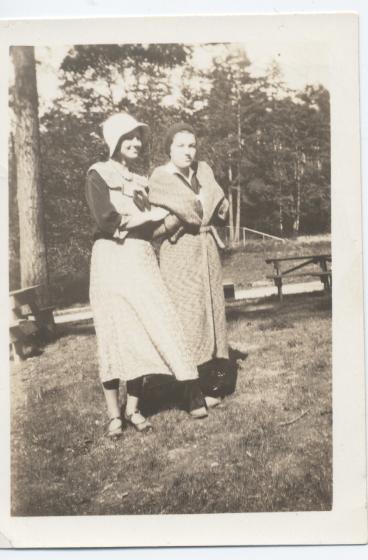 Her daughters Barb and Libby remember so many things about their mother.
Libby remembers always wanting to be like her mother.  Liz seemed so smart and always was a good listener and upbeat problem solver.  She believed in the power of positive thinking. 
When mom would come home from work and want to take a nice warm relaxing bath to unwind.   Who would barge into the quiet solitude, but us (Barb and Libby).  We always wanted to share our thoughts with our mother.  I don't think our mom ever got much time alone.  If we weren't bugging her in the bathroom after work, we would call her at work 259-4141.  I can still remember the number!  
One morning mom volunteered to drive a group of us to Roosevelt School. We usually walked, but this was a treat.  Unfortunately the brakes on the car went out just as we were starting down a hill.  What to do?   Mom quickly turned into the nearest driveway, down a small hill into the owner's garage and saved us all.  Thank goodness there was a car parked in the garage to stop us or we would have gone right on thru.
Mom was quick to host meetings at our house from Camp Fire to BYF (Baptist Youth Fellowship).  What I remember most was that my mom seemed to have time to help out, when other mothers were too busy. Oh yes!  My folks chaperoned a dance at the Space Needle, too.  I insisted that mom and dad please stay far far away from me.  I tried to pretend they weren't there.
Mom encouraged my dad when he built his first sailboat named  Myot (My Yacht).  Mom even helped when dad put it in the saltwater near Green Bank, Whidbey Island. We learned that sailing Myot was a learning situation and dad needed to make many changes to make it sea worthy.
We never had much money, but my mom was very clever at shopping sales and stretching a dollar.  She could always  put clothing together in stylish elegance.  She was always strikingly attractive inside and out.
The last year of mom's life she encouraged me to continue at Western Washington University on a scholarship.  It was important to her that I continue my education and not come home every weekend to take care of her.  I remember coming home the weekend she died of pneumonia at Providence Hospital in 1968.  What a devastating loss for Barb and myself!  Our mother had been such a good model for all of us on how to live life, treat others, and how to appreciate the beauty around us.  
Written by Liz Sipprell Healy