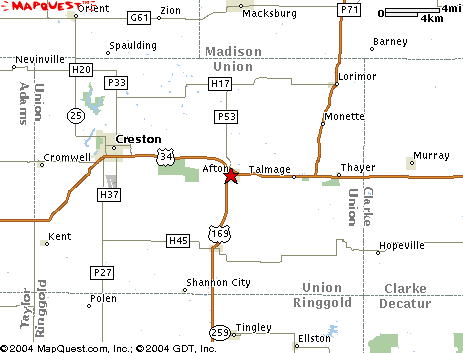 Royal Wallace Healy was born January 14, 1878, in Afton, Union County, Iowa, to Austin Adams Healy and Sarah Isabelle (Wallace) Healy.  Roy was the only son, having five sisters; Ethel, Edna, Daisy, Cora Belle and Mary Laura.  His father, Austin,  was a jeweler, photographer, and watchmaker, and Roy learned the watch making trade.  According to Nadine Healy (Roy's daughter), Roy's mother died when he was 18 years old.  Shortly after her death, Austin married a lady whose first name was Love.  About this time Royal left home and came out to the West Coast.  He began his sailing career in 1900, shipping out of Port Townsend, Washington on a full-rigged sailing vessel.  (Roy's Account of his Experiences at Sea).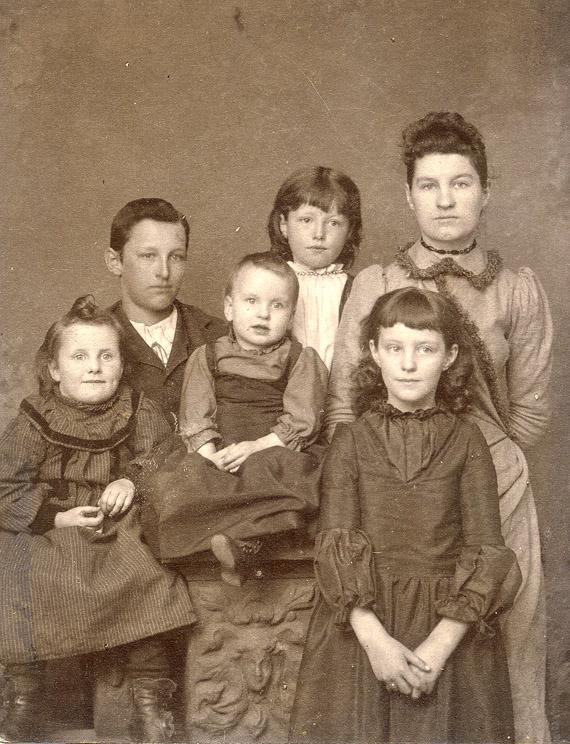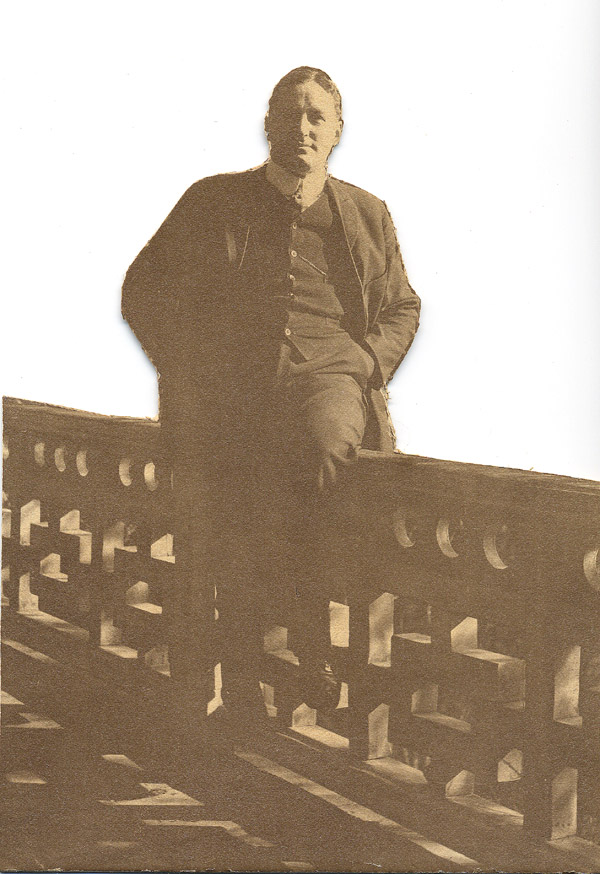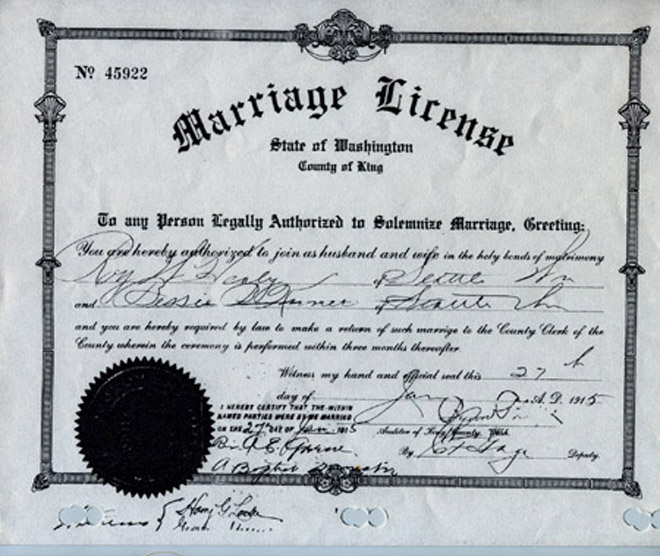 Roy met Bessie Bertha Kuner (she had changed her name to Kuner from Knauer when she emigrated to the United States) while both were enroute from Seattle to San Francisco.  They were married on January 27th, 1915, at a Baptist Church on Jackson Street in the Pioneer Square area of Seattle.    Shortly after their marriage, Bessie and Royal resided at the Heathmore Apartments, address unknown, and resided there through the Spring of 1916.  Donald Leo was born on July 4th, 1916.  They next  lived in an apartment on Queen Anne Hill, Queen Anne Court, West Galer Street.  This was in 1917.  In 1918 they moved to an apartment at 602 N. 42nd Street, and later lived near Woodland Park, on Evanston.  On December 2, 1918, they bought their first home on 20th NW, Richmond Beach (now Shoreline area), where Bessie started her own chicken farm.  Because Royal was at sea so much of the time, a hazardous occupation, Bessie thought it prudent to provide for her family if Royal failed to return home.  Her concern in this regard was quite justified as just months before, Royal had written her about his ship being torpedoed off the coast of England.  On May 13th, 1920, Nadine Healy was born in the living room of this home.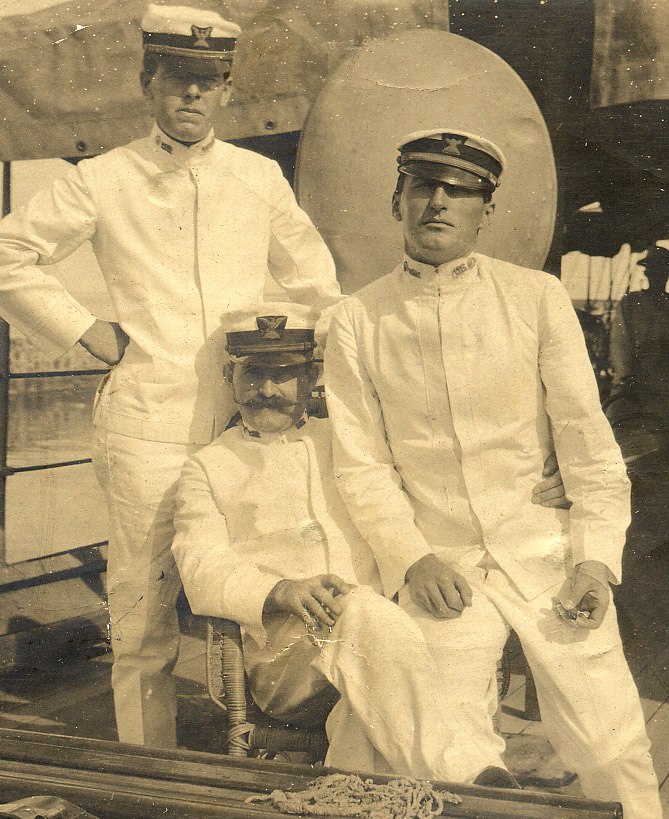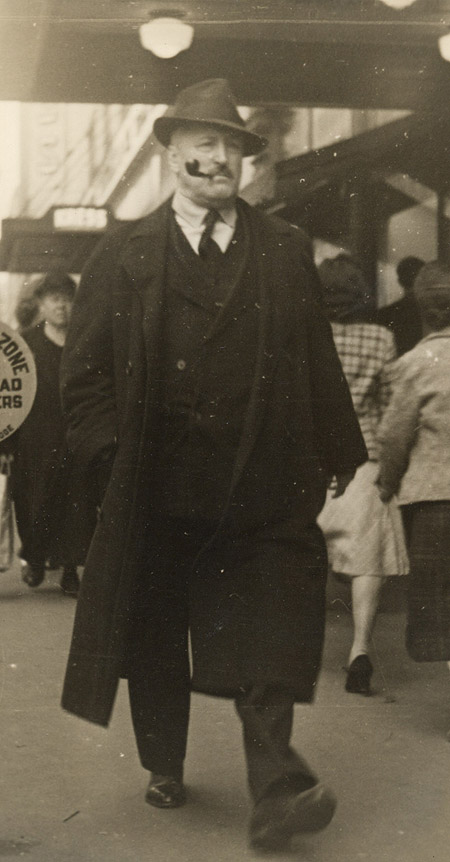 Roy was at sea much of the time with the Merchant Marine, serving as a First Mate.  In 1914 he joined the Coast and Geodetic Survey, and served on the Explorer and later the Surveyor until he retired in 1942.  When the First World War started, Roy Healy resigned from the Coast and Geodetic Survey to accept a position with the U. S. Shipping Board as First Mate on the S. S. Chattahoochee, a former Hamburg American Line freighter of 12320 tons, in Seattle, Washington.  In March of 1918, Roy was on the S. S. Chattahoochee, off the coast of England, when it as torpedoed and sunk.  Although the explosion blew his cabin all to pieces, he emerged without a scratch. (See his account below.)   Roy returned from Liverpool, England on the S.S. St. Paul, and enrolled in the U. S. Naval Reserve Force, as Lieutenant, and served as Executive Officer of the U.S.S. Nanshan, until ordered to inactive duty in July, 1919.
Letter from Roy to Bessie describing torpedoing of his ship.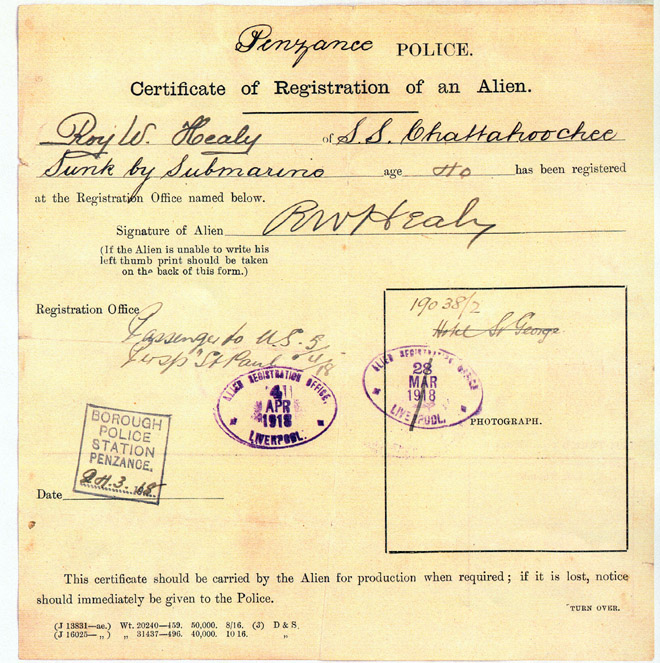 Passenger List and photo of the S.S. St. Paul, the ship on which Roy Healy returned to the U.S. after being torpedoed.
Following World War I, Roy returned to the Coast and Geodetic Survey, serving on the U.S.S. Surveyor, out of Seattle, until the outbreak of World War II.  The Coast and Geodetic Survey was engaged in charting the coastal waterways of Washington and Alaska.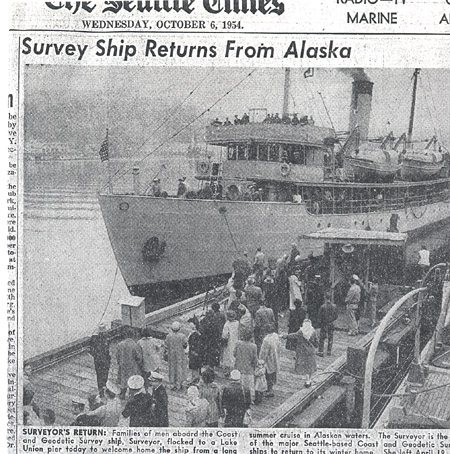 When World War II broke out, Roy resigned from the Coast and Geodetic Survey, and accepted his retirement pension, believing that he would be able to re-enlist in the U.S. Navy and once again serve his country during wartime.  However, because of his age, neither the military nor the merchant marine would rehire him.  Having resigned from his position on the U.S.S. Surveyor, he found himself forced to remain at home while his country was at war:  A situation he found very depressing.  (See account of his attempts to obtain a military and/or merchant marine position during this period.) 
Later, Roy and Bessie lived at 1209 North 45th Street, in Seattle, before moving to their last residence at 1139 76th Avenue NE, Seattle, about three block from Greenlake.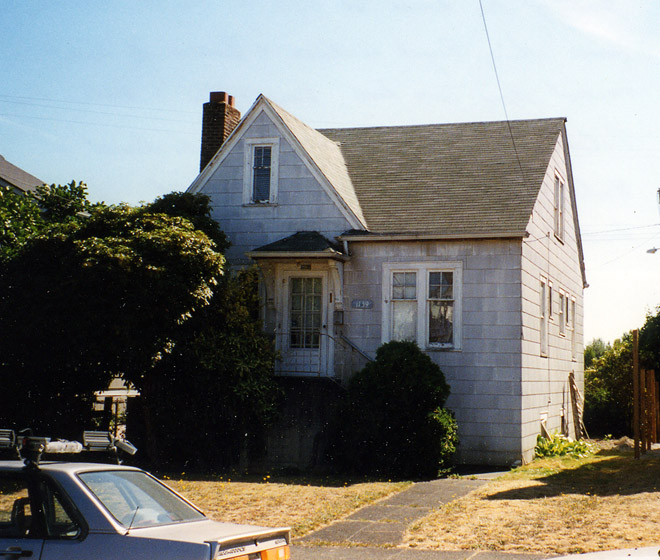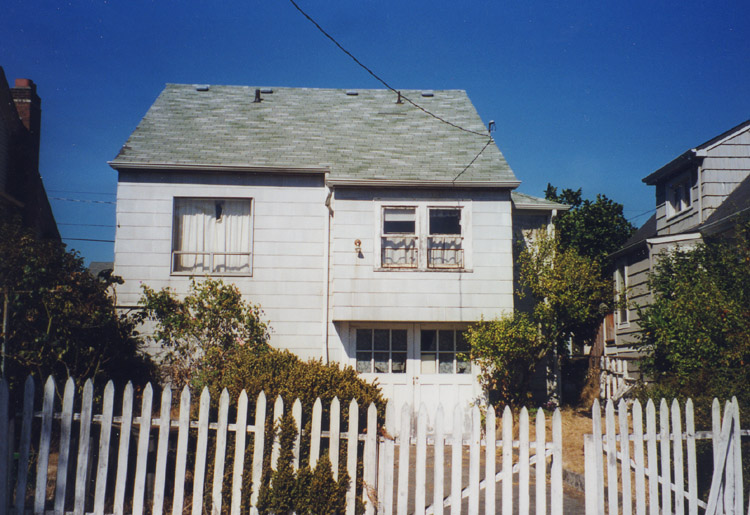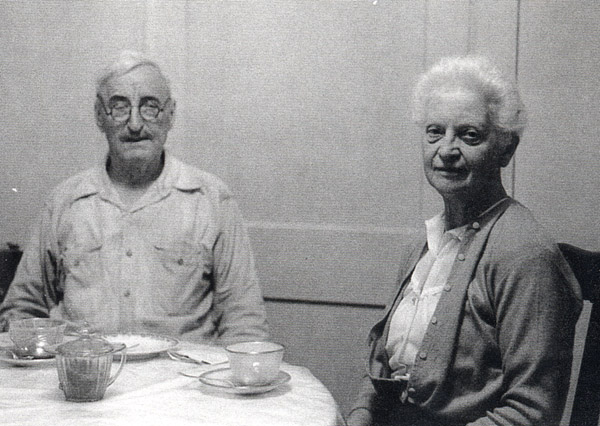 Roy was a member of Seattle Post No. 1, of the American Legion.  He great enjoy vaudeville performances, but did not care much for organized religion in his later life.

_________________________________________________________
Royal W. Healy's Experiences of His Life at Sea
(I started going to sea in Square-rigged Sailing Ships)
In 1900 I shipped out of Puget Sound in the full rigged ship "Saint David" (she was a three skysail yarder) with a full cargo, and deck load of heavy timbers for the Transvaal.  We made the passage from Puget Sound, around the Horn and the Cape of Good Hope to Lourence Marques, Delago Bay, Portugese East Africa.  We made the passage in 128 days (the only land we sighted in that time was Pitcairn's Id. where we lay to for several hours, off the S.E. corner of the Id. while a whale-boat of the Islanders came off to trade).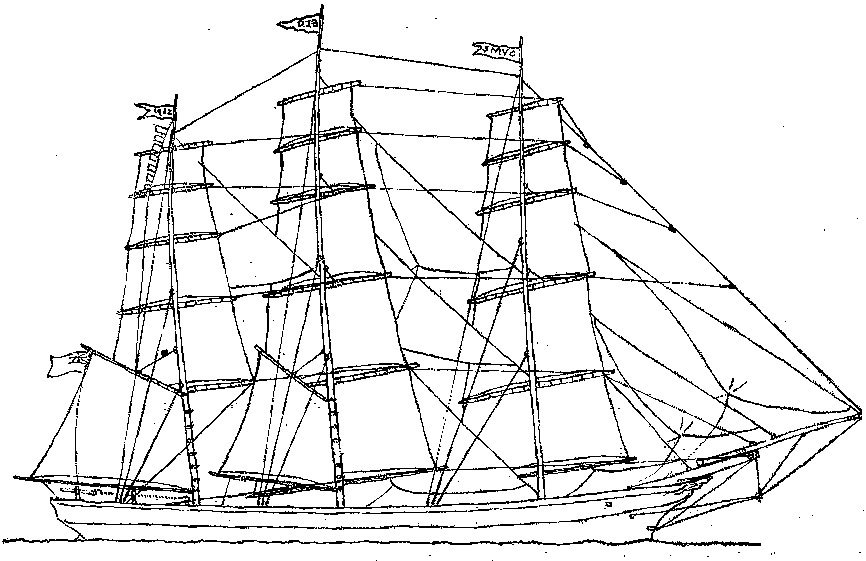 The Boer War was on at that time and Lourenco Marques was the nearest port to the Transvaal and there was a railroad from there to Pretoria.  Discharging our timbers was a slow tedious process, we anchored in a mosquito infested mangrove slough.  We had a donkey engine aboard, and the crew hove the long heavy timbers out through the bow ports into the water while a shore gang of  Zulus rafted and took them ashore.  After discharging our timbers, we proceeded, in ballast, for New Castle Australia.
Lourence is mosquito infested and has the worst type of malaria to be found anywhere.  We ran well to the So'the'rth, into the cold weather, in the Indian Ocean, to pick up the Westerly Gales, then ran our Easting down, passing through Bass Strait, between Australia and Tasmania then up to New Castle, N.S.W.  At the time we left Lourenco Marques we weren't bothered too much with the malaria but when we got into the cold weather, it hit us good and long before we reached New Castle.  We were running under short canvas as we didn't have enough men left to handle the sails.  I  left the "Saint David" at New Castle on termination of articles and went up country.
At that time Queen Victoria was on the throne, the old King Edward was the Prince of Wales and King George, the present queen Elizabeth's Grand-father was the Duke of York.  The Duke of York and his wife came to Sydney in the Royal Yacht, "Ophir", to make and declare Australia to be a Common-wealth.  The Royal Yacht, "Ophir" , was excorted by war ships of various nations.  The United States sent the Cruiser "Brooklyn".
In 1901 I shipped from New Castle N.S.W. on board the Novia Scotia full-rigged ship "Gloos-Cap" (she also carried three skysail yards) with coals for Manila.  We made the passage between the Solomon Ids. and the Bismarks, west of Yap, through Balantang Channel and down the west coast of Luzon, to Manila, where I quit the "Gloos-Cap". (while we were east of Balantang Channel we managed to become involved in the centre of a typhoon at the same time that we had a fire in the cargo.)
I was in Manila in 1901 when the U. S. Coast and Geodetic S. S. "Pathfinder" (the first Pathfinder) arrived in the Philippines to take up the Coast Survey work in the Islands.  I joined her and was on her on her first trip out of Manila bound for her first working grounds, the Ids. of Romblon, Cebu, Leyte and Samar.  The Philippine Insurrection was on there and my first duty was as armed guard, covering the Triangulation and Topographic parties while they were on the beaches.  After that it was all Hydrography.
 I spent the years from1901 to 1912 in the Philippine, Chinese and Japanese waters in the U.S. Coast and Geodetic Survey S.S. "Pathfinder", U.S.S. "Romblon" and U.S.S. "Marinduque", the liner "Rubi" running between the ports of Hong Kong, Manila, Ilo Ilo and Cebu, the U.S. Army Troop Transport "Meade" and the horse and mule Transport "Dix" running between San Francisco, Honolulu, Midway, Guam, Manila, Nagasaki (for coal) then Honolulu and San Francisco.  In the Transport "Dix" after putting our 600 horses and mules and freight ashore at Manila we would run light to Nagasaki and load a cargo of coal which we would put in the Navy coal pile at Honolulu.
We were making Nagasaki, for coal, during the Russian, Japanese War and were in Nagasaki after peace was declared and when the Russian ships came in to pick up the Russian Prisoners from Nagasaki.
During the latter part of 1912 I was on the Standard Oil Company's tanker "Maverick" covering the ports from Honolulu to Vancouver, B.C.
In 1913 was in U.S.S. "McArther" and U.S.S. Gedney in Alaska and Puget Sound.
In 1914 was in the S. O. Tanker "El Sundo" covering the ports from Ketchiken, Alaska to Honolulu, and the U.S.S. "Explorer" in Alaska and Puget Sound.
In 1915 was in the U.S.S. "Explorer", U.S.S. "Gedney", m.v."King and Wings" in Puget Sound and Alaska.
1916 was in the U.S.S."Explorer" in Alaska and Puget Sound.
1917 was in the U.S.S. "Explorer in Alaska and Puget Sound until November 15.
1917 when I resigned from the Explorer and the next day joined the U.S. Shipping Board S.S. "Chattahoochee", a 12320 ton, former Hamburg American Line freighter at Seattle, as chief mate and remained on her until torpedoed and sunk the night of March 23 rd, 1918 off Penzance, England.
Returned from Liverpool to New York on American Line S.S. "St. Paul", enrolled in the U.S. Naval Reserve Force and served as Executive Officer of the U.S.S "Nanshan" with several periods of temporary command.

USS Nanshan
(AG-3: dp. 5,059; 1. 295'8″; b. 39′; dr. 21'3″; s. 11 k.; cpl. 45; a. 1 6-pdr.; cl. Nanshan)
Nanshan was launched in 1896 by Grangemouth Dockyard Co., Grangemouth, Scotland, for merchant service as a collier in the Far East; purchased at Hong Kong 6 April 1898 from Frank Smythe; and placed in service the same day Capt. E. H. Stovell of the British Marine Service in command.
Acquired by the Navy as a supply ship for Commodore George Dewey's Asiatic Squadron, Nanshan sailed from Hong Kong 24 April 1898 with the squadron, remaining outside the harbor during the Battle of Manila Bay 1 May. She coaled Dewey's victorious ships until Manila was occupied 13 August, and continued to serve in the Philippines and on the China Station. Aside from a brief period out of service at Cavite Navy Yard for upkeep 29 March 1906 through 1 February 1907, Nanshan served in the Far East until 10 May 1913, when she returned to San Francisco to coal ships along the coasts of California, Mexico, and South America. Placed out of service at Mare Island 31 March 1914 for repairs, Nanshan was placed in full commission 1 August 1914 with her first Navy crew. SuppIy missions ranging from Alaska to Hawaii continued until 1 February 1918, when she sailed for Hampton Roads, Va., via the Panama Canal.
This cargo trip ended with her return to Mare Island 16 May when she resumed her usual operations, which included in July 1919 an emergency mission to Kodiak and the Pribiloffs bringing badly-needed food. Between 5 December 1919 and 3 December 1921, Nanshan served as a target repair ship. She decommissioned at Mare Island 18 January 1922 and was sold 29 July 1922 to John A. Bereovich Co.
Eligible for Manila Bay Medal:
Ben W. Hodges, U. S. N., Lieutenant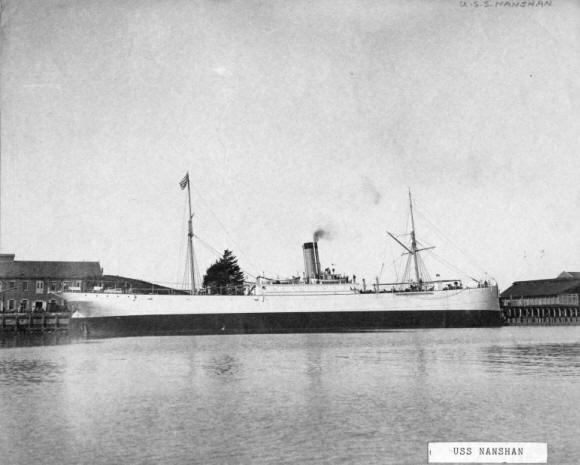 Nanshan moored pierside at Mare Island Navy Yard, Vallejo, CA., circa July-August 1914. Based on Nanshan's new paint job she must have just gotten out of dry dock. She was in dock #2 at Mare Island from 8 to 15 July 1914.
US Navy photo.
Specifications: 
Displacement 5,059 t. 
Length 295′ 8″ 
Beam 39′ 
Draft 21′ 3″ 
Speed 11 kts. 
Complement 45 
Armament one 6-pdr 
Propulsion system unknown
In September 1919 I joined the U.S. Shipping Board S.S. "Endicott" at Seattle, as chief mate and made a round trip through the Japanese and Chinese Ports far as Manila and return.
From March 18th 1920 to April 30th 1942 (22 years, 1 month and 13 days, without a break) I was on the U.S. Coast and Geodetic Survey S.S. "Surveyor" performing the duties of Pilot and Navigator, with the title of Mate, working in the Gulf of Alaska and Bering Sea, during the Summer, and off the Oregon and Washington Coasts and approaches to Puget Sound, during the winters.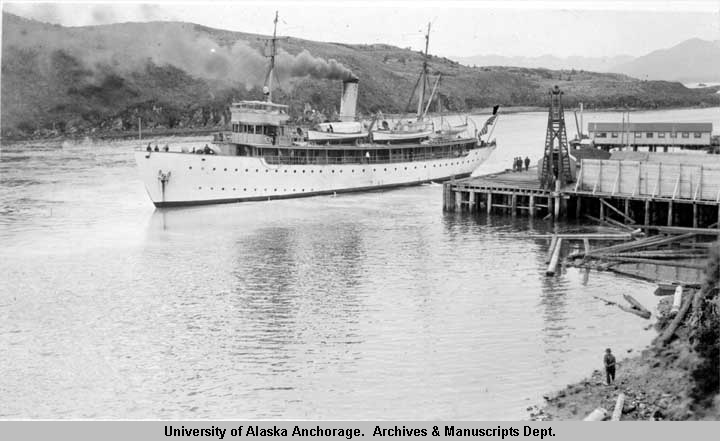 _____________________________________________________
The beginning of World War II, marked a very depressing time in the life of Royal Wallace Healy.  Despite his age, he felt he could re-enter the U.S. Navy, and serve his country once more.  He resigned his position with the Coast and Geodetic Survey, and made application with both the military and the merchant marine.  Due his age, his offers to serve were respectfully declined, and he was left sitting at home like a "bump on a log", during a crucial period of his country's history.
Page 1
From the beginning of world war 2 up to the end of April 1942 I was on the
U.S. Coast and Geodetic Survey, S.S. "Surveyor" working in Juan De Fuca
Strait, running lines of soundings preliminary to laying cables for artillery
control between the American Batteries on the Washington side of the Strait
and the Canadian Batteries on Vancouver Island.

As the 27 seasons I had spent fighting the fogs, thick and heavy weather 
in the Gulf of Alaska and the Aleutian Ids, were having a bad effect on my
eye-sight I thought it would be a good chance to get into the sun-shine of the
tropics, have a chance to see some action and possibly see Australia and the
Philippines again (at that time the Japs hadn't bombed Dutch Harbor and I never
expected then to ever make more than a "smart aleck" raid on Alaska).

So I took my retirement, although it meant smaller retirement pay than if I
had stayed on, went down to San Francisco and saw Commander Stevens, the
Naval Reserve Enrollment Officer, in the Tower Building. During the opening
conversation we found a former ship-mate, in common, George Wilcox, a
Chief Engineer.

In looking over my experience papers Commander Stevens was very much interested in a 128 day passage, between ports, that I had made in the full-rigged (sailing) ship " Saint David" in 1900 from Port Townsend, Washington around the Horn and the Cape of Good Hope to Lourenco Marques, Portugese East Africa with a cargo of lumber, then, in ballast from Lourenco Marques to New Castle, Australia but finally he said that he was very sorry to have to tell me that he couldn't enroll me as I was over age.

I wandered out on Market Street in a daze as I had expected no difficulty in 
enrollment in tines as serious as I considered those to be and as I had stressed
my years of service in the Philippines, Chinese and Japanese coastal waters
and in Alaska.

I then started the rounds of the shipping offices but it was always the same,
their organizations were full up and also they had to take care of all the
young men the Maritime Training Service was turning out.

Practically all the men doing the hiring were young and I may have seemed very
old to them but I didn't feel old and I knew that knowledge of the sea can
only be gained by experience of the sea and weather, knowing what the combination of the two can do, knowing what to expect under existing conditions and what to do in nursing a vessel so she will take the least punishment.

It was costing me so much to live in San Francisco and I was getting no where
so I finally returned home feeling very depressed, bitter and ashamed to see
any one, as I had started out so certain of a chance for some active service,
and full of pep.

My retirement came through as of August 1 st. 1942 it was an annuity on which I
had paid from 2 1/2 to 5% of my salary and subsistence.

I mailed out applications to the most likely ship operators but nothing came of
it. 

Hoping that the Naval Reserve might have changed its policy I sent an application for sea duty to, Office of Naval Officer Procurement, 117 Marion Street, Seattle, Wash. but the reply was the same I had from the San Francisco Office of the Naval Reserve, over age.
__________________________________________________________

( Copy of the reply I received from the Naval Reserve Office, in Seattle)

                                                             Office of
                                                      Naval Officer Procurement
                                                      117 Marion Street
                                                      Seattle, Washington
                                                      August 11 , 1942

Mr. R.W.Healy
1209 Korth 45 th. Street
Seattle,Washington

Dear Sir:
Reference is made to the data which you have submitted 
concerning your qualifications for appointment to the U.S. Naval
Reserve.

It is regretted that you are over age for the Commissioned branch
for which you appear to be otherwise qualified.

Your patriotism in offering to make yourself available for Naval
service at this time is most commendable and it is to be regretted
that favorable consideration can not be given.


                                                                 Very truly yours
                                                           ( signed) 0. Laird McKenna
                                                             Lieut. L -V (S),USNR
__________________________________________________________

In reply to my application to the American Hawaiian Steamship Company,
Portland Oregon office, mailed August 17, 1942 , tendering my services
as Master, 1 st., 2 nd. or 3 rd. Mate, for duration of the war
Mr. F.N.Mills, District Manager: replied in his letter dated August 19,
1942 , as follows,
Captain R.W. Healy 1209 North 45 th. Street, Seattle, Wash.
This will acknowledge receipt of your letter of August 17th, 1942
but since the employment of all licensed personnel is handled by the
Companys Operation Manager in San Francisco, we are taking the liberty 
of passing your letter on to Mr. A.E.Stow, Operating Manager.

__________________________________________________________

In reply to my application to the Standard Oil Company of California,
San Francisco Office, Mr. J.H. Mc Eachern, Manager, Marine Department
said in his letter of September 25 th. 1942.
"We wish to acknowledge your letter of September 2 nd, 1942 and thank
you for tendering your services as Master, 1st., 2 nd. or 3 rd. Mate for
the duration of the war.
As you know our organization is built up of men who have been with us for
a long period of time and have been promoted from the ranks as vacancies have
occurred.
While there is a shortage of experienced sea farers in the United States 
we have, at present, all the officers that are required for our operation.
__________________________________________________________
Page 2
As I began to realize that older men were apparently not in much demand, I was sorry that I had taken my retirement but as my 22 year, 1 month and 15 day ( continuous) job on the U.S.S. "Surveyor" was filled and the ships out on their working grounds, I was ashamed to ask to be taken back as, while this time I had retired, in 1917 while in the U.S.S. Explorer, tied up in the south end of Lake Union, in order to take a more active part in world war 1, (I resigned from the Explorer the middle of November 1917 and the next day joined the U.S. Shipping Board S.S. " Chattahoochee", a former Hamburg American Line freighter of 12320 tons, at Seattle, as Chief Mate and remained on her until torpedoed and sunk in the English Channel the night of March 25″rd. 1918.

I returned from Liverpool on the S.S. St Paul and enrolled in the U.S. Naval Reserve Force, as Lieutenant, and served as Executive Officer of the U.S.S. "Nanshan" until ordered to inactive duty, at own request in July 1919.)

I also found that in order to get a job ashore , if you had no social security  card they insisted that you must apply for one and as I was retired on a federal Civil Service Annuity I was not eligible for a social security card, and the federal unions wouldn't allow working for nothing.

When I went up to renew my license I found that they required a birth certificate.  My Great Grand father settled in Muscatine County Iowa in 1858 and my Father was born at Wilton Junction, Muscatine County, Iowa , March 17 th. 1851, My Mother was born at Bellefontaine, Logan County, Ohio, July 26 th. 1855 still at the time of my birth ,January 14, l878 no records of births were kept in Iowa as the first Iowa Census was taken in 1880, however the Census Bureau found that Roy Healy was a 2 year old son in the home of A. A. Healy and Isabel Healy at Afton , Union County, Iowa according to the census of 1880.
This with photostat from my Fathers Bible and letters from my Sisters were 
accepted.

Next I learned of a new ruling that all licensed deck officers were required to know the Morse code and wig-wag, which took me very much aback. Years ago, in the Philippines, I learned to send in the Morse code but never could receive well and I was afraid my brain lobes were too set to learn it now,  It was very unfair, While it might be a fine thing for every one on a ship to be able to signal ?  In practice it is In merchant ships, in peace time , the signaling is generally handled by the Radio Operators, Junior Officers or the Quartermasters, while in war time ( When the wireless can not be used) merchant ships are usually assigned regular Navy Signal-men, especially if in convoy. While the Navy and Naval Reserve ships have all the signal-men they can use.  I started in trying to memorize all the signals but by this time we had been in the war over a year and I was in such a state of mind that I couldn't think straight.  I caught myself feeling bitter towards all the young men who could get into it with no sea experience while I had spent the most of my life at sea.  It rankled so that I guess I must have let it get me down for I began to feel that I was being unfairly treated.

( For all of which I was wrong, but it all seemed very real to me at the time)

                                                                                  (Signed RoyWHealy)
Page 3
During my years in the Philippines I had worked in the greater part of the
Philippine area.

As it turned out I had taken part in the Survey of Tacloban, Leyte and the
adjoining coast in the U.S.S," Pathfinder" in 1902 (the coast where General
Mc Arthur landed on his return to the Philippines )

With one of the Pathfinder's launches I developed channels and picked out
natural object-ranges through the Guian Reefs , off of Guiuan , Samar , a
short distance east of Tacloban and escorted the U.S.Army Transport ,
"Kansas City " with the burial corps to pick up the 49 bodies of a detachment of Company C of the 9th. Infantry , victims of the Balangiga Massacre, Balangiga, Samar , a short distance from Tacloban.  With our launch I towed the boats with the bodies , from inside the mouth of the river at Balangiga out to the "Kansas City".  We then proceeded 12 miles beyond Balagiga and picked up 10 bodies of Major Wallers Marines.

The only time I touched bottom with a ship in the Philippines was in 1912 ,
in Ragay Gulf , where I touched a clump of branching coral, with the U.S.S. "Marinduque" we didn't hang up and there was no damage but I felt so bad about it that I resigned and returned to the States.

During my 27 seasons in the Coast Survey in Alaska, I stood long night watches,
also through intricate channels and during fog, thick, or heavy weather,
During that time I was fortunate in that I only touched bottom once when
in 1923 , in the U,S.S. "Surveyor" I just brushed a rock in Sandy Bay,
Baranof Id, ( at the time an unsurveyed bay) we didn't hang up and no damage
was done , only my record busted . I tendered my resignation but it was refused.

AND now with this Korean business and what may follow I will , no doubt
again have to go through all the hell of sitting around on the side lines, like
a bump on a log.
                                                                        (signed RoyWHealy)