Tombstone for Abial and Mary Healy in the Healy Cemetery near Moscow, Iowa.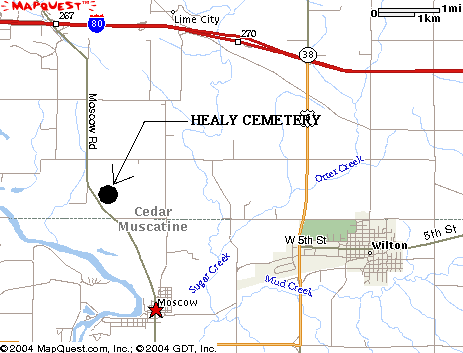 This building in Wilton, Iowa, housed the General Store owned by Abial Healy later in his life. The building has been converted into an apartment house.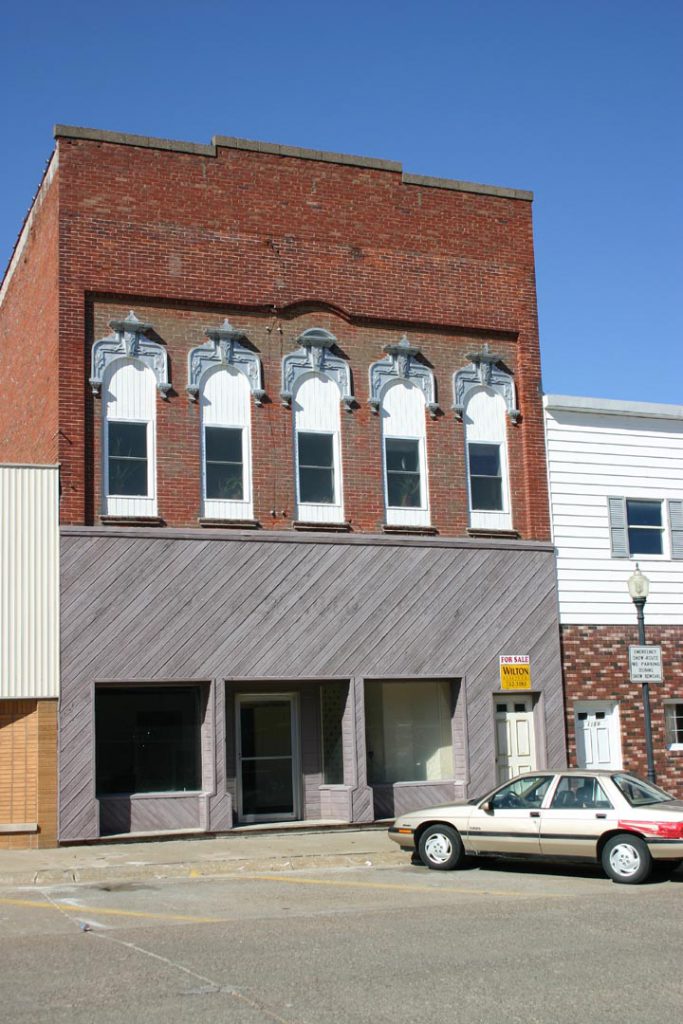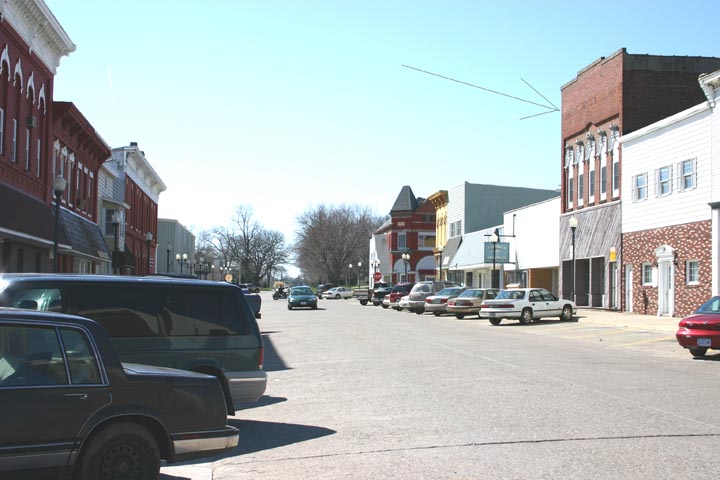 _____________________________________________________________________________________
                                  THE STORY OF MY GRANDFATHER.
                                            BY  KEITH WOODHOUSE
On July the twenty-second, eighteen hundred and twenty-two, in the town of Dudley, Massachusetts, a son was born to Daniel Lyon and Triphena Kidder Healy.  This boy was named Abiel Lyon.  He grew to boyhood in the town of his birth – a typical New England village.
He, in company with his father, mother, brothers, and sisters, then moved to Connecticut. In this state several more years of his life were spent.
While still in his early teens, Abiel with the rest of the Healy family joined the ever increasing migratory movement toward the west.  Taking all of their possessions they started west in a covered wagon.  For many days the Healys journeyed westward, over the Catskill mountains on to the grassy plains.  They traveled until they came to the Mississippi River, the great Father of Waters.  Then over that river into Iowa – Iowa of the undulating prairies.  Iowa the beautiful.  They settled in our great state among the other early settlers, casting their lot with the rest.  Land near Moscow in Cedar County had been purchased so here they started life in the West.
After a few years the Healy family was operating a tavern, which,  because of its position on the Muscatine – Iowa City Road, was called the "Half-Way Tavern."  Guest entered the tavern by a vestibule at the side of the house.  In the wall of the vestibule was a cubby-hole where the mail was left by the stage coach which stopped over night.  A door to the left opened into the parlor.  At one end of this room was a large fireplace, and adorning the wall a hand-carved molding of black walnut.  This was the wood throughout the house.
Opening from the vestibule to the right was the living room, a combination kitchen, dining, and living room.  This room was immense, constituting  most of the lower floor.  An old-fashioned fireplace occupying one side of the room joined an oven room, which was the size of a modern closet, where the family baking was done.  At the opposite side, stairs ascended to the second story where there were three spacious bedrooms with low windows.  The house was situated on a farm of typical Iowa prairie land.
The Healy family was living among these pleasant surroundings, when on the twenty-second of September, eighteen Hundred and forty-two, a covered wagon stopped at the tavern.  In this wagon were Mary Adams, her invalid brother, and her parents coming from Grass Lake, Michigan, seeking health for the sick brother and son.
The Healy family ran out to meet the newly arrived guests, when to their surprise and delight, they found them to be old acquaintances.  They had lived near each other in Massachusetts, but the children had never met.  Abiel, then a young man of twenty years fell in love with Mary at once.  When he helped her from the wagon, he turned to his mother and exclaimed, "This is the girl for me."
The family did not go on the next day, nor the next, but for ten days shared the hospitality of the Healy family.  Those ten days were days of happiness, friendship, and understanding.  Abiel hastily finished his numerous daily farm duties and every spare movement was spent with Mary.  She likewise accompanied Abiel when he went about his work.  Thus a true love developed in those long, short days. 
On the tenth day, October the second, Abiel led Mary, his acquaintance of ten days, to the altar.  Autumn leaves decked the walls of the parlor and garlands of flowers covered the fireplace.  Here, with the Healy and Adams families and a few neighbors as witnesses, Mary and Abiel were united in Holy Wedlock.
The newly wed couple started housekeeping in a house about a mile from the tavern and lived in that house for about sixteen years.  Seven children were born to Mary and Abiel in this same house.  Austin Adams, one of the children became my Grandfather.  While the children were still young a new house was built a short distance from their former residence and was then considered to be a fine, large house.  Both this house and the "half-Way Tavern" are still standing.
Mary and Abiel lived happily on this farm for about ten years with their children who were one by one leaving the home of their childhood to form homes of their own.  In eighteen hundred and sixty-seven they moved to Wilton Junction, Iowa, where Abiel operated a General Store until his retirement a short time later.  Fred Maurer of Wilton now operates this same store.  Mary and Abiel lived in Wilton for the rest of their lives sharing each other's joys and sorrows, living each others lives as truly as if the two had been made one in reality as well as figuratively, when standing before the fireplace in the tavern parlor many years before.
On February the twenty-fifth, eighteen hundred and ninety-four, Abiel died.  He was seventy-two years old.  Abiel was nursed by his ever faithful wife until the end.  Three months later on May the twenty-fifth of the same year, Mary joined her husband at the age of seventy-eight.  They had lived together for fifty-two long, happy years.  Few marriages of today formed after ten days of acquaintance would last so long and happily.  Even in death they were united.
Mary and Abiel were buried in the Healy cemetery, newly formed, which was located between the tavern and the second Healy home.  Many relatives are now buried there.
Note:  In April of 2004, Liz and Don Healy stopped in Moscow, Iowa to seek information on the location of the "Half-Way Tavern and the house owned by Abial and Mary.  Mr. George McCoy, an old-time resident of Moscow informed us that both had been torn down many years ago.
_______________________________________________________________
From: http://freepages.genealogy.rootsweb.com/~walkersj/Healy.htm
ABIEL LYON7 HEALY (DANIEL LYON6, WILLIAM5, NATHANIEL4, JOSHUA3, NATHANIEL2, WILLIAM1)394 was born July 22, 1822 in Dudley, Worcester Co., Massachusetts395, and died February 25, 1894 in Wilton, Iowa.  He married MARY ADAMS October 02, 1842 in Moscow, Iowa.  She was born October 26, 1816 in Sturbridge, Worcester Co., Massachusetts, and died May 25, 1894.
Children of ABIEL HEALY and MARY ADAMS were;
i.  SARAH TRYPHENA HEALY b. August 30, 1843, d. January 1, 1919 in Los Angeles, California, married November 30, 1864 NATHANIEL STORY, in Moscow, who was b. April 7, 1844 in Ohio and died November 19, 1907 in Mitchell, Iowa. They had NETTIE M. STORY b. 8/7/1865 in Fermington Township, Ia., m. 1st VOLMER of Quincy, Ill. 1/21/1892; divorced; m. 2nd JAMES A. McKINZIE 3/5/1910 in Bakersfield, Ohio. Res. Neenach, Col. 1913.  CHARLES F. STORY b. 3/29/1869 in Tipton, Iowa; m. HESSIE E. HADLEY  5/28/1892 who was b. 11/24/1872 near Stuart, Ia.; Res. Whittier, Cal. (Had; HAROLD HADLEY STORY b. 12/22/1893 in Stuart, Ia,  VELMA STORY b. 9/18/1895, d. 10/7/1895,  DONALD GRIFFITH STORY b. 8/25/1896 in Stuart, DAPHENA HEALY STORY b. 2/5/1900)  AUSTIN D. STORY b. 11/1872, d. 8/23/1873 in Tipton, Iowa.  BERTHA H. STORY b. 10/17/1873 in Cedar Co., Iowa, m. JOSEPH A. BERTRAM 11/14/1894 in Guthrie, Iowa, who was b. in Toronto, Canada, 11/30/1870;  Res. Arapaho, Oklahoma (Had; ARTHUR STORY BERTRAM b. 2/21/1896 in Adair Co., Iowa,  OTTO ALFRED BERTRAM b. 7/23/1897 in Guthrie Co., Iowa, BEULAH MAY BERTRAM b. 12/3/1899 in Custer Co., Okla., VELMA NETTIE BERTRAM b. 4/25/1902 in Custer Co., Okla., ESTHER VIOLA BERTRAM b. 9/25/1904 in Custer Co., Okla., FLORENCE SARAH BERTRAM b. 12/21/1908 in Custer Co., Okla. and LUCILE BELLE BERTRAM b. 9/14/1910 in Custer Co., Okla.)
ORRIS L. STORY b. 9/17/1875 in Sigourney, Iowa, d. 1/13/1876,  LINNIE M. STORY b. 12/30/1876 in Keokuk Co., Iowa, married 9/14/1900 AGNES GENEVIEVE NIEKLIN in Osage, Iowa, who was b. 2/12/1874 in Davis Co. Moved to Cal. in 1902 (Had; MARY W. STORY b. 6/27/1901 in Valley Junction, Iowa and ELLIS N. STORY b. 10/16/1904 in Los Angeles, Cal.)  JENNIE A. STORY b. 8/31/1878, d. 1/8/1879,  WILLIAM E. STORY b. 10/19/1880 in Adair Co., Iowa, m. IDA C. WEBER of Cincinnati, O. 11/19/1912 in Senta Ana, Cal. Res. San Pedro, Cal.
ii. MARY ELLEN HEALY b. October 2, 1845 in Muscatine Co., Iowa, d. March 24, 1915, age 68 in Wilton, Iowa, m. SAMUEL H. WISE 11/29/1866, a jeweler, son of Henry and Sophia Wise, who was b. 10/24/1842.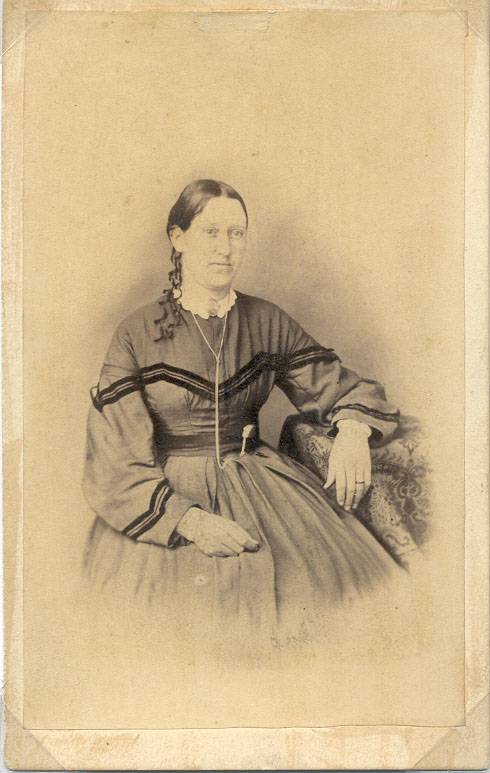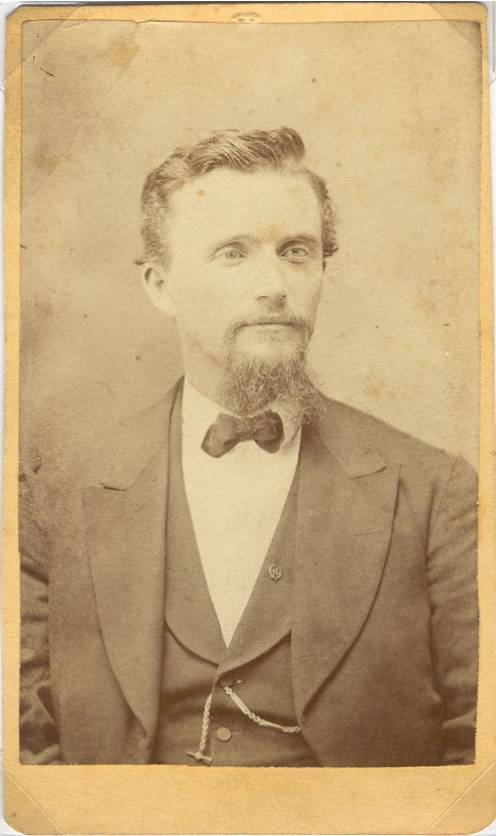 ( Photos above courtesy of Lynn Ochiltree, Wilton Archives Collection 515-462-4080 )
They had;  MARY SOPHIA WISE b. 7/18/1868 in Perryville,Mo., m. GEORGE E. ZINN 4/2/1891 in Hominy, Okla.; Res. Prague, Okla. (Had; LEILA PERCILA ZINN b. 1/16/1895 in Chicago, EDNA MAE ZINN b. 6/18/1899, d. 9/22/1909 in Hominy, Okla., ORA ELLEN ZINN b. 1/21/1901 in Elkhart, Ind., GEORGE EDWIN ZINN b. 7/9/1904, d. 11/17/1909 in Hominy)  EDWIN ABIEL WISE b. 1/3/1870 in Wilton, Iowa, m. ALMA FARLIES 6/14/1894; res. Chicago, Ill. 1913. No children.   GEORGE CHESTER WISE b. 4/7/1876, m. ISABELIE AILBEE 12/25/1902. Res. Fairfield,  Iowa. He was Asst. Prof. State University, Salt Lake City, Utah, 1923  and at that time had Major Nathaniel Healy's sword. (Had; GARL SAMUEL WISE b. 11/18/1908 in Salt Lake City, ERNEST ALLBEE WISE b. 8/22/1911 in Muscatine, Iowa)  IDA ELLEN WISE b. 8/21/1879 in Wilton, Iowa, m. PRESTON M. CONANT 10/8/1903,  pastor of the Methodist Episcopal Church, Ainsworth, Iowa, Muscatine Dist, 1913 (had; PRESTON SAMUEL CONANT b. 11/6/1908 in West Burlington, Iowa) SAMUEL AUSTIN WISE b. 5/15/1881 in Wilton, Iowa, m. FLORENCE FORRESTER, 9/3/1906.  He was a jeweler in Mitchell, South Dakota. (Had; EVELYN FORRESTER WISE b. 5/10/1909 in Logansport, Ind.)
iii. CLIFTON DWIGHT HEALY b. January 21, 1848 in Cedar Co., Ia., m. ELIZABETH BROOKS SATTERWAIT  3/10/1870, who was b. 1/22/1849 in Muscatine Co., Ia. and d. 3/15/1885 in Eldorado,  Kan.; m. 2nd MARY M. VAN VALKENBURG 11/11/1887, who was b. 9/24/1855; divorced  3/1901; m. 3rd MARY E. GALLUP 2/24/1903; Res. Eldorado, Kan. 1920; Kan. City, Mo. 1929.  His children; WILLIAM HEALY b. 1/21/1871, d. 1/21/1871, ADDIE RUTH HEALY b. 8/23/1875, m. CLARENCE VINCENT REEDER 12/25/1895 in Eldorado,  Kan., who was b. in Ohio 12/27/1867. Res. Kansas City, Kan.  (Had; EDNA MAE REEDER b. 9/11/1895, FRANCIS ESTHER REEDER b. 10/31/1899,  MANILA ELLENA REEDER b. 8/1/1901, CLARENCE ARTHUR REEDER b. 6/19/1905, EVA FAE REEDER b. 12/23/1908, EDYTH RUTH REEDER b. 8/12/1912) ALMIE ELIZABETH HEALY b. 3/3/1877 in Eldorado, Kan., m. CHARLES EUGENE FOSTER  8/9/1892 in Eldorado, Kan., who was b. 5/28/1868 in Spencer, N.Y; whose family  moved to Eldorado in 1874. (Children; VANETA FOSTER
b. 4/8/1893 in Eldorado, Kan. was a school teacher, CLARENCE LEE FOSTER b. 10/31/1895 in Eldorado, LLOYD EDGAR FOSTER b. 6/18/1898 in Eldorado,  ZAIDA LULU FOSTER b. 12/11/1901 in Eldorado, ZELMA FOSTER  and twin b. 6/24/1912 VELMA FOSTER )  SYDNEY GRACE HEALY b. 10/12/1878, m. WM. C. BOWEN 9/24/1895; b. 7/29/1874 (Had; BESSIE MAE BOWEN b. 3/28/1897 in Eldorado,
Kan. Res. Eldorado, PERRY WILLIAM BOWEN b. 4/1899 in Eldorado, d. 7/22/1902, JOHN LESLIE BOWEN b. 2/22/1901 in Eldorado, LULU GRACE BOWEN b. 1/7/1904 in Leon, Kan.)  LUCRETIA MOTT HEALY b. 1/14/1880; m. JAMES THOMAS HIGBEE 7/2/1906 in  Mo., who was b. 3/6/1868,  JAMES ALFRED HIGBEE b. 6/16/1907, PAUL CECIL HIGBEE b. 4/12/1910, DOROTHY MILDRED HIGBEE b. 3/12/1912)   FRANK CYRUS HEALY b. 12/8/1881, d. 5/24/1909,  CLIFTON ARTHUR HEALY b.  3/9/1885, m. CORA BUELL 2/14/1910; Res. Latham, Kan.  (Had; BEULAH DIMPLE HEALY b. 2/18/1911, CORA OLIVE HEALY b. 6/12/1912, CLIFTON FITZROY HEALY b.  8/9/1913)  ROY GARDNER HEALY b. 4/2/1888, and his sister Vernie, resided in Leon, Kansas  after their parent's divorce; also Oris,   VERNIE EVA HEALY b. 8/31/1891, m. AARON FRANK DICKSON; res. Cal. and Texas 1913 (Had; KERMIT L. DICKSON b. 1909),  ORIS DWIGHT HEALY b. 5/5/1897
iv. ANGELINE ELIZABETH HEALY, b. February 2, 1850, d. May 19, 1850
v.  AUSTIN ADAMS HEALY b. March 17, 1851 in Cedar Co., Iowa, d. November 5, 1928, aged 77; burial  in Lorimor, Iowa; m. SARAH ISABELIE WALIACE 10/17/1872 in Wilton, Iowa., b. 7/26/1855  in Bellefontaine, Ohio and d. 10/30/1894 in Lorimer; m. 2nd LOU LANTRY LAWRENCE,  a widow, 8/17/1904, who was b. 5/27/1876 in Browning, Mo. He joined the Baptist Church at an early age and remained a faithful christian until he died. He was a  member of IOOF Lodge, Milan; occupation jeweler. They had ETHEL ADAMS HEALY b. 5/8/1874 in Blairstown, Iowa, m. CARL W. SHEARER 6/4/1899.  Res. Tulsa, Okla. in 1929 (and had ARLINE ISABEL SHEARER b. 9/1/1900 in Milan, Mo.),  AUSTIN LEO HEALY b. 4/23/1876 in Wilton, Iowa, d. 3/8/1877, ROYAL WALLACE HEALY b. 1/14/1878 in Afton, Iowa; unm. in 1913, was on Coast  Guard Survey, steamer McArthur, Cooke Inlet, Alaska. Res. Seattle 1929,  EDNA EVANGELINE HEALY b. 8/7/1881 in Afton, Iowa; m. HORNER F. SOHOOLING  9/10/1899 in Browning, Mo., who was b. 7/19/1878 in Cora, Mo.; Res. Kansas City, Mo. 1929. (Children; RUSSELI FISHER SCEOOLING B. 8/21/1900 in Milan, Mo.  MAXINE MARGARET SCHOOLING b. 7/5/1905 in Milan, Mo.), DAISY MAY HEALY b. 7/24/1884 in Afton, Iowa, m. HARRY E. LOUGHRAN 12/25/1903 in Milan, Mo., who was b. 3/12/1882 in Butler, Ind. Res. Peru, Ind. No children,  CORA BELLE HEALY b. 12/3/1887 in Afton, Iowa, m. GEORGE R. WOODHOUSE 12/27/1908 in Milan, Mo., b. 3/9/1883 in Cedar Co., Iowa. Res. Vinton, Iowa, 1929 (Had; KEITH WALLACE WOODHOUSE b. 10/7/1909 in New Liberty, Iowa, RANDALL FREDERICK WOODHOUSE b. 12/17/1911), MARY LAURA HEALY b. 4/21/1890 in Afton, Iowa; m. JAMES G. KEMP 7/22/1910 in New Liberty, Iowa. Res. Cedar Rapids, Iowa, 1929 (had; AUDREY KEMP b. 8/12/1911 in Cedar Rapids, Iowa)
vi. WILLIAM LYON HEALY b. 3/23/1853 in Cedar Co., Iowa, d. 12/31/1908 in Eldon, Iowa, aged 55; m. IDA GEORGIA SHEFFER 8/10/1875 in Wilton, Iowa and had FREDERICK LYON HEALY b. 10/26/1876 in Wilton, Iowa; m. MARGARET STEPHENSON 5/2/1899 in Kirkville, Iowa. Res. Kosbkonong, Mo. He was manager of a lumber company; also raised peaches, apples, and strawberries (had; a son died in infancy 9/1900 in Ottumwa, Iowa,  WILLIAM LYCN HEALY b. 1/16/1902 in Ottumwa, Iowa, KATHERINE LOUISE HEALY b. 1/1905 in Des Moines, Iowa)  EMMA M. HEALY b. 9/24/1879 in Eldon, Iowa, m. GEORGE FARBY IRWIN 2/1/1899 in Eldon, Iowa, who was a traveling salesman in hardware. Res. Pittsburg, Kan. (Had; VELMA BIRDINE IRWIN b. 12/16/1901 in Grand Island, Neb. and GEORGE FARBY IRWIN b. 11/29/1911 in Pittsburg, Kan.), CHARLIE HEALY d. 1895, killed by cars on his way home from school.
vii. HARRIET FRANCIS HEALY b. 1/5/1855 near Moscow, Iowa, d. 11/10/1920 in Guthrie, Okla.; married JOHN LEVENRICH 12/24/1872 in Wilton Junction, Iowa, who was born 8/26/1847. They had fifteen children, but only three lived to grow up. They were members of the Methodist Episcopal Church. They had; LAURA MAY LEVENRICH b. 10/4/1873, d. 4/6/1885, WILLIAM FRANCIS LEVENRICH b. 1/30/1876, d. 3/10/1877, JOHN ARTHUR LEVENRICH b. 12/7/1877 in Wilton, Iowa, m. MAUD L. RICHEY 6/3/1903 who was b. 2/7/1882 in Lone Tree, Iowa. He was a merchant (had; RUTH LEVENRICH b. 5/23/1904 in Lone Tree, Iowa and JOHN ARTHUR LEVENRICH b. 12/18/1905 in Lone Tree), CHARLES ANDREW LEVENRICH b. 3/1/1880, d. 4/16/1880, SARAH ANN LEVENRICH b. 4/10/1881 in Wilton, Iowa; m. SAMUEL LEROY TEDFORD 1/10/1912, who was a real estate agent in Guthrie (had; MARY FRANCIS TEDFORD b. 11/4/1912 in Guthrie, Iowa), EDNA CLARA LEVENRICH b. 7/16/1883, d. 3/29/1884,  IDA SILVA LEVENRICH b. 1/18/1885, d. 1/21/1885, MINNIE LEVENRICH b. 3/18/1886, d. 3/20/1886, VERA LEVENRICH b. 4/4/1887, d. 6/15/1887, FREDDY LEVENRICH b. 7/22/1888, d. 10/15/1888, RAY SHERMAN LEVENRICH b. 10/5/1889 in Wilton, Iowa; m. MARY GIESEREGEN in 1908 who was b. 1/1/1893 in Muscatine, Ia. He was a photographer in Guthrie, Ia. (Had; LAWRENCE ARTHUR LEVENRICH b. 12/18/1908 in Muscatine, Ia.,  FRANCIS EDWARD LEVENRICH b. 8/6/1910 in West Liberty, Ia., MARGUERITE MARIE LEVENRICH b. 10/29/1912 in Guthrie, Ia.), FLORENCE ADELINE LEVENRICH b. 1/25/1892, d. 7/29/1892,  GEORGE LEVENRICH b. 12/21/1893, d. 3/9/1894,  BLANCHE LEVENRICH b. 4/21/1895, d. 3/26/1896,  HAROLD LEVENRICH b. 8/7/1897, d. 2/24/1898
viii. HEZEKIAH ABIEL HEALY b. 11/11/1857, d. 2/12/1860 in Cedar Co., Iowa
ix. CLARA MAY HEALY b. 3/19/1859 in Cedar Co., m. GEORGE WILLIAM BALL 9/24/1879, who was b. 11/7/1848 in Wilton. They met at Wilton Baptist College. Res. Guthrie, Okla. and had; BLANCHE REBECCA BALL b. 11/22/1881, m. CHARLES ROSCOE GAFFNEY 4/3/1907, who was b. 3/15/1883. Res. Oklahoma City 1920 (had; OLIVER WILLIAM GAFFNEY b. 4/15/1908 and LOIS MARGARET GAFFNEY b. 3/14/1913),  HATTIE BEILE BALL b. 9/23/1883, died at birth,  EDNA LILLIAN BALL b. 10/3/1889, d. 10/13/1889, EDMUND WILLIAM BALL b. 7/22/1891, d. 10/1/1891, FLOYD ALVIN BALL b. 4/11/1898 in Douglas, Kan., served in World War I
x.  IDA LELIA HEALY b. 6/24/1862 in Cedar Co., d. 11/30/1902 in Provo, Utah, married 10/26/1885 JOHN H. SLATER and had HELEN HEALY b. 9/23/1893 in Traer, Iowa; m. BERT MATSON in Tallahassee, Fla., 11/15/1911, who was b. 8/15/1885 in Belvidere, Neb.; Res. Citronelle, Ala. 1913, HORTENSE HEALY b. 1/26/1903 in Citronells, Ala.