WILLIAM1 HEALY, b. about 1613; d. December 1683.  He married (1) REBECCA/GRACE IVES.  He married in 1650 (2) MARY ROGERS, daughter of REV. NATHANIEL ROGERS.  He married (3) GRACE BUTTERICE October 14, 16531, daughter of NICHOLAS BUTTERICE.  He married (4) PHEOBE/REBECCA GREEN August 05, 1661, daughter of BARTHOLOMEW GREEN.  He married (5) SARA BROWN, "widow and schooldame," November 29, 1677.
Child of WILLIAM HEALY and GRACE BUTTERICE is:
2. i. NATHANIEL2 HEALY, b. Abt. 1658; d. June 02, 1734, Cambridge, Middlesex Co., Massachusetts.
_______________________________________________________________
From notes of Teresa Haldorson:

"Was born in 1613, evidently a descendant of Hugh Hele, progenitor of the Cornwood line of Hele's in Devon, (Herald's Visitations of 1620) as Banks' Topographical Dictionary of English Emigrants to New England, from 1620 to 1630, lists him as coming from Comwood. Hugh's son, John Hele, married Alide Fortescue of Comwood and had three sons. The eldest. Richard Hele, established his residence in Neary, but Richard's son John Hele is described in Vivian's Visitations of the County of Devon as "of Comwood" the last reported as of that place. This seems to be as close as we can get to the origin of William Hele who came to the Colonies. The Society of Genealogists in London have a transcsript of Comwood parish registers, but unfortunately the period covered is 1685-1834; the earlier registers having been destroyed by fire there. In adition to the loss of the earlier registers, the Society reports that Devonshire wills were destroyed by enemy action in World War II, 1939-1945.

American histories say William Hele came first to Lynn, Mass. about 1640 where he early joined the church; became a freeman in Marshfield in 1643, was of Roxbury in 1649, and finally was dismissed from the church in "Lin" to join that in Cambridge with his family. There he settled "upon the rocks" apparently the rocky ridge upon which Harvard Observatory now stands. A street in this area is still called Healey Street. He had five wives and his twelve children were born in Roxbury and Cambridge.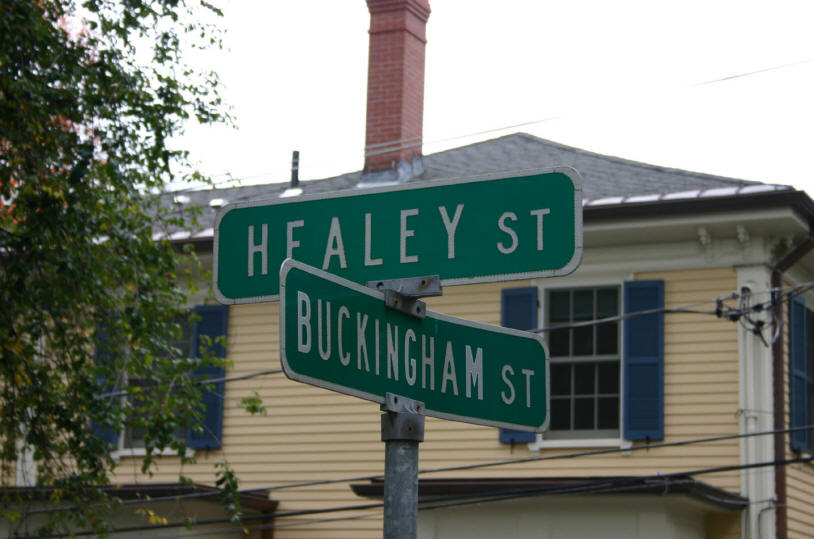 An esteem citizen, a church member, a landholder, and prison-keeper for ten years from 1672 to 1682, at the age of seventy years he was charged with a misdemeanor. Fabricated accusations prompted by jealousy or vindictiveness were not uncommon in the Colonies between 1656 and 1692. He died within a year, 11/28/1683, and his remains lie in "The Old Burying Grounds" in Cambridge.  (Donna La Rue, a church/burying ground researcher and tour guide in the Harvard Square area has done some research into this matter and has not been able to find any evidence that William Healy was buried in the Old Cambridge Burying Ground. If he was, "Heal(e)y was either buried without a gravestone or in a family crypt with no other marker.  (See June 26th entry on Donna's emails below.)   Donna also indicated that the charges against Healy might well have been true.  (See "Charges" below.)
References: Bowen's Genealogies ofWoodstock Families, Vol. VII, p. 18;
     Ellis' History ofRoxbury; Encyclopedia of Mass. Vol. 5, p 172
     New England Hist. Gen. Reg. Vol. 27, p 139;
     Harris' Epitaphs of the Old Burying Grounds at Cambridge;
     Paige's History of Cambridge;
     Records of Cambridge—Grants by Selectmen, P. 238;
     London Society of Genealogists from Herald's Visitations.
1st wife – Grace Ives (says Calnek) daughter of Miles Ives ofWatertown, married in 1643. However, Bowen's History ofWoodstock concludes that Grace Ives and Grace Butterice, or Buttry(s)-see 3rd wife— appear to be one and the same person. Nico Buttry(s) aged 33, wife Martha, aged 28- born about 1606, and daughter Grace, age 1, sailed from Ye Port of London in ship James and arrived in Cambridge 7/13/1635. (Hotten's Original Lists of Persons of Quality (1600-1700). No further mention is made of the family until in 1654 Grace Butterice married William Healy. Miles Ives, whose wife's name was Martha, born about 1606, in his will dated 12/30/1683, mentioned his grandchildren Nathaniel and Martha Healy. The conclusion is drawn that Nicholas Butterice died, Martha married Miles Ibes about 1638, and her daughter Grace Butterice, became known as Grace Ives. Miles Ives and wife Martha had other children: Sarah b. 11/8/1639, Mary b. 10/5/1641, and Hannah b. 9/9/1643.

The record of the death of William Hele's first wife appears in the Roxbury Land and Church Records, page 174.
 "1649 Month 9 day 8 (12/8/1649) Sister Heli died in childbed with other diseases which cause her child to die and was take from her by peeches."

Bown suggests that the first wife was probably a near relative or close friend of Elizabeth, the widow of John Morrick ofHingham, because in her will dated 5/7/1650 she bequeather "to William Healy of Roxbury." Elizabeth Moricke also willed "to my sister Grace Allam in Linckconeshire L5". This sister "Grace" obviously could not have been William Hele's first wife either.
…."In England (and the Colonies) the legal year began on Annunciation Day, which was March 25th. The change to January 1st took place in 1752. Hence the "27th of the 1st" would be March 27th, while the "2nd of the 1st" would be April 2nd, etc. Dates between January 1 and March 25 are sometimes written thus; Feb. 21,1574-5, which is 1575 according to present reckoning."
2nd wife- Mary Rogers dau. of Rev. Nathaniel Robers of Roxbury, m. in 1650 (Col. Joseph L. Chandler's "Rogers' Pedigree" pub. in NEHG Reg. Vol. 41, p 165). They moved to Cambridge where wife died. Roxbury Church and Land Records, p. 175: "1651 month 9, day 29 (11/29/1651) The wife of Neighbor Hawley died." She died before her father, which would account for her not being mentioned in his will. Rev. Nathaniel Robers, b. in Haverhill, England in 1598, d. 7/3/1655, aged 57 years, was 2nd son of Rev. John Rogers, a district minister afterwards of Dedham, England, who was grandson of the Martyr John Rogers. Rev. Nathaniel Rogers was educated at Emanuel College, England, which he entered when about 14 years old. He married Margaret Crane of Coggshell or Coxhall, Essex; arrived in Boston 11/1636; was ordained pastor of the Church at Ipswich 2/20/1638; took Oath of Freedom 9/6/1683. His oldest son, John Rogers, was made President of Harvard College 8/12/1683 and d. 7/28/1684.
3rd wife- Grace Butterice daughter of Nicholas Butterice, m. 10/14/1653; d. 1660 Records of the Church of Christ at Cambridge, N.E., 1632-1830, edited by S.F. Sharples, gives a "List of Members in the handwriting of Rev. Jonathan Mitchell" on page 12;
     "(17)William Heily & Grace his wife both members of this Ch. in full  Comm.     His Hannah* )children *admitted into f. Com. March.27.63.  
      Dismissed to Salisbury
      Elizabeth )June. 24. 1667."
      Sarah )
      William ) Borne at Roxbury & baptized there whiles He Stood member of the Church of Lin from whence He was dismissed to us.
Also Grace (daughter of William & Grace) borne & baptized in this church.
Nathaniel baptized ffebr.6.1658.
Martha baptized Septembr.9.1660.
Samuel Heily Son of William & Phebe (formerly Green) baptized          Septembr.21.1662. 
Paul Heily baptized April 3d. 1664.
Mary Heily baptized Octob. 29.1665.
Reference:
Healy History by Ethel Brown Carrier, 1968

________________________________________________________________________________________________

Charges:
From:  http://freepages.genealogy.rootsweb.com/~walkersj/WilliamHealy.htm
 
"The formal complaint lodged on 30 July 1666 against William Healey of Cambridge for maltreating his wife came from her brother Samuel Green and her brother-in-law Thomas Langhorn. However, the most damning evidence came from two servants, Samuel Reynolds and Daniel Beckley.
On the 13th of Aprill William Healey sent us to Boston, but as before our departure he was chiding his wife we therfor went back to the house and saw sd. Healey beating and kicking her. On the 7th of May after all were a bed the child begann to crie and Healey told her to quiet the child but it continuing he bid her to lye further off or else he would stick his teeth down her throat and he struck her with his hand and she cried out, then he took her by the wrists and twisted her to pieces (as she afterwards said) so that she wore a plaister for two weeks and cried with the pain of it for two hours.  Healey hearing us talking in bed made a bemoaning of himself as though she had beaten him and listening again he did not hear us and said to her Ah Wicked roan hast though not done houling yet & bid her cry aloud her God was asleep and bid her gett all her lyes in a bag together and present them to her God he would not hear her else. On 27th of May there was a falling out in bed and Daniel Beckley counted three blowes and she said Will you kill me then fove blows then eight. Next morning William Healey owned to Sam Reynolds that he had struck her four or five times. When Daniel Beckley was setting him over to Boston he admitted that he struck her but told him to say nothing, let her prove it. On the last of June a Saturday we were returning with Arthur from Boston when we heard a great noise from the house; we held still our oars and heard three blows and shee looking out at the window cryed for Gods sake help me he will kill me.  William Healey said some of us had given her tobacco & now she was mad.  His wife came from the chamber and vexed him and he caried her to the chamber and beat her. She spoke without any distemper. His constant dayly course was to curse att her & revile her & her friends, her generation as he called them beggars. He referred to her brothers Langhorn and Greene to their disgrace & all her generation were thieves and whoremasters. Concerning her he would say God had burnt out one of her eyes & drawn up one side of her mouth & he would quickly do the like to the other & make her a spectacle of his wrath. He oft twitt her in the teeth of her being a [church] member, saying the church saw nothing in her wherefore they received her in but that she made two or three fine kerchies…he would oft tell her of her being nailed to the door and threshold…she remonstrated with him saying he must answer for them [his sins] one day before God to which he replyed do you take Gods name in your mouth; you might as well take my arse in your mouth you prophane woman…him let him be brought forth and he would strip in the street…[they were] damned rogues and whores that know any evill by him and do not bring him forth.
Daniel Gookin and Thomas Danforth examined the couple together. The wife (whose first name we never discover from the records) substantiated the servants' testimony, adding some further details. her husband had also called her "lying slut" and had used "a wand the size of a good riding rod" to beat her.  Healey admitted reproachful words and some violence, but it was "not to hurt her" or was merely "accidental blowes riseing from the bed." The incident heard from the boat on the last Saturday in June arose when "she put out her neck and said Come old Healey cutt off my head and he gave her a chuck under the chin & that was all. The wife says she desired she may never have a like chuck for it was to be seen many days after.
In a written statement to court, Healey pointed out that the servants evidence was "their apprehensions, not what they saw" and that noise and a clamorous woman tend to go together. He cited a statement by Beckley to "my mother Ives (wife of Miles Ives of Roxbury), that if his dame had nobody to scould at she would scould at the wall…If any words have passed from him in his passion, which are not according to godlinesse, he desires to be deeply humbled for them in the sight of God and men."
Healey's final counterthrust was to question the motives of his two servants, Reynolds "a loose and scandalous person," had been refused permission to marry Healey's daughter. Beckley, "a refractory servant," sought to "recompense his master for his correcting him for his miscarriages." Support for Healey's defense came from two sources. Reynolds was committed on 12 August 1667 for fathering a bastard on Healey's daughter and for going to his house "in a violent manner causing William Healey to cry out murther." John Guy, aged twenty-two, who had often worked at Healey's recounted verbal provocations.
We won morning were att brekfast and she having the child in her armes he cutt her a peece of cheese and asked her if she would have itt and she apon no other ocagion tooke it and threw it at him and bid him eate it himselfe for she did believe that he did gruge it to her and apon no other ocagion cald him Tom Tinker and ould Heiley and ould roge and said he was a murderer and had murdered three wifes already and would murder her; then his answere was to her was this; poor woman I am sory to see thee thus discomposed and desired the lord to give her grase and many times I have heard him say to her that if that she would but be quiet with him he would let her have any thing that she wanted and she should do nothing.
Not suprisingly the aged Elizabeth Green, the wife's mother, painted a rather different picture, "when her face was burnt he tooke upon him to dres her face, when her face was sore, and spoild it." She described "his carage and his childrens to her how she was slited and if anything was wasted or amis…she had done it…She hath not so much authority as to give her children any victuals but what she must ask his daughters for. If he was reproved, he threatened "he would leave [her] and now he hath spoild her he would divers times bid her get her to her friends." Finally in claiming the foresight of mothers-in-law through the ages, she referred to her unwillingness to give consent to the match and the promises the ardent Healey had made to quiet her apprehensions of her daughter's likely "discouragement in the family from himself or children."
Although, tantalizingly, the court's judgement on this case has not survived, the testimony gives us a remarkably vivid insight into family dynamics; generational conflict between an old husband of fifty-three and a wife twenty years younger; the mythic wicked stepmother here transformed into the isolated and pilloried intruder, the jeolousy of a church member of long standing for one of the recently elected saints; the reprisal powers of servants against stern masters; the baby as a source of conflict and bed as a battlefield – one of the few places available for private warfare.
The violent marriage came to an end in 1671 when the fourth Goodwife Healey seems to have died in childbirth. We know from other sources that Healey held the post of keeper of the prision in Cambridge during the 1670s and early 1680s. As such he was able legally to keep his flogging arm in trim as the official executor of corporal punishment. In 1674 his services were employed by Harvard College to give a public whipping to an undergraduate who had uttered blasphemous words concerning the Holy Ghose.  In 1682 when he was sixty-nine, he was caught in the prison in the act of copulation with the already heavily pregnant Mary Lovell. For this, he was dismissed from his post, evicted from his house, and sentenced with a certian poetic justice to be whipped twenty stripes in April 1683. Six months later the flogged flogger flagged and died. He left an estate worth only six pounds." (Sex in Middlesex by Roger Thompson)
"Healey's age in 1666 was fifty-three, at most twenty-three years older than his wife. Previously he had been married to (1) Grace Ives, whose first child by him had been baptized in 1644; she had died in childbirth in 1649; (2) Mary, daughter of Rev. Nathaniel Rogers of Ipswich, married in 1650, died in 1653; (3) Grace Buttress, married 1653, who was dead by 1660. The Healey's had had three children since their marriage in 1661; Samuel born in Sept. 1662, Paul in April 1664, and Mary in Oct. 1665. She was in fact Phoebe, daughter of Bartholomew Green who had died in 1635 two years after his arrival in Cambridge. She must have been at least twenty-five when she married Healey on 15 June 1661.
No more children were baptized to them after 1665. On 8 April 1672, Thomas Langhorn was keeping Hannah Healey, born in 1671, and receiving five pounds from the town rate.
Healey's fifth marriage, in 1677, was to widow and school dame, Sarah Brown.
_____________________________________________________________________________
It is thought that William Hele arrived in the colonies about 1640, shortly after the following history commences, and he would have been present during much of the initial formation of Cambridge.
A Brief History of Cambridge
In 1630, a fleet of 11 ships carrying 700 passengers, set sail from England, bound for the Massachusetts Bay Colony. This dedicated band of Puritans hoped to build their community around a purer, more Biblical church.
The newcomers settled several villages around Massachusetts Bay, but could not agree on a capital. Seeking a protected site, John Winthrop and his Assistants chose a small hill on the north bank of the Charles River, at the entrance to a small creek, 5 miles upstream from Boston. The Charles was deep enough to accommodate the era's large ships, yet the passage was treacherous for those unfamiliar with the narrow channel. Later, a "pallysadoe," a series of stockade fences and a trench, was built around the town.
Newtowne, as Cambridge was known until 1638, was laid out in an orderly grid of streets, bounded today by Eliot Square and Linden Street, Massachusetts Avenue and the River. Each family owned a house lot in the village, planting fields outside, and a share in the common land. Boston was eight long miles away: a ferry at the foot of JFK Street carried passengers over the river to a path — now North Harvard Street — that led through Brookline and Roxbury, eventually traversing the spit of land that is now Washington Street. Until the Great Bridge was built in 1660-62, this was the only way to Boston, except via the ferry from Charlestown.
Soon, Newtowne had a meetinghouse, a school, and a marketplace (Winthrop Square). Harvard College, one of the first colleges in America, was founded six years later, to train young men for the ministry and for positions of leadership within the godly community.
By the time of the American Revolution, Cambridge was a quiet New England farming village clustered near the Common and the College. The majority of residents were descendants of the original Puritans — farmers, artisans, and tradesmen, whose lives focussed on Cambridge. Distinctly different were a small group of Anglicans — barely a dozen households — who lived apart from village affairs, relied on outside incomes, and entertained lavishly in grand homes along Tory Row (now Brattle Street). All of these houses and their church, Christ Church, still survive.
William Dawes rode out Massachusetts Avenue on his way to Concord on April 18, 1775. The following afternoon, four Cambridge Patriots died in a skirmish with retreating British regulars at the corner of Massachusetts and Rindge Avenues. The provisional government confiscated many Loyalist estates — George Washington used the Vassal-Craigie-Longfellow House as his headquarters for nine months in 1775-6. During the Siege of Boston, the General supervised the construction of three earthenwork forts along the Cambridge side of the Charles River. The remains of one, Fort Washington, can still be seen in Cambridgeport.
Cambridge became a city in 1846, uniting three rival villages — Old Cambridge, Cambridgeport and East Cambridge.
Old Cambridge had grown slowly and still retained its charming rural character. Small shops catered to the community and to students. Drawn by Harvard, and later Radcliffe College, brilliant men and women imparted an intellectual luster to the village. Henry Wadsworth Longfellow, James Russell Lowell, Elizabeth Cabot Cary Agassiz (founder of Radcliffe), William Dean Howells — all were seen on the streets of the village.
Before the opening of the West Boston (now Longfellow) Bridge in 1793, only three families lived east of Quincy Street. The bridge offered the first direct route from Cambridge to Boston and cut the distance between the two from 8 to 3 miles. Cambridgeport grew up along the roads leading to the bridge. Pleasant residential neighborhoods spread out from Massachusetts Avenue, while Central Square became the city's true downtown. Margaret Fuller, writer and editor — and the first woman allowed to use the Harvard library — grew up in Cambridgeport, as did Richard Henry Dana, author of Two Years Before the Mast. Abolitionist William Lloyd Garrison was a resident.
East Cambridge was opened for development in 1809, when the Canal Bridge, adjacent to the present Museum of Science, was completed. The area was the city's major industrial center until the 1880s. Furniture and glass factories were among the industries attracted by cheap land, water transportation, and proximity to Boston. Andrew Craigie, a leading Cambridge speculator, lured the county courthouse and jail to East Cambridge by offering to donate new buildings in 1813. In 1841, social activist Dorothea Dix was outraged by conditions in the jail and began her pioneering work in prison reform.
The devastating potato blight that struck Ireland in 1845 caused many of that country's rural population to flee. Thousands landed in Boston and Cambridge, destitute and without resources. Irish immigrants worked in the clay pits and brickyards of North Cambridge, housed in crowded workers' cottages. The majority of the city's Irish lived in East Cambridge, laboring at unskilled jobs in the glass works and furniture factories. They developed a close-knit community, centered on and supported by the Catholic Church. By 1855, 22% of the adults in East Cambridge were Irish-born.
Around the turn of the century, immigrants from Italy, Poland, and Portugal began to arrive in the city, settling primarily in Cambridgeport and East Cambridge. French Canadians and Russian Jews came at this time, as well, settling in North Cambridge and Cambridgeport, respectively.
A small population of African Americans had lived in Cambridge from the earliest Colonial days, and in the early 19th century Cambridge's integrated schools attracted many families from Boston. Harriet Jacobs, born a slave in North Carolina, ran a boarding house in the city in the 1870s. She had lived in hiding for 7 years before escaping to the North and later wrote an account of her years in bondage, Incidents in the Life of a Slave Girl. Educator Maria Baldwin, a native Cantabrigian, held home study classes for Harvard's black students, including W.E.B. DuBois. In 1889, she was appointed headmaster of the Agassiz School, the first African American to hold such a position in the North. Twenty markers commemorating prominent Cambridge African Americans have been erected throughout the city.
Today, Cambridge is home to a culturally diverse population of over 95,000. Over fifty languages may be heard on the streets of the city, including Spanish, Creole, Portuguese, Chinese, Amharic, and Korean. Children from 82 different countries of origin attend the public schools. College students from around the world study at Harvard, Radcliffe, the Massachusetts Institute of Technology, and Lesley College. The heavy industries of the 19th and early 20th centuries have been replaced by technology-based enterprises, including electronics, self-developing film and cameras, software and biotechnology research.
You can discover more about the architectural and social history of Cambridge at the Historical Commission. Please visit us at 831 Massachusetts Avenue (the Lombardi Building, right next to City Hall), call us at (617) 349-4683, or vitit our Web site at http://www.ci.Cambridge.ma.us/~Historic.
___________________________________________________________________________
From: 
http://freepages.genealogy.rootsweb.com/~webbworld/webbfam/pafn06.htm#260
William HELEY
Yarmouth Nova Scotia Genealogies by George S. Brown, page 129. Came to Mass. about 1613 and was admitted Freeman at Marshfield in 1643 (william of Lynn, removed to Roxbury c. 1644) was living in Roxbury in 1649, and removed hence to Cambridge (c. 1653), where he d. 28th Nov., 1683, aged 70. William is given as an early inhabitant of Lynn, and later removed to Roxbury and thence to Cambridge. He was a prison keeper as early as 1674, which office he held until 29 Dec. 1682, when he was removed for gross misconduct, "sntenced to be severely whipped 20 stripes," and became an inmate of the prison. He d. 28 Nov. 1683, a. 70. He had five wives.

______________________________________________________________________________
http://fosterfamily.surnames.com/gedhtree/Beckstrom/np20.htm#iin370

Note for:   William Healy,   1613 – 28 Nov 1683         

Index

Christening:

   

     Date:   18 Aug 1613

     Place:   Bottesford, Lincolnshire, England

Individual Note:

     BIOGRAPHY: Summary of William Healy of New England and evidence that he was William Healey of Burringham is summarized as follows: 

1. The names of the two individuals are identical, – William Healey and William Healy, – the surname of the latter appearing in the records often spelled Healey. 

2. The birth date of William Healey of Burringham appears to be identical with the birth date of William Healy, which we know to be 1613. 

3. William Healey of Burringham was a younger son, without prospect of inheritance, and therefore ripe for opportunity to better his fortune in the new world. 

4. The opportunity was at hand in the Puritan emigration of the decade 1630-1640, heavily recruited from his home vicinity u under local Lincolnshire leaders, and made particularly available by the encouragement given to emigrants by the merchants of the nearby city of old Boston. 

5. At this time, about 1636, the young William Healy appears in the Massachusetts Bay Colony at Lynn, and as a member of the church of Lynn, – a community founded by and under the

leadership of Rev. Samuel Whiting, of Boston in Lincolnshire. 

6. William Healey of Burringham is not accounted for in family records of later years, whereas all three of his brothers are carried on in the family pedigree. 

7. William Healy of New England appears to have been known to have been of gentility, in that he was accepted by families of high standing, though not overly successful in his own right. 

8. His benefactress, the widow Elizabeth Merrick, who bequeathed money to him, and who took a special interst in his children, was from Lincolnshire. 

9. William Healy's first close association in New England, and his first marriage, was with the Suffolk family of Ives; two of the brothers of William Healey of Burringham had made marriages with a Suffolk gentry family. 

10.The whole later career of William Healy in the colony tends to indicate that he might well have been the restless son of a good family, never very fortunate, and not able to merge too successfully into the surroundings in which he found himself in the new world. 

        This circumstantial evidence as to the origin of William Healy of New England makes an interesting and convincing case, and if the conclusion reached is correct, four generations of family lineage are added to the nimber recorded in America. If it is true that he was William Healey of Burringham, the line of descent goes back unbroken to the early years of the sixteenth century and the days of Henry VIII.

BIOGRAPHY: "William Healy married for the fourth time on 15 August 1661. This marriage was to Phebe Green, daughter of Bartholomew Green and his wife Elizabeth. It is from this marriage that the descents of the Nova Scotia and Ontario Haley families are traced. Bartholomew Green had come to New England in 1634 with his wife, his sons Samuel and Nathaniel, and his daughters Sarah and Phebe. He had died within a year after his coming. About 1646 the daughter Sarah had married Thomas Longhorne, who was a butcher and also the Cambridge town drummer. The widow Elizaabeth Green and her unmarried daughter Phebe were long members of the Cambridge church, as was William Healy. At the time of his marriage he was forty-eight years of age, and Phebe Green was approaching forty. In the next few years William Healy continued with his business, which required several servants and apprentices. William Healy was one of the signers of a petition addressed to the General Court, expressing loyalty to his majesty the King, and satisfaction with the present government, provided the chartered rights of the Colony were not interfered with. Three children were born to Phebe Green during this period. The first was a son, Samuel, second of William Healy's children to bear the name. He was baptized in Cambridge church 21 September 1662. Another son Paul, ancestor of the Nova Scotia and Ontario families, was baptized 3 April 1664. A daughter, Mary, second of the name, was baptized on 29 October 1665. About this time began an interlude of six distress ridden years. The story can be read in the Middlesex County Court records, where the testimony of parties and witnesses is set down with the utmost Elizabethan frankness. Phebe Green seems to have suffered severe burns, leaving her face badly scarred and causing blindness in one of her eyes. She seems not to have recovered from the shock, and to have verged on being a psychopathic case. She began to complain of abuse by her husband, and of domineering by her husband's daughters, and seems to have given way to melancholia. Her aged mother, distressed by the situation, and believing her story, prevailed upon her son, Phebe's brother Samuel Green, with her son-in-law, Thomas Longhorne, to bring action against William Healy for abuse of his wife. The parties were examined and testimony of witnesses was taken before the Middlesex Court 30 July 1666. The case was set for hearing 2 October 1666, at which time additional affidavits of witnesses were presented, and the answer of William Healy was made. The witnesses against him were, in particular, two of his servants, Samuel Reynolds and Daniel Beckley, and they told a most lurid story, William Healy, in defense, showed that they were prejudiced against him, in that Samuel Reynolds was a loose and scandalous person to whom he had denied his daughter Elizabeth's hand in marriage, and that Daniel Beckley was a refractory servant, "seeking occasion to recompense his Master for his correcting him for his miscarriages." Some testimony was given in William Healy's behalf, – that he had been patient to the extreme in the face of shrewish outbursts by his wife. The Court seems to have taken this view of the matter, and the case ended. It must be remembered that mental disturbance was not viewed in those days as it is now, and that restraint and attempted correction were the only courses open to a husband with an afflicted wife. In August 1667, the following year, Samuel Reynolds, the first of the witnesses mentioned above, was shown to be a rascal, when he was arrested and confined for an attempted violent assault upon William Healy, and for misconduct with the second daughter, Elizabeth. After this incident Elizabeth seems to have gone to live with her married sister Hannah at Salisbury, and for a time there appears to have been relative quiet in William Healy's home. In 1672 William Healy was appointed Prison Keeper of Cambridge. On an ill-starred day in October, 1682, a damsel named Deborah Cane, aged 28, venturing into the prison and up the stairs unannounced, claimed that she detected William Healy in compromising circumstances with one Mary Lovell, a strumpet who had been confined in his custody. She, "in great amazement and shame",reported the fact to one Zachery Hicks. A self appointed committee of Hicks, Goldin Moore, and John Gove saw William Healy about the matter, and he "utterly denied ye thing." Some time later he came to Goldin Moore's house, "at their desire", which probably means under compulsion, as John Gove was a constable, and, "after some paines wer tooke wth him hee did Confess yt it was true." From this language it may be surmised that the meeting was of the nature of what in modern times is called the third degree. The shock and the disgrace seem to have been more than the aged man could endure, for he went into a collapse from which he never recovered. In any event, he was removed from his office, was sentenced to be severely whipped, and was imprisoned. He died in prison on 28 November 1683."