Nicholas Coffin
Nicholas Coffin, my seven-times great-grandfather, was decidedly "un-notable", in that he was in many ways typical of the age in which he lived – the middle of the 17th century – and of the class he belonged to.
He was one of many men who profited by economic conditions, and especially by the stimulus given to agriculture by the Civil War in England, to work their way up the social and economic scale, and to achieve a degree of independence. Many such men had formerly been husbandmen, or cottagers, working for others.
But Nicholas was a yeoman farmer, and a copyhold tenant of the Lords Stourton at Woodrow, the western part of the parish of Stourton Caundle, in the north-east of Dorset.
Family piety compels me to regard him as notable in one way: he was my earliest known ancestor. He was born about 1620, and died in early October, 1682.
Although many facts about his life are unknown – and probably will always remain so – we have some documentary evidence about this, and can deduce more: enough at least to put together an account which I hope others beside myself will find both interesting and convincing.
Cyril Coffin
October, 2000.
_________________________________________________________________________________
From:  http://www.islandregister.com/rcoffin/rcoffini.html
Nicholas Coffyn was the grandfather of our immigrant son, Tristram Coffyn who in 1642 first came to America. Beyond Nicholas, there has never been any proof brought forward to the identity of Nicholas' father, however, there has been much speculation. Therefore, the true history of our ancestry shall start with Nicholas Coffyn.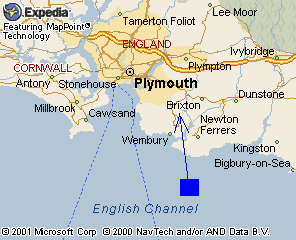 Nicholas Coffyn was born near Brixton in Devonshire about 1560 and married Joanna (last name unknown) in the year 1580. His occupation is unknown as is his father or mother's name. Some speculate that his father was Peter and his mother was Mary Boscawen b. 1552. When Nicholas died in 1613 he left five children, Peter, Nicholas, Tristram, John and Anne. His son Peter was our immigrant, Tristram's father. Peter was born in Brixton during the reign of Queen Elizabeth I, around 1580. Peter married Joan Thember, born 1584, daughter of Robert and Anna Thember. The Coffyns had six children, Tristram, John, Joan, Deborah, Eunice and Mary. Peter was the Church Warden of St. Mary's Church, in Brixton during the period around 1614. Little else is known of Peter except that he had a farm as stated in his will written, December 1, 1627 and proved March 13, 1628.
"In the name of God, Amen, ye 21st day of December in ye third year of the raigne of our Sovraigne Lord Charles… I Peter Coffyn of the Parish of Brixton in ye county of Devon, being sick of body but in perfect minde and memory, doe make and ordaine this my last will and testament… I give and bequeath unto my sonne one feather bed, my best brasen panne and my best brasen crocke. I give and bequeath unto Johan Coffyn my wife ye issues pfitts and comodities of all my lands tenements and hereditaments with in ye sayd Parish of Brixton during her widowhood she yeelding and paying therefor yearly unto the sayd Tristram Coffyn my sonne his heirs and assignes the summe of fifty shillings of lawful English money at ye four most usual feasts of the year and also sufficient meat, drink and clothes and convenient lodging unto ye said Tristram according to his degree and calling". In later years Peter's son Tristram Coffyn brought the Coffin name to America and from Tristram most North American Coffins can trace their ancestry.
Pedigree Chart
 1 Nicholas COFFYN (4)

b: 1555 in Devonshire, England
m: abt 1579 in Brixton, Devonshire, England
d: 1613 in Brixton, Devonshire, England
2 Peter COFFIN (4)

b: bef 1535 in Portledge, Devonshire, England
m: bef 1555 in England
d: aft 1558 in County Devonshire, England
4 James Sir COFFIN (4)

b: 1510
m: 1534
d: Dec 15 1566
8 Richard COFFIN (4) 

b: 1475 in Portledge, Devonshire, England
m: 1510 in Merifield, Cornwall
d: Dec 24 1555 in Alwington, Devonshire, England
9 Wilmot CHUDLEIGH (4) 

b: 1490 in Merifield, Cornwall
d: Jun 13 1569 in Alwington, Devonshire, England
5 Mary COLE (4)

b: 1516 in Knowston, Devonshire, England
d:
10

b:
m:
d:
11

b:
d:
3 Mary BOSCOWEN (4)

b: bef 1541 in St. Michael, Penkival, Cornwall, England
d: Sep 4 1622 in Pinkerville, Devonshire, England
6 Hugh BOSCOWEN (4)

b: abt 1500
m:
d:
12

b:
m:
d:
13

b:
d:
7 Philippa CARMINOWE (4)

b: abt 1515 in Boconnet
d: Aug 9 1563 in Cornwall
14 Nicholas CARMINOWE (4) 

b: bef 1500 in England
m:
d: aft 1540 in England
15 Cathrine WOLVENDON (4)

b:
d: