Mary Elizabeth Holmes was born on October 7, 1846 in Bury, Lancashire, England and died on February 12, 1927 in Nevada City, California.  Her mother was Sarah Holmes Woolfenden.  Her father was Daniel Holmes.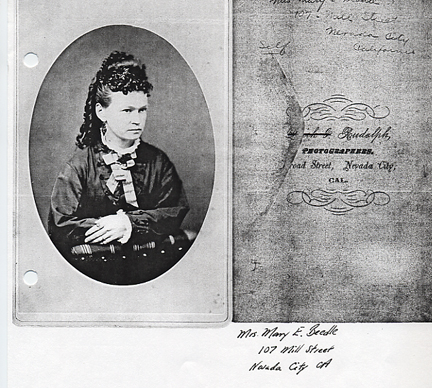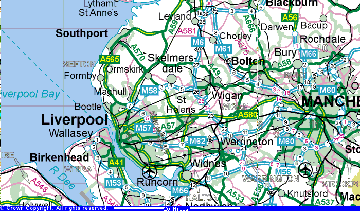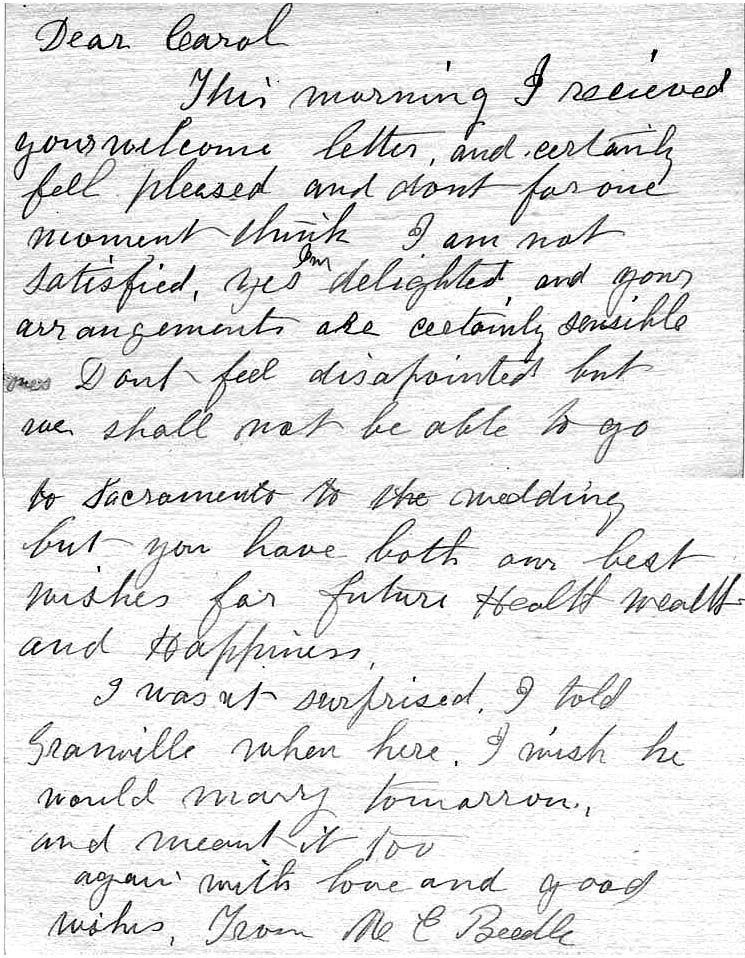 Charles W. Beedle and Mary Holmes were married on October 20, 1860, in Neveda City, CA.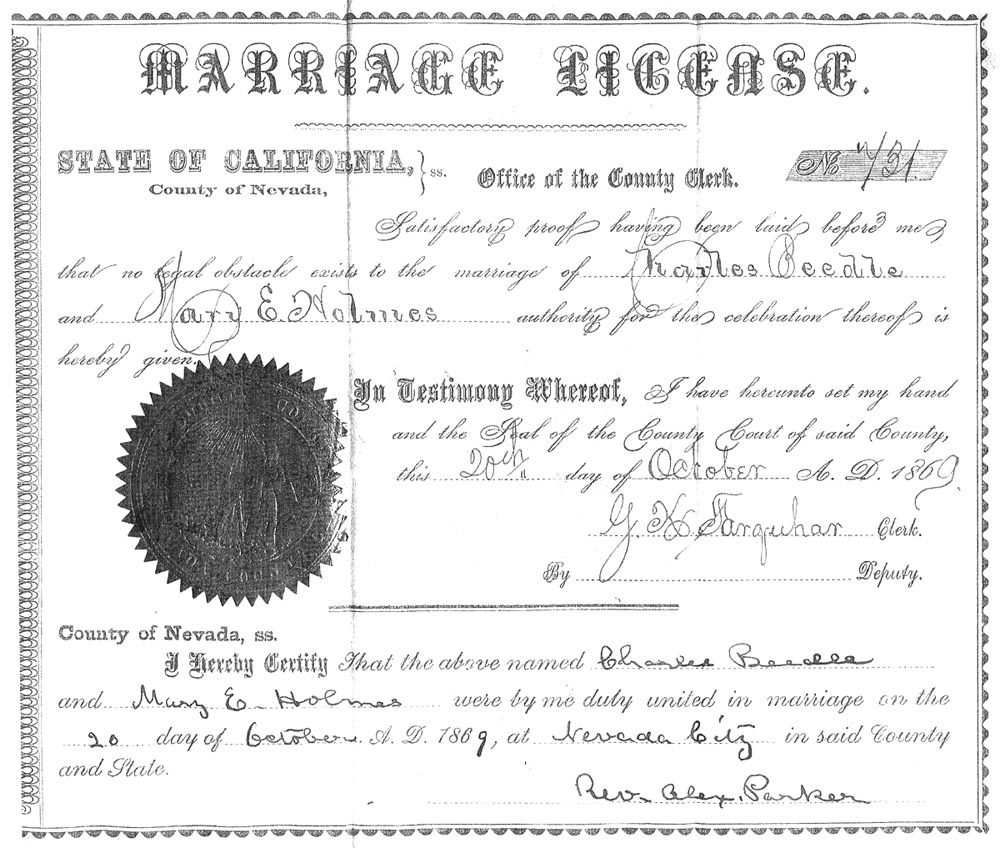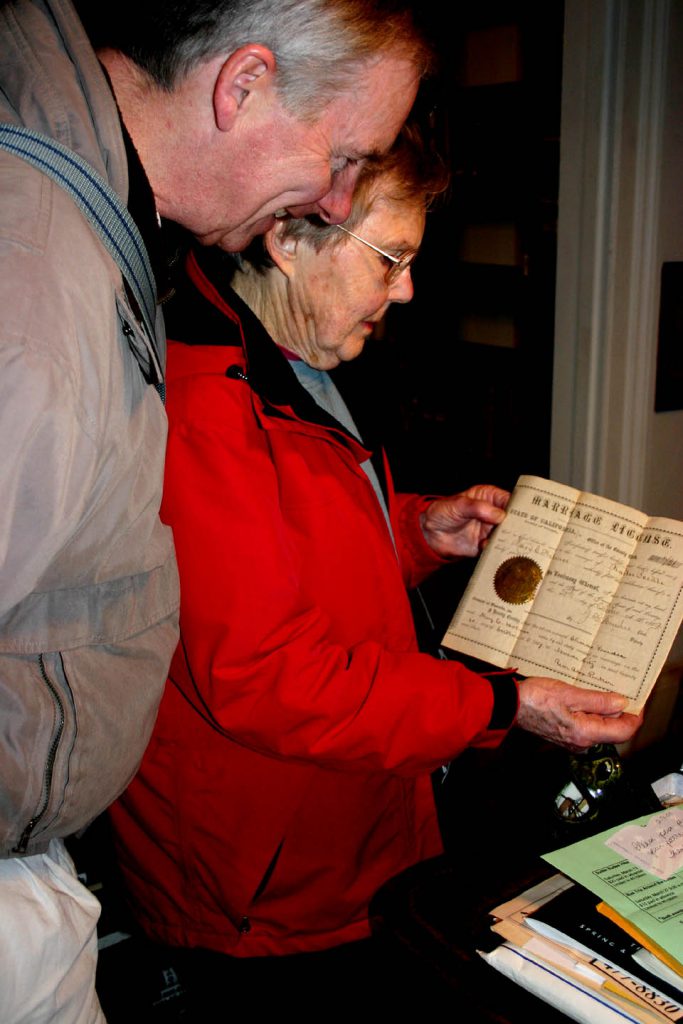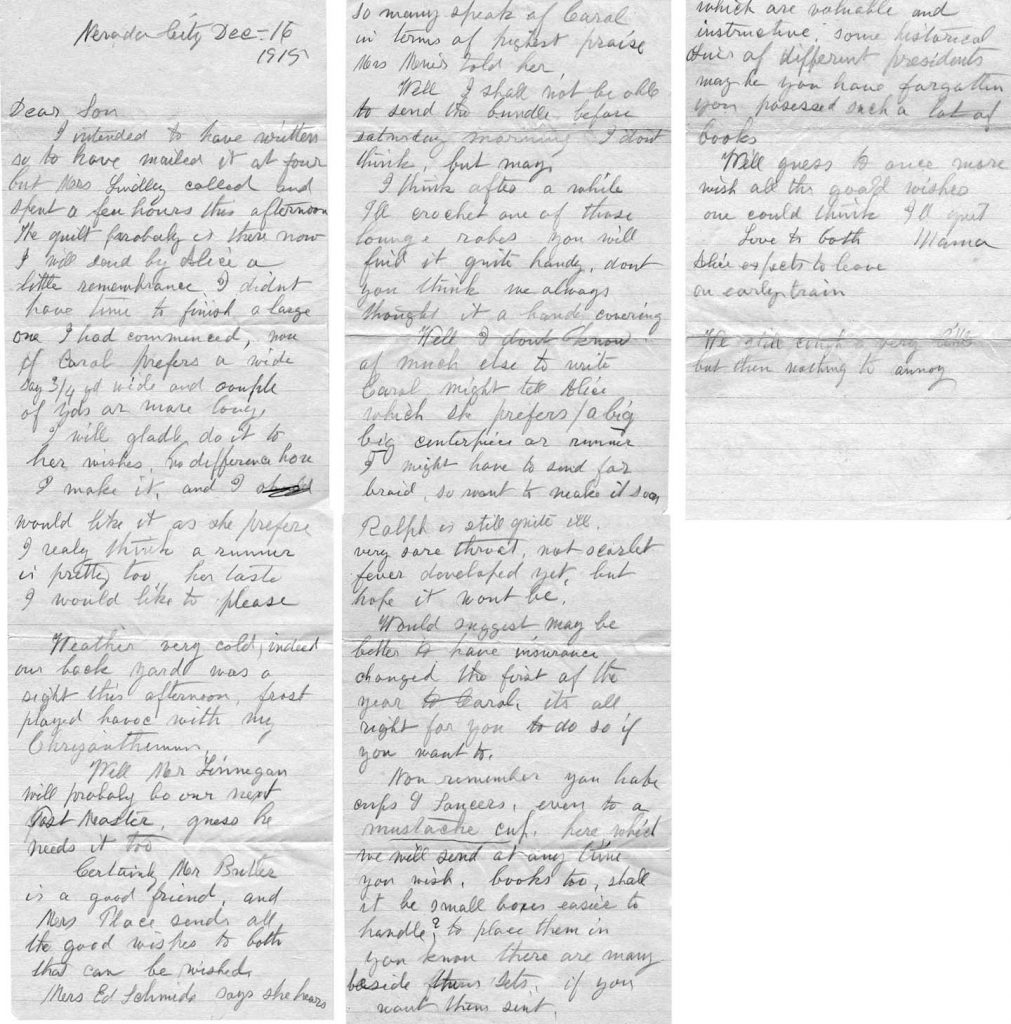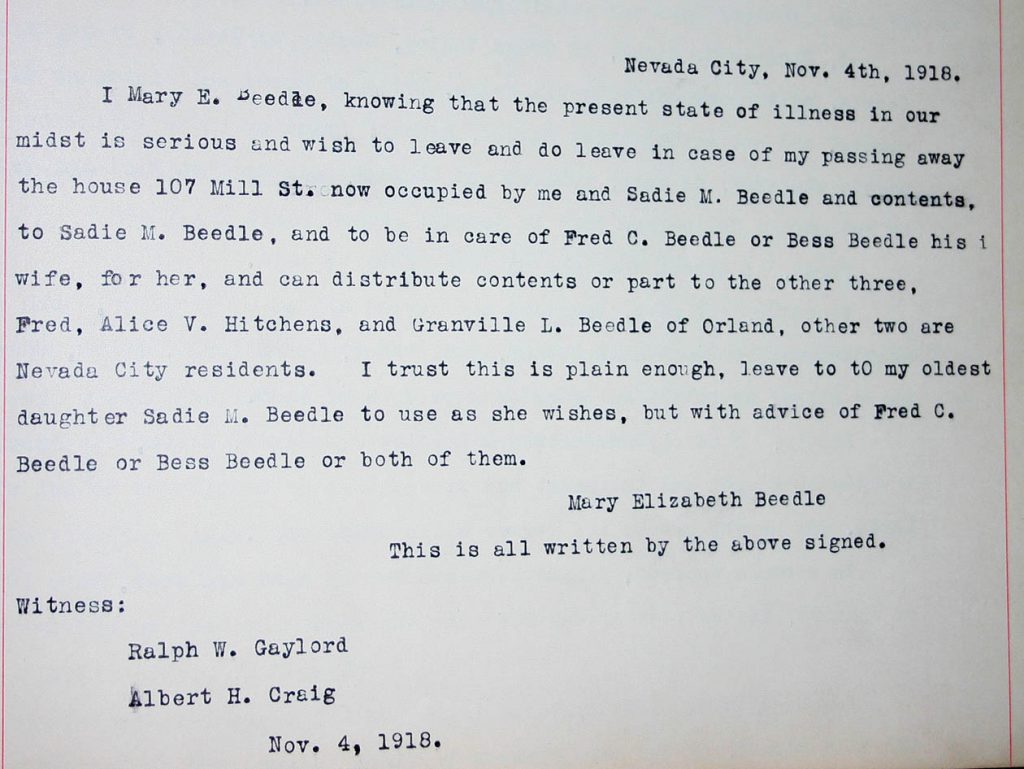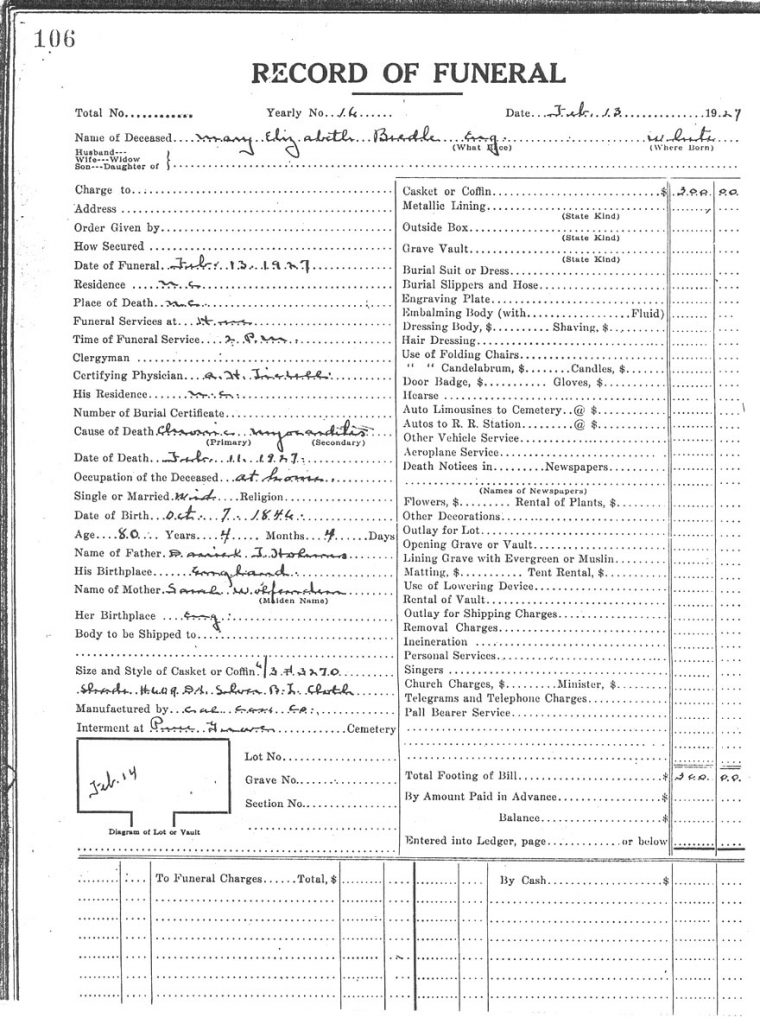 The following was copied from an article that appeared shortly after Mary's death in 1927.  The name of the newspaper is not indicated, but most likely was a paper published in Nevada City.
"OLD TIME RESIDENT PASSED YESTERDAY
__________
Mrs. Mary Beedle Lived in Nevada Township Seventy Years;  Highly Esteemed.
___________
At an early hour yesterday morning Mrs. Mary Beedle, for nearly seventy years a resident of the township, died at her home on Mill Street after an illness of many months.  While Mrs. Beedle had been ill for a long time her death came suddenly due to failure of the heart to function.
Mrs. Beedle was born in Bury, Lincolnshire (Lancashire), England, on the 7th day of October, 1846.  She was brought to this country by her parents when but a babe of six months.  The family settled in Rhode Island, living there for a while, and came to California when Mrs. Beedle was 12  years of age, taking up their residence at Gold Flat.
She was married at Gold Flat and lived there with her husband (Charles Wesley Beedle) until about 30 years of age, when the family moved to Nevada City and made their home.  Her husband, Charles Beedle, died here many years ago.
Mrs. Beedle loved Nevada City and the surroundings with great sincerity.  She never would listen to any one who had unkind words to say of this little city, and she ever sounded its praises to strangers.  Her outview of life was most optimistic, and she wore a cheerful smile.  During her long illness she never was pessimistic.  Asked about how she was feeling, her answer was always cheerful, even though she might at that very moment be suffering intense pain.
She was beloved by all who knew her.  Her long residence in this city gave her an extensive acquaintanceship, and to know her was to be a friend.  She saw the best in everybody, and faults, if they had them, she always excused by calling to mind some virtue.
To mourn the loss of a devoted mother she leaves two sons and two daughters:  Fred Beedle of Reno, Nevada; Granville Beedle of Los Angeles;  Miss Sadie Beedle and Mrs. George Hitchens of this city.
The funeral will be held Sunday afternoon at half past two o'clock from the Holmes Funeral Home." 
A talk by Mary E. Beedle to Native Sons and Daughters of the Pioneers
1911
(Mary E. Beedle was Granville Beedle's mother.)
Native Sons and Native Daughters, Brother and Sister Pioneers:
I have been invited to relate a few incidents concerning early day events so I have prepared some of the happenings which I can readily recall, and have enjoyed the program very much and am delighted to be here as a guest of the Native Sons and Native Daughters and to meet Brother and Sister Pioneers.
It was during the month of March in the year 1855, that our family arrived in California. My father had made two trips before, in the years 1852 and 1853.
High prices prevailed at that time. Coffee and beefsteak could cost you one dollar, eggs 75 cents. Washing was only eight dollars for one dozen pieces. Some one jokingly remarked , we sent our clothes to China to be washed.
We soon moved to a small town or mining camp named Gold Hill about ten miles from Auburn. Here placer mining could be learned in a day. Just to shovel dirt into a pan, stand knee deep in water, and shake the pan containing the dirt. You could readily see the gold. Many an hour have I watched the miners pan for gold, as they termed the way of work.
This gold dust, small scales or nuggets, were used to pay for clothing, "grub" or anything they needed. Sometimes the gold dust was rudely measured and hastily weighed, and I have seen some miners take a teaspoonful of gold from a buckskin or canvas bag, and given in payment for purchases made, any old way seemed to be all right in that camp.
The schoolhouse was about a mile away, on a little knoll to better accommodate children in Virginia town. We used to have spelling school once a month. There is a lady residing in Nevada City who taught school in Gold Hill after I left.
There was one funeral there, that I never shall forget. A gentleman came there, died suddenly. There was no Hall or Church but many big barrooms. One gentleman who kept a bakery too, offered the barroom for the services. It was accepted, and in a very short time he had tacked sheets, blankets up so to hide the bar and fixtures from public view. Everything seemed about ready, when a man suggested that the coffin be left outdoors under the shade of two large trees, all were agreeable and the crowd came out of the barroom and stood and listened to the reading of a chapter out of the bible and also reading of the prayers by a man who offered to do so. Poor unfortunate man, few if any knew his name.
Many miners wore the blue flannel shirts, overalls and some wore pistols dangling from their belts, as in the days of '49.
Crocker Brothers owned a grocery store there. In 1856 we moved to Ophir 8 miles from Gold Hill. It was while living there that I saw Tom Bell* the Robber ride by our house, soon stopping beside a tank containing water. The gate was raised high he wrote these words upon it, Tom Bell the Robber passed by here this morning, of course we were frightened, but soon learned that he and two pals had robbed a stage that morning.
We did not receive our mail often or very regularly in those days sometimes by stage, again by pony express, anything rushing was sent by horse and rider.
It seems strange the different ways used to get news, or mail. Down near Monterey there once flourished a "wash tub mail" . At Washerwomans Bay, women used to come and bring soiled clothes to wash in the waters there. Indians passing to and from imparted the latest news to the ladies, and it's said that all news coming through "wash tub mail" could be depended upon.
A now about our Governors:
10 under Spanish Rule
13 under Mexican
6 United States Military Rule,
Bear Flag Republic
24 Elected Governors. Ist elected Gov. Peter H. Burnett Nov 13, 1849 R
Last Hiram Johnson 1910 R
From 1767 to 1911, 144 years we have had 53 Governors, and only one I think, Washington Bartlett, dying while in office, 1877.
We must not forget to write a few lines about our climate. Do the following lines not speak for themselves? When we read that in Shasta County alone there were forty men over eighty years of age who registered and voted in 1910, one 88.
There are said to be five gentlemen living in and near San Francisco, who arrived who arrived Feb 28th, 1849 on the Steamer California. Another lives nearer us in Forrest Hill; his age 96. Does not use a cane either.
Again we welcome to Cal. Captain Louis C. Schilling age 79. Years ago he was guide for Fremont and the man who received from Congress a gold medal for climbing a staff and nailing Old Glory to its peak. This was near San Diego and he couldn't be satisfied (he said to reporter) until he visited the scenes of early days again so last July, 1910 he arrived to remain a few weeks in San Francisco and vicinity.
Eight ladies of Donner party fame are still living.
Lately many quite elderly person have passed away, among then Mrs. Larias who was born in Gilroy and said to be the oldest native daughter in California and was one hundred and twenty five years old, many Native Sons and Daughters attended her funeral held at Oakdale.
How cannot we all praise our glorious California climate and with the Poet who wrote these lines Sing of California?
Mary E. Beedle
Nevada City
California
* Added note by Lynn Beedle: "But this was his last robbery, 1856. Was hanged on the banks of the Merced River."