John V. Van Eaton was born about 1866 in Placerville, El Dorado County, California, to John Dick Van Eaton and Jane Stuart McCallum.
Per Jane Hildebrand, Uncle John Van Eaton worked for the San Francisco Chronicle and later moved to New York as a Chronicle representative.
From The Argent Castle, the Newsletter of the Clan MacCallum/Malcom Society, issue date recent but unknown.
John V. Van Eaton graduated from the College of the Pacific, worked for the San Francisco Chronicle, then moved to New York, where he was special correspondent to the San Francisco paper, as well as to several other large newspapers across the country.  He was said to be a very handsome and charismatic man, but that his "fatal attraction for women proved his undoing"; his wife Nellie divorced him, he lost his job and started editing small-town newspapers.  Later he married Clyde, a widow who "kept him in line" and took care of him in old age.
 Letters from John V. Van Eaton to Carol (Simpson) Beedle, in 1915 and 1921.  John V. Van Eaton was Carol's Uncle.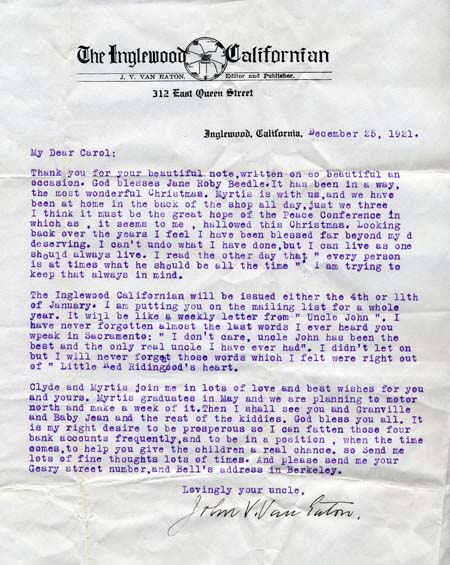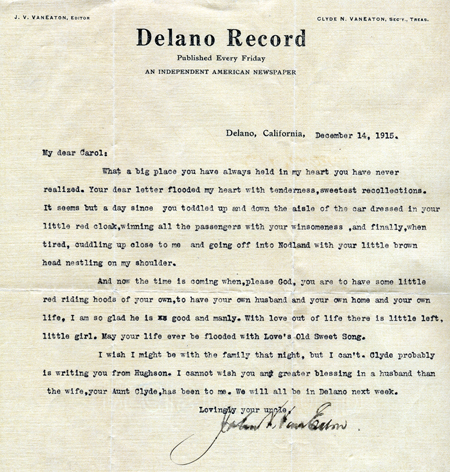 The following is an excerpt from the title below that pertains to John V. Van Eaton:
A History of the Bailey Family 
By Henry Bailey
My Uncle John (John V. Van Eaton), was also an unforgettable character, but in a greatly different way. The body of a Greek god, the face of a Roman senator, the manners of a Chesterfield, a personality that could "win friends and influence people", a resonant baritone voice, and when he turned his gaze on the opposite sex, which he often did, they practically swooned.
I can strongly recommend his technique to all uncles. The summer my sister Margaret was born, we all went to San Francisco, and stayed with Aunt Belle, Mother's sister, and Uncle Lynn. San Francisco was then the tenth largest city in the country, and we came from a very small village. Uncle Lynn got us tickets for Barnum and .Bailey's Circus, which opportunely came to town, and Roy and I, sitting in those reserved seats, were properly impressed. I can still remember the thrill of watching the elephants, the first of course that we had ever seen, swing past in the parade. But Uncle John gave us the personal touch. On his afternoon off, he took Roy and me to  Sutro's Park, out by the Cliff House. We rode the merry-go-round, and on real ponies, drank pink lemonade and ate popcorn, and greatest thrill of all, we went on "shoot the Chutes" several times. A flat bottomed boat was dragged up a steep incline, as I remember it about forty-five degrees, and about thirty feet long. A stream of water covered the slope, and after the boat was filled with passengers, it was released to go shooting down the chute into a pool of water, hitting with a tremendous bang, and bouncing up and down three or four times with most satisfying splashes until it finally came to a halt.
After this most exciting afternoon, we were to go to his house for dinner, and on the way home, we stopped in front of a fruit stand. Uncle John said, "Which would you rather have, grapes or a watermelon?" Roy looked at me and I looked at Roy each of us practically drooling, trying to make up our minds, when Uncle John solved the problem for us by saying, 'We'll take both."
Like my mother, Uncle John had a brilliant mind. Graduating from the College of the Pacific, then located only a block from his home, when only twenty, he went to work for the San Francisco Chronicle, then the newspaper of San Francisco, and soon was one of the star reporters. Looking for new worlds to conquer, he moved on to New York, then the center of power for the country, just as Washington is today, as a special correspondent of the Chronicle, the Portland Oregonian, the Louisville Courier Journal and half a dozen other newspapers. The special correspondent was in a way the precursor of the columnist. Not only did he put on the wire stories of special interest to the papers which he served; he also wrote background stories. As a special correspondent, Uncle John was a howling success, hobnobbing with the great, president of the California Society of New York, making $12,000. a year when that was practically an unheard of income outside the business world. Nothing ever fazed him. Called upon to deliver a talk on the wonders of Yosemite, he held his hearers spellbound, even though he had never seen the place.
Unfortunately, his fatal attraction for women proved his undoing. He had only one motto for any good looking female: "She can put her shoes under my bed, any time she wants to." Even the comely negro maid in the Atlanta hotel, where he stayed overnight, coming in to clean up the room before Uncle John was out of bed, took one look at that noble countenance and asked, "Want a little sunshine, Boss?"
Finally, his talented and charming wife divorced him, he lost his job, and was reduced to editing small country newspapers. He finally married a Southern widow, and while the Van Eatons looked down their aristocratic Roman noses at her (except my mother, who never looked down at anyone), Clyde kept him on the straight and narrow path, and when he was old and helpless, cared for him tenderly and lovingly until he died.